There's an evident demand for delta 8 THC products. People have gone head over heels for the new "cannabis light" or "diet weed," as some people call it.
With so many products available locally and online, new consumers may find it overwhelming to find the right format for their needs. In addition, manufacturers are feverishly churning out new formulas, which makes a choice even more confusing.
The best way to get started with delta 8 THC is to pick a typical form of all cannabinoid-based extracts — tinctures.
This article will provide you with an all-around guide to choosing the best delta 8 THC tinctures, along with our recommendations based on months of research.
Ready to learn more about delta 8 THC?
Best Delta 8 THC Tinctures & Oil: Top Online Vendors for 2022
Transparency and honesty are the most desired features in a dynamic and booming market like the delta 8 THC space. Unfortunately, such products are mostly unregulated, and many companies offering delta 8 THC are cutting corners when it comes to the quality of ingredients and third-party testing.
There are a lot of mislabeled and dangerous delta 8 THC products that you can find locally.
According to an article from Observer.com, finding the best delta 8 THC tinctures requires:
Reading through user testimonies and reviews on social media and third-party websites like blogs and rankings.
Looking for third-party lab reports. The certificate of analysis (COA) should list the potency and purity results of the analyzed sample.
Checking anything else could improve or worsen the user experience, including customer service, shipping time, refund policies, and reward programs.
Using the above criteria, we've narrowed our choices to the top 3 brands that you can count on when buying delta 8 THC online.
1. Area52 (Strongest Delta 8 THC Tincture)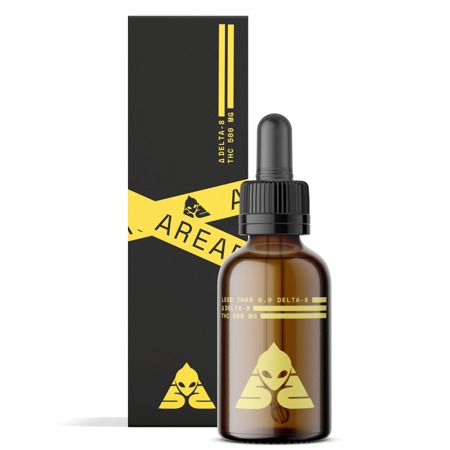 Area52 offers premium-quality delta 8 THC distillates sourced from organically grown hemp. Their best-selling product is the delta 8 THC tincture, which comes in a delicious vanilla flavor and is sweetened with stevia to avoid adding extra sugars and calories. The tincture comes in a black-tinted glass bottle with a total of 1200 mg of delta 8 THC distillate. A single dose of this product contains 40 mg of delta 8 THC, making it a good option for beginners and experienced users alike.
The certificates of analysis with results for potency and purity are available on request; the company sends them via email or with the product.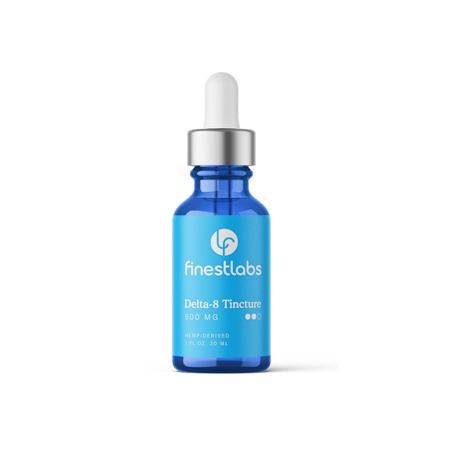 Finest Labs is the go-to brand for beginners and lightweight users who benefit from lower doses in their routine. The company uses unflavored delta 8 THC distillate infused into MCT oil for higher bioavailability. The tincture features 500 mg of delta 8 THC, so if you're looking for a cost-effective way to determine your dosage or want to try microdosing delta 8, Finest Labs is the best vendor to go with.
3. Delta Effex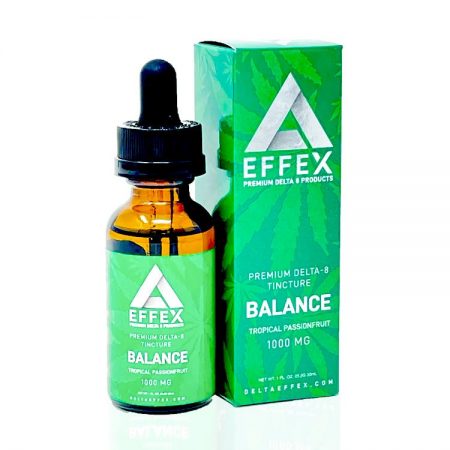 Delta Effex is one of the pioneer companies in the delta 8 THC space. The brand specializes in delta 8 THC tinctures in different formulas suited to specific needs. However, the potency throughout all formulas remains the same, delivering 1000 mg of delta 8 THC in 30 milliliters.
There are 3 options to choose from: chill, focus, and balance; each variant is infused with different terpenes that occur in hemp to determine which ones are best at signaling specific responses in the body when consumed.
For example, the "Chill" tincture contains terpenes like linalol and nerolidiol, which are found in lavender neroli, and are known for their sedative-like effects. The "Focus" option comes in a delicious mint flavor and contains terpenes like b-pinene, cedrene, and pulegone, known for their uplifting properties.
Finally, the "balance" formula contains a mix of both versions to provide balancing effects that you can benefit from at any time of the day.
That being said, none of those tinctures is made from organic hemp, and they're a bit more expensive than the two above brands, so Area52 and Finest Labs may be better if you're looking for top-shelf standards.
What Is Delta 8 THC?
Delta 8 THC is short for delta-8-tetrahydrocannabinol – an isomer of delta 9 THC, the primary active compound found in high-THC cannabis (marijuana). As an 'analog' substance, delta 8 has a similar chemical composition, but there's a subtle difference in the arrangement of its atomic bonds.
While Delta 9 THC has a double-bound on the 9th carbon chain, for delta 8 THC, this bond is located at the 8th chain. This subtle difference makes delta 8 about half as potent as delta 9, which means there's a lower risk of anxiety and paranoia at higher doses.
That's the main reason why people are turning from marijuana to delta 8 THC products.
Since cannabis plants only produce insignificant amounts of delta 8 THC naturally, it has been difficult for manufacturers to extract sufficient quantities of this compound for commercial use. Fortunately, recent advancements in extraction methods have flipped the coin in favor of hemp companies.
Delta 8 THC can be extracted from hemp by converting CBD into delta 9 and delta 8. This is a multi-faceted process that requires a lot of skill on the manufacturer's part, and if done improperly, it can leave behind toxic chemicals like zinc bromide and zinc chloride.
Does Delta 8 THC Get You High?
Yes, but not to such an extent as delta 9 THC.
You can experience a similar cognitive change after consumption, but these psychoactive effects aren't as strong and overwhelming as the ones produced by high doses of marijuana.
Delta 9 THC is known for causing mental discomfort when overconsumed, almost nonexistent with delta 8 THC. The high from delta 8 is more clear-headed, focused on the body, and less trippy.
That's why many people call delta 8 THC "diet weed."
What Are Delta 8 THC Tinctures?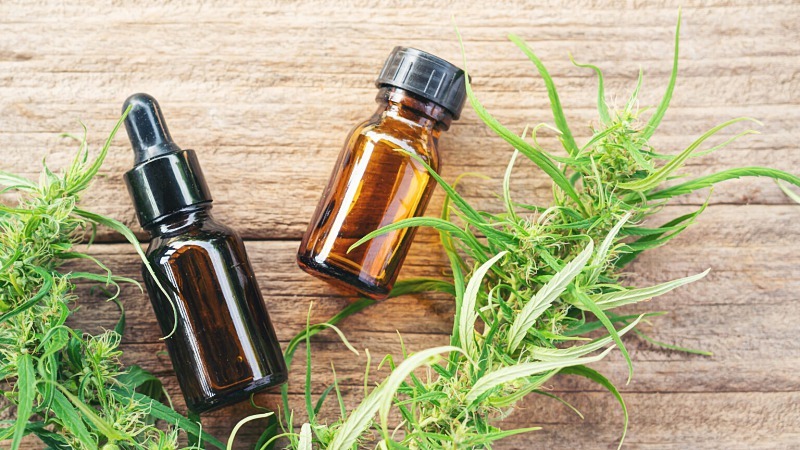 In many aspects, delta 8 THC tinctures are similar to CBD tinctures, except for their main ingredient and psychoactivity levels. A delta 8 tincture contains delta 8 THC distillate and (optionally) a blend of terpenes — all infused into a carrier oil base. Delta 8 tinctures are usually made with CO2; they can be produced using alcohol, but it's not the most efficient extraction method for broad-scale production.
How to Use Delta 8 THC Tinctures
All cannabis tinctures are taken under the tongue. This method of administration ensures faster effects and higher bioavailability than oral products (e.g., gummies and capsules). In addition, Delta 8 THC tinctures come in dark glass bottles with a dropper attached to them for precise dosing.
You need to measure out the desired amount of delta 8 THC, place it beneath the tongue, and hold it in your mouth for about 60 seconds. From there, the tincture will absorb through the tiny blood vessels, speeding up the onset of effects.
How Long Does It Take for the Effects to Kick In?
Delta 8 THC tinctures take unusually long to kick in compared to CBD tinctures. While the effects of sublingual CBD take hold within 15-30 minutes, this time span extends even to 1.5 hours for delta 8 THC. Scientists haven't yet found out why delta 8 THC needs more time to produce kick-in.
Things to Keep in Mind When Using Delta 8 THC Tinctures
Despite lower potency, delta 8 THC tinctures can get you high. Do not drive any vehicles after taking delta 8 THC.
Delta 8 THC may interact with a lot of medications. Consult your doctor before incorporating delta 8 THC tinctures into your routine.
Delta 8 THC is legal on a federal level for people aged 21 and older unless your state law says otherwise.
Hemp-derived delta 8 THC tinctures have less than 0.3% of delta 9 THC. You can order it from most states, but you should always check your local regulations regarding delta 8 when buying online.
As an analog substance, delta 8 THC can cause you to fail a drug test because workplace drug tests aren't designed to distinguish between different versions of the THC molecule.
Store your delta 8 THC tinctures in a cool and dry environment. If the humidity levels are too high, it may stimulate the growth of fungi and bacteria. In addition, storing delta 8 tinctures next to a heat source may cause delta 8 THC to degrade, so it's best to keep them in a drawer or a closed cabinet.
Delta 8 THC Dosage
Typical doses of delta 8 THC range from 10 mg to 60 mg. For most people, 10 mg is enough to produce mild psychoactive effects.
The best dose of delta 8 THC for your situation will depend on several factors, such as your gender, age, weight, overall tolerance to delta 8 THC, and previous experience with cannabis products. For example, if you have consumed weed before trying delta 8 THC, you may expect your tolerance to being a bit higher at the beginning.
The best way to figure out your optimal dosage is to start with shallow doses and gradually increase the amount of delta 8 THC to the point where you experience the most benefits from its cognitive effects — without feeling confused or sedated.
Just make sure not to go overboard for the first time; you can always take more delta 8 THC if you need, but you can't get off your dose once you've taken it too far. So instead, use delta 8 THC tinctures in small increments, such as 5–10 mg, to avoid the potential side effects.
Can You Build Tolerance to Delta 8 THC?
Tolerance begins to build up when your body adapts to certain doses of delta 8 THC over time; as a result, you need to increase your dosage to experience the same effects as you did before.
What's worse, delta 8 THC has a higher rate of building tolerance than delta 9 THC. So if you take a delta 8 THC tincture every day for one month, you'll need to increase your dose to get the same intensity of high.
If you want to avoid building tolerance to delta 8 THC, it's best to keep your users in moderation by taking it every other day or using lower doses in your routine.
Is Delta 8 THC Safe?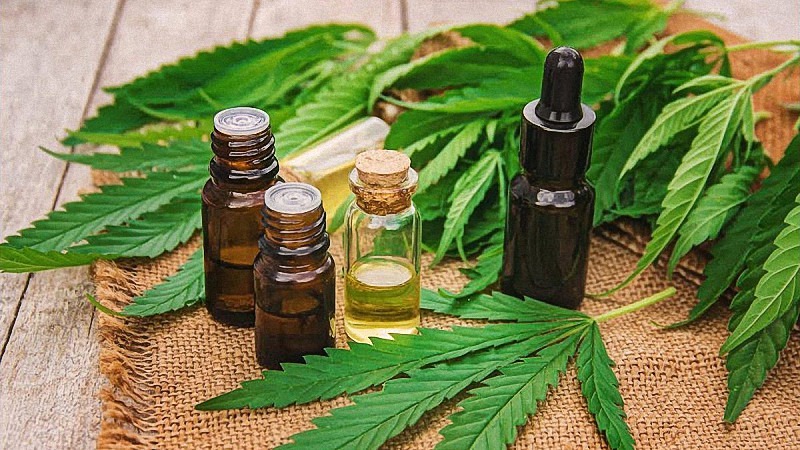 No studies have yet found any toxic side effects caused by delta 8 THC in humans. Cannabinoids can't fatally overdose because there are no cannabinoid receptors in the brain stem area that controls respiratory functions. Delta 8 THC is also less likely to trigger anxiety and paranoia.
The Delta 8 THC products problem isn't the delta 8 itself, but rather contaminants and synthetic additives that manufacturers use in their extracts. Unfortunately, many companies also make their products with mass-produced hemp, bleaches, and low-quality solvents to cut down costs and maximize the profit from a booming market.
Speaking of bleaches, if you notice that your delta 8 THC distillate is transparent, it could be bleached because natural delta 8 distillates have a pinkish color. Again, the best way to distinguish between low-quality vendors and trustworthy companies is to look for certificates of analysis from a third-party laboratory.
Potential Side Effects of Delta 8 THC
The most common side effects of delta 8 THC include typical of other cannabinoids — such as the dry mouth and dry eyes. In addition, high doses of delta 8 THC can induce sedation and make you feel tired. The closer you get to the upper dosage limit, the stronger the effects; at some point, you may also experience impairment of motor functions on top of a euphoric mood.
The side effects of taking too much delta 8 THC at a time are as follows:
Sedation
Dizziness
Confusion
Huge boost of appetite
Trouble concentrating
Impairment of cognitive and motor performance
Is Delta 8 THC Legal?
It depends on the source of delta 8 THC.
Delta 8 can be extracted from both hemp and marijuana.
Marijuana-derived products are federally illegal. If you want to buy marijuana, you must live in a state that has legalized it for recreational or, at least, medical use. You can purchase them from cannabis dispensaries if you're of legal age.
Hemp-derived products are legal on a federal level so long as they contain no more than 0.3% of delta 9 THC. Hemp-derived delta 8 THC meets these conditions, so you can buy it without prescription if you're 21 or older.
That being said, 12 states have already banned the sale of delta 8 THC. So currently, you won't buy delta 8 THC products in Alaska, Arkansas, Arizona, Colorado, Delaware, Idaho, Iowa, Kentucky, Mississippi, Montana, Rhode Island, and Utah.
Can Delta 8 THC Trigger a Positive Result for Delta 9 THC on a Drug Test?
Delta 8 and delta 9 are different types of THC molecules. Unfortunately, workplace drug tests aren't designed to distinguish between different versions of THC; they look for the compound and its metabolites, so delta 8 THC will likely trigger a false-positive result on the screening.
It's best to take a T-break from delta 8 THC if you know of an upcoming drug test.
How to Choose the Best delta 8 THC Tincture
There are many reputable brands in the delta 8 THC space. Still, since the market is unregulated, there's also no shortage of dishonest companies with their customers and cut corners on the ingredients, extraction methods, and lab testing to maximize their profits from a booming industry.
Here are a few tips that will help you separate the wheat from the chaff.
Purity
Conversion from CBD to delta 8 THC requires several harsh chemicals, such as zinc bromide and zinc chloride. These chemicals should be purged before bottling the product up; otherwise, the product will be dangerous for your health. Some manufacturers also use bleaches to make their distillate appear cleaner at the end. Real delta 8 THC distillates have a slightly pink color. Always make sure that you're buying from a company that knows how to make delta 8 THC extracts properly.
Lab Testing
Reading certificates of analysis (COAs) from a third-party laboratory can help you determine its quality and safety. The lab analysis will show you the total content of delta 8 THC and provide the full report on the product's purity, including the results for pesticides, heavy metals, microbial contaminants, and residual solvents. Certificates of analysis should be published on the company's website or, at least, sent to customers via email.
Ingredients
The list of ingredients in a delta 8 THC tincture should be as short as possible — containing delta 8 THC distillate, terpenes, and carrier oil. Steer clear of artificially colored products or ones that contain ingredients that you'd never take personally. Likewise, tinctures with preservatives, colorings, and synthetic flavorings are a big no-no.
Color
The tincture's color can tell you a lot about its quality. As mentioned earlier, delta 8 THC distillates are slightly pink, but they should be mostly transparent. If there are any impurities in the extract, you'll be able to tell it right away. Strangely looking colors could mean poor filtration after producing a delta 8 THC distillate.
Brand Reputation
Reputable companies should have some experience in making cannabis extracts. Many great CBD brands are now shifting their focus to delta 8 THC; such vendors are much more likely to offer high-quality products than companies that are just dipping their toes in this industry. If a company has a good reputation among customers, the internet will spit it out. Just be sure to look for real user reviews on third-party websites, as they often stay in stark contrast with the reviews posted on the manufacturer's website.
Price
High-quality delta 8 THC extracts require more time, money, and effort than other cannabinoid-based products, such as CBD or CBG oils. Making delta 8 THC calls for expensive laboratory equipment and skilled workers. Considering this, delta 8 THC tinctures are priced higher than other hemp products — but this may soon change as the competition grows.
Key Takeaways on the Best Delta 8 Tinctures for 2022
Delta 8 THC is now a hot topic in the cannabis industry. This is because it offers many the same benefits as delta 9 THC — but with a lower risk of triggering anxiety and paranoia. The lack of these negative side effects and the legal status o delta 8 THC have made it a desired product among recreational cannabis users and health-conscious consumers.
Many brands claim to offer pure delta 8 THC tinctures, but only a few can live up to the generally agreed standards. If you don't have the time to read through the lab reports, user reviews, and long articles, feel free to use our recommendations. Brands like Area52 and Finest Labs offer high-quality delta 8 THC tinctures from organic hemp that you can safely use to boose productivity and improve your daily life.
Just keep in mind that irresponsible use can still cause you to form bad habits around the substance despite the lack of anxious side effects, leading to a tolerance buildup. Delta 8 THC can also interact with many medications, so consult a doctor before you order a delta 8 THC tincture.