Recreational marijuana use became legal in Portland in 2015. Since then, the local weed market in Oregon has matured and grown to a decent size.
The city is home to many great cannabis events, and there are several dispensaries to buy your greens from.
But, can you buy weed online in a similar fashion to how your Californian and Nevadian neighbors do during the COVID-19 situation?
Here we explore everything you need to know about buying weed in Portland — from local laws to the best dispensaries and legal alternatives to buying marijuana online.
Buying Weed in Portland, Oregon: Is It Even an Option?
While some states like California and Nevada have temporarily allowed online marijuana sales, people in Portland must still rely on the local retail system. Portland has several dispensaries throughout the city where you can buy high-quality cannabis products.
Buying weed online in Portland is limited to ordering ahead and picking it up later. There is no legal infrastructure for marijuana deliveries; creating one would require changes in federal law, namely decriminalizing the herb nationwide.
That being said, there's a better and more legal alternative to mail-order marijuana services in Portland.
A Better and Legal Alternative to Marijuana in Portland
As researchers dive deeper into the health benefits of specific cannabinoids, cannabis manufacturers can come up with new formulations containing the plant's valuable compounds.
One of such cannabinoids is delta 8 THC.
This milder version of delta 9 THC has garnered a lot of attention from weed aficionados recently.
But, before we elaborate on the advantages of taking delta 8 THC, let's take a moment to answer why some people choose to avoid marijuana.
Cons of Delta 9 THC from Marijuana
Marijuana has a relatively good safety profile, acknowledged by the World Health Organization (WHO) and United Nations. In addition, it promotes deep relaxation, euphoria, elevated mood, increased appetite, and altered sensory perception in low and moderate doses.
Most people can enjoy the psychoactive effects of marijuana without any mental discomfort.
However, some cannabis users may be sensitive to these effects. This is because their cannabinoid receptors in the brain easily get overstimulated by delta 9 THC.
The above sensitivity may cause the user to experience the following side effects:
Confusion
Dizziness
Sedation
Anxiety
Paranoia
Increased heart rate
Low blood sugar levels (greening out)
Delta 8 vs. Delta 9 THC
Delta 8 and delta 9 are both different versions of the THC molecule.
Delta 8 is an analog of delta 9 THC; in other words, it has a very similar chemical structure. However, there's a slight difference between the arrangement of their atomic bonds.
For delta 8 THC, the double bond is located at the 8th chain, while for delta 9 THC, this bond is at the 9th chain. This subtle difference makes delta 8 THC twice less potent and less likely to trigger anxiety.
For that reason, many people have been turning to delta 8 THC from regular weed.
Delta 8 THC also shares some common health benefits with delta 9 THC when easing stress, pain, inflammation, nausea, and vomiting. In addition, research suggests that delta 8 THC is a strong appetite stimulant and may protect neurons in the brain against damage.
Pros of Buying Delta 8 THC Online
As a young and booming space, the delta 8 THC market isn't regulated. With no established quality standards in place, the responsibility for researching delta 8 THC vendors lies on the consumers.
That being said, researching delta 8 companies locally is easier said than done. Most of the time, you need to rely solely on the store owner's opinion, which not only can be biased but also irrelevant because local vendors often stock these products only because they're popular at the moment.
Buying delta 8 THC online is a different pair of shoes.
You can look into things like certificates of analysis, read user reviews on third-party websites, or search through social media groups and expert forums for professional advice. Doing so will give you a bigger picture of your potential supplier.
Shopping for delta 8 THC online also comes with other benefits, such as:
Shipped to Your Door Legally in Your State
Delta 8 THC can be extracted from hemp and marijuana.
Marijuana-derived products are legal only in the states that have legalized marijuana for recreational use.
Hemp-derived delta 8, on the other hand, is legal on a federal level.
At least theoretically.
In 2018, President Trump signed the amended Agricultural Act (2018 Farm Bill), legalizing hemp and its derivatives in all 50 states — as long as they contain 0.3% of delta 9 THC or less.
Hemp-derived delta 8 THC meets the above conditions.
That being said, some states have decided to ban the sale of delta 8.
Currently, you won't buy delta 8 THC in Alaska, Arkansas, Arizona, Colorado, Delaware, Idaho, Iowa, Kentucky, Mississippi, Montana, Rhode Island, and Utah.
Receive in 2-3 Days with the Convenience of Shopping at Home
Most transactions for delta 8 THC products are made online. Shopping for d8 online is more convenient because you can compare hundreds of different products in the comfort of your home. It's also easier to research your potential vendors by reading lab reports or checking user reviews on third-party websites.
Once you've placed your order, the products usually arrive within 2-3 days.
Since there are no middlemen involved, online retailers can offer better prices for their products. In addition, customers can take advantage of coupon codes, seasonal deals, coupon codes, and reward programs to save money on their favorite products.
No Anxiety as Seen with Delta 9 THC
Anxiety and paranoia are the two reasons why some people are apprehensive about taking high-THC cannabis. Since delta 8 THC is about half as potent, it is also less likely to trigger mental discomfort. The psychoactive effects of delta 8 are milder, more clear-headed, and focused on the body. Many delta 8 THC users combine the distillate with additional cannabinoids and terpenes for a fuller profile of effects and more enjoyable flavors.
Lasts Longer than Delta 9 THC from Marijuana
Despite being less potent and delayed in time, the effects of delta 8 THC last longer than delta 9 from marijuana. It's also a stronger appetite stimulant, which may come in handy for people with eating disorders or those who'd like to increase their daily calorie intake but have a low appetite.
Top Delta 8 THC Online Vendors
Since the market is unregulated, it's the consumer's responsibility to verify the credibility of their potential vendors. You should always check for third-party lab reports, read user reviews, and search through social media expert groups and forums to get a bigger picture of the company.
In a rush?
We've picked out the top 2 delta 8 THC online vendors who make premium-grade extracts at reasonable prices. Both brands use organic hemp as their source of delta 8, and their integrity between farming and testing makes them the top shelf of delta 8 THC companies.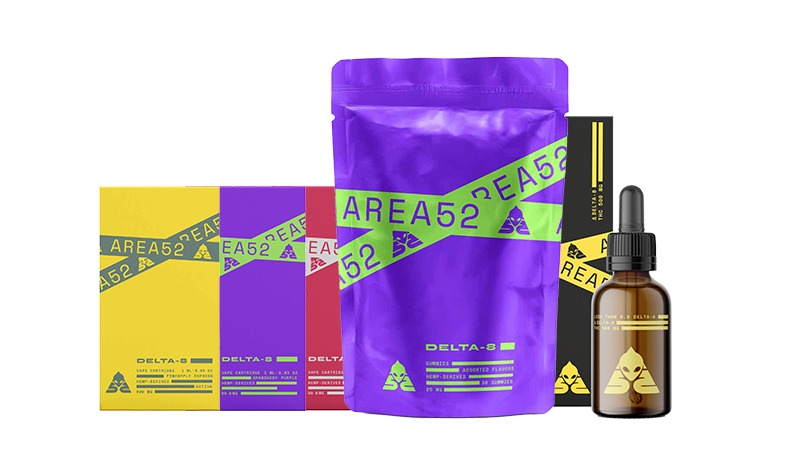 Area52 is a relatively new brand specializing in unique cannabinoids such as CBG, CBC, and THCV. Recently, the company has shifted its focus to delta 8 THC, which they produce in traditional cannabis formats.
Area52 offers delta 8 THC tinctures, gummies, and vape carts from organic hemp plants.
These products are gently extracted without using toxic acids, which translates into a bit higher cost per product. But, as Area52 admits, the quality of ingredients and the time and effort they put into making their extracts are worth the higher price tag.
Each product batch is tested in an independent laboratory for potency and purity, including the results for heavy metals, microbial contaminants, pesticides, and residual solvents.
Products offered by Area52:
Delta 8 THC Tincture: 1200 mg, Vanilla-flavored
Delta 8 THC Gummies: 25 mg each, non-GMO, vegan, low-sugar, assorted fruity flavors
Delta 8 THC Vape Cart: 900 mg – Pineapple Express, Berry Gelato, Granddaddy Purple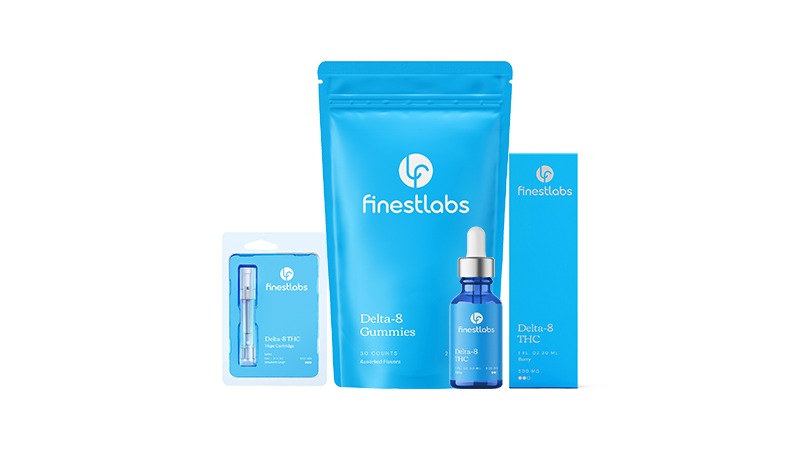 Finest Labs is the go-to brand if you're looking for low-strength delta 8 THC extracts. Their products are good for beginners and experienced users alike; new users can test different dosages and determine their tolerance. Experienced consumers can try them for microdosing or boost their cognitive performance without getting too elevated.
Finest Labs offers similar product formats to Area52 – tinctures, gummies, and vape carts — but in slightly lower concentrations. In addition, they are tested during different stages of production to ensure consistent potency and the highest purity of the delta 8 THC distillate.
Products offered by Finest Labs:
Delta 8 THC Tincture:500 mg, Berry flavored
Delta 8 THC Gummies: 25 mg each, assorted fruity flavors
Delta 8 THC Vape Cart: 900 mg – Strawberry Cough
Buying Weed in Portland Locally
Portland is home to several recreational dispensaries to find high-quality weed strains and a wide range of cannabis-infused products.
Most of them don't stock delta 8 THC, but if you're more into regular marijuana, here are the best locations to buy it in Portland:
| | |
| --- | --- |
| Name | Address |
| Amberlight Cannabis House | 2407 SE 49th Ave, Portland, OR |
| AmeriCanna Rx | 8654 NE Sandy Blvd, Portland, OR |
| Archive Portland | 10645 SE Henry St Ste B, Portland, OR |
| Ascend Dispensary | 13836 NE Sandy Blvd, Portland, OR |
| Attis Trading Company | 7737 SW Barbur Blvd, Portland, OR |
| Belmont Collective | 2036 SE Belmont St, Portland, OR |
Is Weed Legal in Portland, Oregon?
Yes, both medical and recreational marijuana is legal in Oregon. With the passing of Measure 91, recreational dispensaries can sell marijuana to adults aged 21 and older.
Medical Marijuana Laws in Portland
Oregon also has a medical marijuana program for qualifying patients. The application fee is $200 unless you're an individual receiving certain benefits from the state, such as SNAP. If you can relate, you may apply for reduced fees.
Who Can Buy Medical Marijuana?
A patient with any of the following conditions can apply for a medical marijuana card:
Cancer
Glaucoma
HIV/AIDS
Post-traumatic stress disorder (PTSD)
A degenerative neurological condition
Cachexia
Severe pain
Severe nausea
Seizures
Muscle spasms
Recreational Marijuana Laws in Portland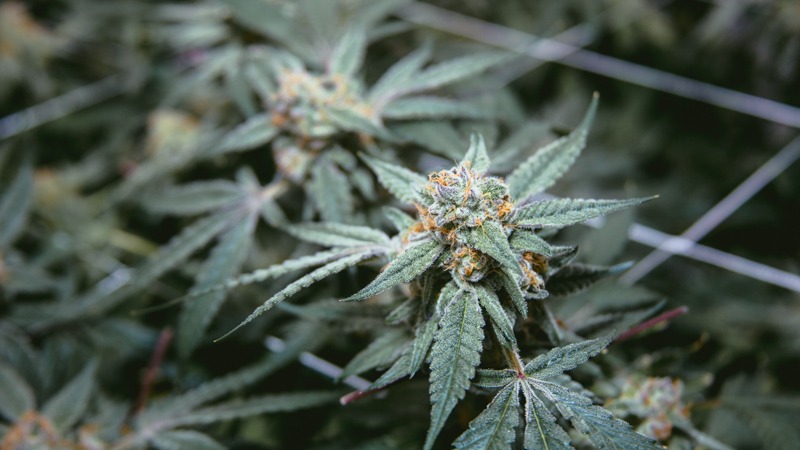 In 2014, the voters in Oregon passed Measure 91, legalizing the recreational use of marijuana. In 2015, the first dispensaries in Portland were launched.
Who Can Buy Recreational Marijuana?
If you are 21 years of age or older and can provide a valid ID, you can purchase cannabis flowers, edibles, concentrates, seeds, clones, and several other products containing cannabinoids. However, there are certain limits on the amounts of each you can purchase from an adult-use dispensary.
Limitations include:
1 ounce of cannabis flower
5 grams of cannabis concentrates or extracts
16 ounces of cannabis edibles in solid form
72 ounces of cannabis products in liquid form
10 cannabis seeds
4 immature cannabis plants
Can You Smoke Weed in Public?
Smoking marijuana in public in Portland is illegal, even if you're puffing from a vape pen. As a result, cannabis consumption is limited to private property.
This means that you can't light up in community parks, public outdoor smoking areas, bars, buses, airplanes, or federal land. Getting caught smoking weed in public could result in a fine or even jail time.
Traveling with Weed in Portland
You are legally allowed to travel with weed in Portland, so long as you're not violating the possession limits and have your buds stored away from the driver in a child-proof container. You can also take your weed on a plane for flying within the state.
That being said, the transportation of marijuana over the state lines is prohibited by federal law. Therefore, you will be asked to dispose of the marijuana before getting on a plane.
What About CBD Hemp Oil in Portland?
Hemp-derived CBD products are legal in Portland, provided that they contain 0.3% of delta 9 THC or less. In addition, these products are legal on a federal level, meaning you can buy them in all 50 states. However, similar to the delta 8 space, the CBD market is unregulated, so it's your responsibility to research every company selling CBD out there. The best deals on premium CBD brands and their products are found online.
Key Takeaways on Buying Weed in Portland, Oregon
Buying weed in Portland is easy if you live near a recreational dispensary. The city also has several medical dispensaries, so medical marijuana patients can also buy their medicine without being bothered by law enforcement.
However, online weed sales remain in a legal grey area, so if you're looking for a 100% transparent way to enjoy the cognitive effects of cannabis, consider trying out delta 8 THC. This novel analog of delta 9 THC is less potent and provides a smoother psychoactive experience. This can be a great alternative if you're sensitive to the effects of regular weed.
Where do you buy your weed in Portland? Let us know in the comments!