Many people first heard about the benefits of CBD – and medical marijuana, for that matter – because of Charlotte Figi.
Charlotte was a toddler who suffered from terrible epileptic seizures, brought on by a genetic condition known as Dravet Syndrome. That's a rare and serious form of epilepsy that can strike otherwise-healthy infants by age one, and it has historically been extremely difficult to treat effectively. Charlotte experienced her first seizure when she was three months old.
Her mother, in search of alternative treatment, decided that marijuana might be worth considering. The limited supply she found ran out quickly so she consulted with a group of pot breeders and growers, the Stanley brothers in Colorado, who created a strain that was low in psychoactive THC but high in cannabidiol content. (Cannabidiol is the full name of CBD).
And it worked. Her grand mal seizures were drastically reduced from 300 per week to only four per month, and Charlotte was able to live a normal life for the first time. Her story was made famous by a CNN documentary and 60 Minutes, as well as international print reports. High-CBD medical marijuana became an accepted treatment for Dravet Syndrome and was legalized for that purpose in many states.
The strain created for Charlotte was renamed "Charlotte's Web," and once CBD became legal across America, the Stanley brothers ensured that it contained less than 0.3% THC so it could be sold everywhere, for every purpose. And a few years after the breakthrough, the FDA approved the first drug containing CBD for the treatment of childhood epilepsy – based largely on the work of the Stanleys.
Sadly, Charlotte died in early 2021. However, the Stanley brothers still produce the CBD oil they created for her and sell it along with a variety of other CBD products under the brand name Charlotte's Web CBD (CW for short).
Clearly, the oil works well for children with Dravet Syndrome. Will it work for everyone else?
Let's find out.
Charlotte's Web: The Background
We've already touched on much of this company's history. The Stanley brothers were able to craft their landmark CBD product because of their deep knowledge and experience in cultivating cannabis (and, as you probably know, marijuana and hemp are the two varieties of cannabis).
They used that knowledge when they took CW CBD to market, ensuring that the 0.5% THC content that was in the original product manufactured for Charlotte was lowered to less than 0.3% so it could be sold commercially.
Charlotte's Web has continued to add new products to their line, all designed and manufactured with the same expertise and care. And as they've grown, they've acquired several related operations like Abacus Health, which makes several high-quality lines of CBD topical products like CBD Medic.
The company has expanded in other ways, too. Their philanthropic outreach programs work with organizations providing wellness solutions for children and families; groups providing adaptive training for veterans and first responders; organizations working to help women in need to build new life opportunities, and groups working to elevate sustainable and organic farming. 2% of Charlotte's Web's pre-tax revenue goes to help fund those programs.
And CW is a self-certified "B Corporation," meaning they balance shareholders' interests with those of employees, clients, local communities, and the environment.
The Stanley Brothers say their inspiration is the saying "Do well by doing good," and they definitely walk the walk. But the more important question is whether their products are still as good as their intentions and their early work.
Charlotte's Web CBD: The Approach
For Charlotte Figi to benefit so impressively from Charlotte's Web CBD, it had to be a high-quality product. From all indications, the company has maintained those standards as it's grown over the years.
They use organically-grown hemp sourced from family farms in three states known for producing quality plants: Colorado, Kentucky, and Oregon, all long-term CW partners. Cannabidiol is then extracted from the hemp via either ethanol extraction or the supercritical CO2 method. There's currently a debate in the industry about which is better, but both are safe and clean processes, and they're the two top choices a producer can use.
Most of Charlotte's Web's CBD products contain full-spectrum cannabidiol, meaning that all of the hemp's naturally-occurring terpenes, flavonoids, and cannabinoids (including that <0.3% of THC) are retained. That enhances the performance of the CBD by what's called the entourage effect. Some topical products are deliberately produced with CBD isolate instead; the lack of any THC content ensures that users won't accidentally score a positive result on drug tests.
The company uses several different carrier oils for its products, including MCT coconut oil and extra-virgin olive oil. MCT oil is the best choice, but the other varieties they use are fine as well; they're apparently chosen for each product based on the taste they contribute. All of the other ingredients they use are natural, and many are organic.
The only "complaint" we have: even though the CBD products are tested extensively before being packaged and shipped, the certificates of analysis (COA) supplied with them are generated internally by Charlotte's Web and not by an independent third-party. Most reputable companies use third-party testing to give customers peace of mind.
We're not too concerned about that last fact, however, because this company clearly puts a lot of thought into the design of its CBD products – and when it comes to performance, to use the phrase we used earlier, Charlotte's Web walks the walk.
Oh, one other thing before we move on: These products are priced right around the market average, even though the company would have been able to charge a premium based on its brand name and recognition.
Charlotte's Web CBD Oils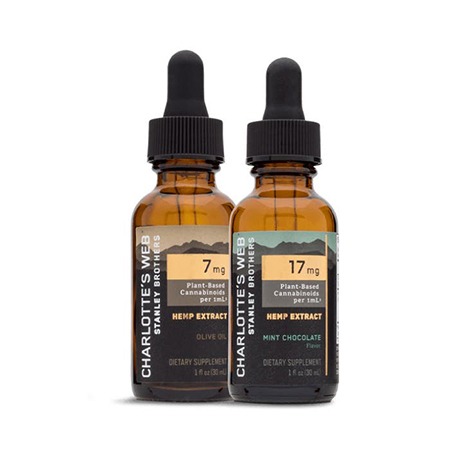 Yes, you can still purchase the "revised" version of the full-spectrum CBD oil that the Stanley Brothers created for Charlotte called, not surprisingly, "Original Formula." It's still produced in small batches and is a potent oil at 50mg/ml. Olive oil is used as a carrier in the natural flavor option, and MCT coconut oil is the carrier in the mint chocolate-flavored variety. The flavoring agents are natural and organic.
That's not the only Charlotte's Web CBD oil on the menu. Other versions of the flagship product are sold, with potency choices of 7mg/ml, 17mg/ml, and 60mg/ml, and in flavors like lemon twist and orange blossom as well as natural and mint chocolate. Again, all flavorings are from organic essential oils and no other ingredients are added.
Charlotte's Web CBD Capsules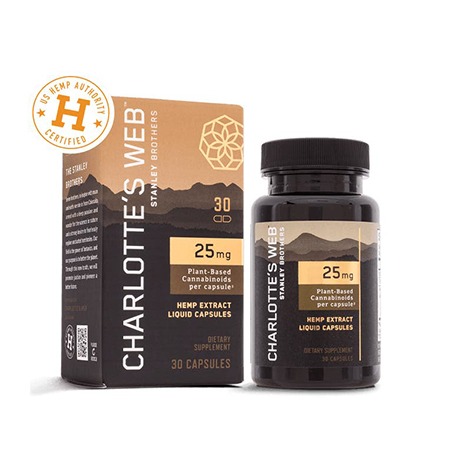 One of the things we like about this company is that they don't throw in a lot of unnecessary "stuff" when designing and manufacturing their products. Their CBD capsules, for example, contain just full-spectrum cannabidiol and olive oil as a carrier; the leak-proof capsules are vegan, gluten-free, and kosher and available in dosages of 15 or 25 milligrams apiece. You couldn't ask for much more.
Charlotte's Web CBD Edibles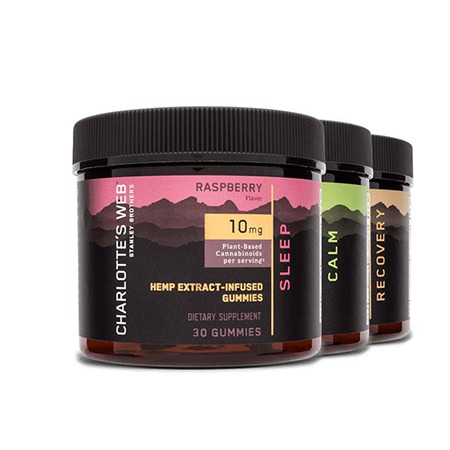 It's common for CBD producers to use CBD isolate in their edible products. That's not the best idea, because the effectiveness of cannabidiol is already lowered when it must first be processed in the digestive system. The absence of an entourage effect contributed by full-spectrum CBD makes edibles even less potent.
Unlike most companies, though, Charlotte's Web uses full-spectrum cannabidiol in its four varieties of gluten-free CBD gummies. They're all basically the same, with 5mg of CBD in each gummy (the recommended serving is two candies), and only botanicals and natural flavorings added. You can choose from raspberry "Sleep" gummies with CBD and melatonin, lemon-lime "Calm" gummies with CBD and lemon balm, or ginger-flavored "Recovery" gummies with CBD, ginger, and turmeric.
Charlotte's Web CBD Topicals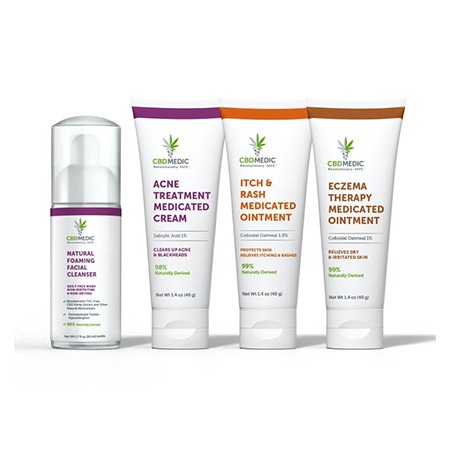 We've mentioned that this company has absorbed several other producers, and it offers both its Charlotte's Web and its CBD Medic branded topical products to customers. The big difference is that Charlotte's Web-branded products contain full-spectrum cannabidiol, while the CBD Medic products contain CBD isolate with no trace of THC.
The first group (Charlotte's Web CBD topicals) includes a cream, a balm, and a roll-on oil blend designed for application to smaller areas. Each product is vegan and free of most major allergens; the cream contains aloe vera and several botanicals, the balm also contains menthol, peppermint, and eucalyptus oil for a cooling effect, and the roll-on has added lavender, bergamot, and chamomile oils.
The CBD Medic lineup includes arthritis pain relief ointment, back and neck pain ointment, muscle and joint pain relief spray, sports pain relief ointment and sticks, and massage therapy oil. All, as we said, contain CBD isolate.
Charlotte's Web CBD for Dogs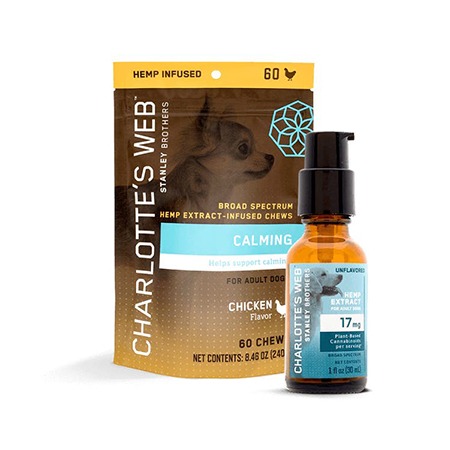 The company has a nice assortment of CBD products designed for your best friend. The CBD oil is full-spectrum and potent, at 17mg/ml – that's way too much for smaller dogs, so be judicious and administer by the drop. It comes in chicken and unflavored varieties.
There are three different types of dog chews, each containing 2.5 milligrams of full-spectrum cannabidiol and added ingredients to help with either hip and joint pain, anxiety, or the cognition decline often suffered by older dogs. They're all chicken-flavored and all-natural. Finally, the Charlotte's Web CBD-infused balm for dogs moisturizes skin, supports skin health, and helps ease irritations.
Charlotte's Web CBD: The Verdict
No one – including any reputable CBD producer – can claim that cannabidiol will be as effective for you as it was for Charlotte Figi. That was an unusual case with a nearly-miraculous outcome.
However, the best way to obtain maximum benefit from CBD products is to ensure that they're designed with expertise and care, and manufactured according to best practices. And Charlotte's Web checks off all of those boxes, in a way that even most high-end producers can't match.
Quite simply, this is a terrific company, and a lineup of terrific products at very good prices. You can't do much better than that.