Texas has some of the most restrictive cannabis laws in the US. While the laws are slowly improving, getting a hold of any amount of marijuana is extremely difficult. So let's talk about where to get weed in Austin and how to do it safely.
Buying Weed Online in Austin, Texas: Is It Even An Option?
Texas has yet to legalize marijuana for recreational use. So currently, only medical marijuana patients can legally get weed in Austin. Still, the purchase needs to be made in person; buying online is not an option.
However, Texas laws only apply to delta 9 THC from marijuana — and there's a new kid on the block from the group of 'tetrahydrocannabinol.
It's delta 8 THC.
A Better and Legal Alternative to Buying Weed in Austin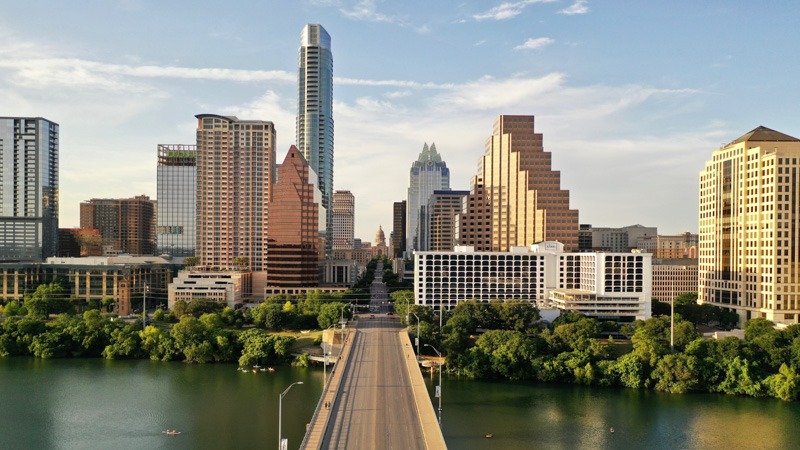 In 2018, President Trump signed the amended Farm Bill into law, legalizing hemp on a federal level. Since then, hemp companies have been feverishly making new cannabinoid-based products, exploring the health benefits of different compounds from cannabis.
Delta 8 THC is one of such novel cannabinoids.
Delta 8 vs. Delta 9 THC
Both delta 8 and delta 9 are different variants of the THC compound.
Delta 9 THC is naturally produced in the flowers of mature marijuana plants. It's the most abundant cannabinoid in weed, one that gets you high when you smoke, vape, or eat it.
Delta 8 THC isn't naturally synthesized by cannabis. Instead, it's a 'byproduct' of delta 9 THC's degradation. When THC breaks down over time, it converts into CBN (cannabinol) or its more stable version, delta 8 THC.
However, only a trace of delta 9 converts into delta 8 THC, so manufacturers need to synthesize it using high-tech laboratory equipment.
Delta 8 THC can be extracted from marijuana and hemp. Hemp-derived delta 8 THC products are made by first extracting CBD, converting it into delta 9 THC, and then synthesizing delta 8.
This is a multi-step process that requires several toxic chemicals, but when performed correctly, it yields pure and concentrated delta 8 THC distillate.
The potency of delta 8 THC is twice as low as the one offered by delta 9 THC from marijuana. The high is more clear-headed, focused in the body, smoother, and less anxious.
That's why so many cannabis users are turning from regular weed to delta 8 THC.
Cons of Delta 9 THC from Marijuana
Marijuana is a relatively safe substance when used both medically and recreationally. Most users can enjoy the psychoactive buzz without the side effects like anxiety and paranoia.
Low and moderate doses of delta 9 THC are associated with euphoria, deep relaxation, sensory enhancement, and an appetite boost.
However, high doses of THC may backfire at the user, causing mental discomfort.
If your cannabinoid receptors in the brain get easily overstimulated by THC, higher doses may lead to the following reactions:
Anxiety
Paranoia
Dizziness
Fatigue
Increased heart rate
Pros of Buying Delta 8 THC Online
The delta 8 THC market is mostly unregulated, with many sub-par products being churned out on the market. Of course, there's an equal number of reputable manufacturers who care about the quality of their products, but they can be difficult to find if you're buying delta 8 THC for the first time.
While you can find plenty of delta 8 THC products in vape stores and head shops (even at gas stations), most of them are mislabeled, and some of them can be downright dangerous due to contamination or improper purification of the chemical used for extraction.
The best way to buy high-quality delta 8 THC is to find a trustworthy online retailer.
Buying delta 8 online makes it easier to research any company selling such products. You can look for third-party lab reports, read user reviews, or check online rankings on expert websites and niche forums.
On top of that, online shopping offers the following perks:
Shipped Legally to Your Door in Your State
The reason why delta 8 THC extracts have become so popular throughout the year is their legal status. Delta 8 THC is legal on a federal level as long as it is extracted from hemp and contains less than 0.3% of THC — as stated in the 2018 Farm Bill.
You can buy delta 8 THC products in Austin and order them from Los Angeles or Detroit. This is something you won't be able to do until marijuana is decriminalized on a federal level.
Receive in 2-3 Days with the Convenience of Shopping at Home
The convenience of online shopping is second to none. Unlike with local stores, you can compare different potencies, formulas, flavors, and prices in the comfort of your home, no matter what time it is.
Cannabis companies usually have fast delivery times. Once you've ordered your products, they should arrive at your door within 2–3 business days. Considering the time you'd need to spend on visiting different storefronts without proof that you're buying a safe product, shopping for delta 8 online is totally worth the wait.
No Anxiety As Seen with Delta 9 THC
Since delta 8 THC is about half as potent as delta 9 THC from marijuana, it also has a lower chance of getting you anxious or paranoid. The high is less intense, more focused in the body, and clear-headed.
Lasts Longer Than Delta 9 THC from Marijuana
The effects of delta 8 THC last longer than those of delta 9 THC. That's interesting because delta 8 tinctures can take about 1,5 hours to kick in, compared to CBD oil that usually starts producing its effects within 15–20 minutes after ingestion. The appetite stimulation is also more pronounced than what weed smokers are used to, so be prepared for a greater surge of the munchies.
Best Delta 8 Online Vendors
Since there are no official standards and quality guidelines for delta 8 companies, it's the consumer's responsibility to check the credibility of any brand selling delta 8 THC. Make sure to look at the company's farming practices, extraction methods, and laboratory testing; these three factors can help you tell the difference between a premium extract and a sub-par product.
Don't have the time to do your own research? Here's our recommendation on the best delta 8 online vendors after trying products from over 30 popular brands.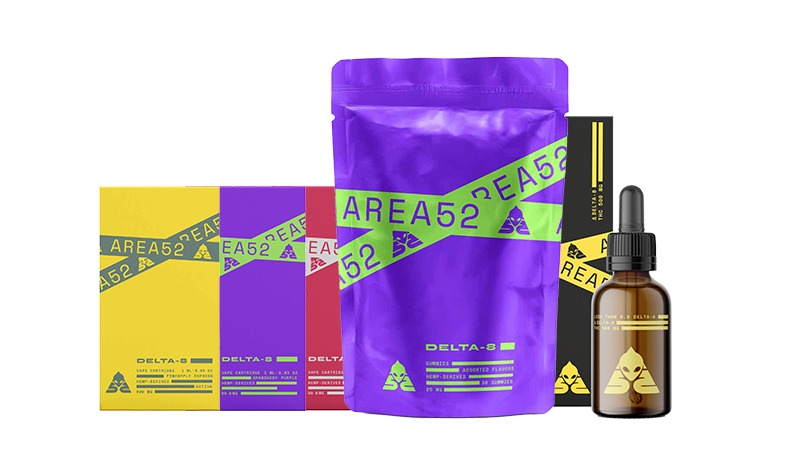 Area52 was founded in California as a small artisan company, but the guys have quickly grown to a decent size thanks to the remarkably high quality. Area52 specializes in making pure delta 8 THC distillate, which is then infused in various product types familiar to cannabis users — such as tinctures, edibles, and vapes.
Area52 offers a high-potency D8 tincture (1200 mg, vanilla flavor), gummies (25 mg each, assorted fruity flavors), and vape cartridges (900 mg – Pineapple Express, Berry Gelato, Grandaddy Purple terpenes). In addition, each product comes with a batch-specific certificate of analysis (COA). The integrity of the company's lab testing, along with the quality of ingredients and simple formulas, make Area52 the best delta 8 vendor in our opinion, even though the prices are slightly higher than the market's average.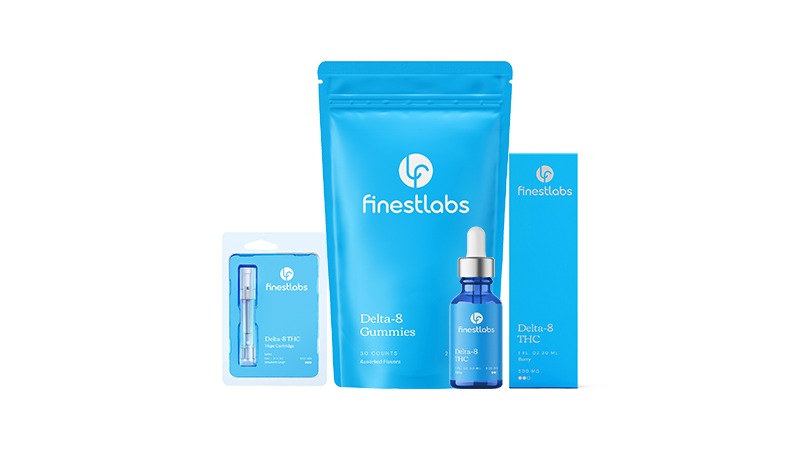 Finest Labs is the go-to brand for people who benefit from lower doses of delta 8 THC in their routine. The company sells the same products as Area52 – tinctures, gummies, and vape carts – but in lower potencies. For example, the delta 8 vape cartridge comes with 900 mg of delta 8 THC in one mL (perfect for micro-dosing); the tincture contains 500 mg; and the gummies are infused with 25 mg of d8 per piece.
The entire product selection is rigorously tested in an independent laboratory at different stages of production.
Buying Weed Locally in Austin, Texas
The only legal way of getting weed anywhere in Texas is if we have a medical marijuana card. Unfortunately, only a handful of licensed dispensaries around the state where patients can buy CBD oil. So the rest of us have to make do and find some underground spots. Let's see where to get weed in Austin and how to do it safely.
1. Red River
Red River is a trendy district in Austin with many bars, clubs, and restaurants. All year round, concerts and events are happening there. We recommend going to a concert or show that attract big crowds. Austin locals are incredibly friendly and helpful, and they can help us find a reliable dealer.
2. South by Southwest Festival
The festival takes place in March, and it is a cannabis-friendly event. There are music shows, film screenings, and discussion panels happening at 40 locations across town. We can easily find some cannabis enthusiasts that will give us the name of a good dealer or a location where we can safely buy some weed.
3. College Campuses
College campuses are usually a good place to find some weed-lovers. Some many students and locals hang out near campuses. So we can strike up a conversation with someone and find out about popular dealer hangout spots.
Moreover, we recommend visiting the University of Texas campus. We can usually find dealers in the west and north parts of the campus. The prices mostly start at $20 per gram. Finally, the last piece of advice we can give is to be careful when smoking weed grown in Texas. It is usually much more potent than the weed sold in dispensaries.
Is Weed Legal in Austin, Texas?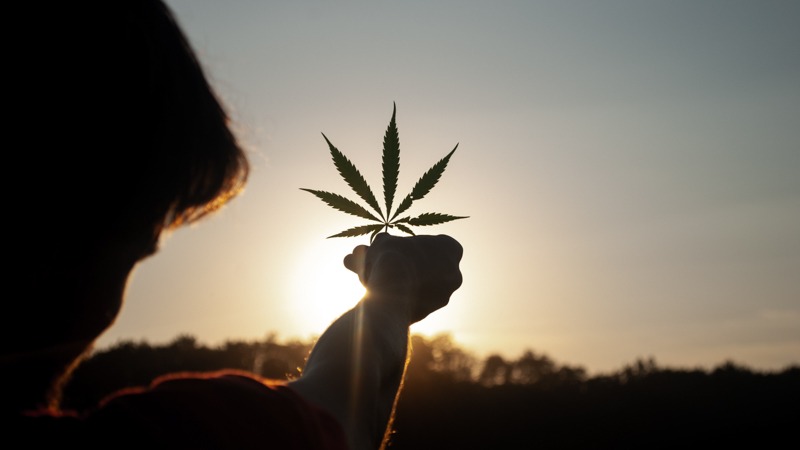 Cannabis has been illegal for both medicinal and recreational use until recently. However, since 2015, lawmakers have sanctioned the use of low-level THC CBD oils.
Medical Marijuana Laws in Texas
Texas allows CBD oils with a low THC level provided that the user has a valid medical marijuana card. Any other forms of marijuana remain illegal throughout the state.
Who Can Buy Medical Marijuana?
Only patients who have intractable epilepsy are eligible to apply for a medical marijuana card. In addition, a certified physician has to prescribe the CBD oil and provide a treatment plan.
Patients need to provide evidence that they have already used two FDA-regulated drugs and that neither one of those worked for them. Finally, only permanent Texas residents can qualify for a medical marijuana card.
Recreational Marijuana Laws in Texas
However, it's not all bad. Some progress has been made when it comes to recreational use. For example, first-time offenders who were caught carrying less than 56 grams of marijuana won't get any jail time — they will only have to pay a fine.
Moreover, police officers won't usually stop us if they see us smoking on the street. However, we advise against it, as it is still illegal, and we can get a fine or be taken into custody. Finally, keep in mind it is illegal to grow or sell marijuana. Only licensed dispensaries can cultivate cannabis.
Can I Smoke Weed in Public?
No, you can't smoke marijuana in public. All forms of smokable marijuana are banned in Texas, even for medical users.
Traveling with Weed in Austin
As mentioned, any activity associated with marijuana — be it possession, sale, cultivation, and transportation — is illegal in Texas. So if you're traveling with weed in Austin, you're doing it against the law and may be charged with a fine or prison depending on the severity of your offense.
What About CBD Hemp Oil?
CBD oil is legal in all 50 states, just like all hemp-derived products.
Hemp was federally legalized in 2018. The government removed it from the list of controlled substances. Farmers can grow hemp for any use, including food, clothing, construction materials, biofuel, paper, and health supplements like CBD oil.
CBD products from hemp can be found virtually everywhere, from pharmacies to head shops, vape stores, and wellness centers. However, similar to delta 8 THC, the best deals on premium CBD products are found online.
Key Takeaways on Buying Weed in Austin, Texas
Since marijuana is illegal for recreational use in Texas, you should be cautious when buying and smoking it (discretion above all!). In addition, only medical marijuana patients can legally use their medicine, although their options are limited to low-THC / high-CBD oils. Not to mention that the state doesn't have any operating dispensaries, and the products must be ordered by a doctor and delivered directly to patients.
If you're looking for a legal alternative to delta 9 THC from marijuana, look for a reputable delta 8 THC manufacturer. Delta 8 THC is (theoretically) legal in all 50 states; it doesn't get you as high as delta 9, so the high is more clear-headed and less anxious. In addition, Delta 8 products are available in formats typical of cannabis extracts, such as tinctures, edibles, and vape juice.
Just make sure to do your homework and tick off the important points we've covered in our short delta 8 buyer's guide.