Medicinal marijuana has been legal in the state of California since 1996. However, in 2016, the state passed Proposition 64, legalizing marijuana cultivation for recreational use. Since the law was passed, Los Angeles has become a hotspot for all cannabis enthusiasts. Therefore, when planning a trip, it is important to know where to get weed in Los Angeles.
This article leaves no stone(r) unturned while discovering the weed scene in L.A., including the best places to buy weed locally and online. We also have something special for those sensitive to the trippy character of the standard THC but still would like to enjoy the weed high.
Buying Weed Online in Los Angeles: Is It Even an Option?
Buying weed online is easy in Los Angeles. There are several dispensaries offering delivery services to recreational users — including contactless delivery.
Shopping for weed online is a good idea if you're smoking rare strains or don't want to spend time in long queues. But, not every cannabis user responds well to the high from delta 9 THC.
That's where another form of THC comes in — delta 8.
Ever heard of this novel cannabinoid?
Here we explain more.
A Better and Legal Alternative to Marijuana in Los Angeles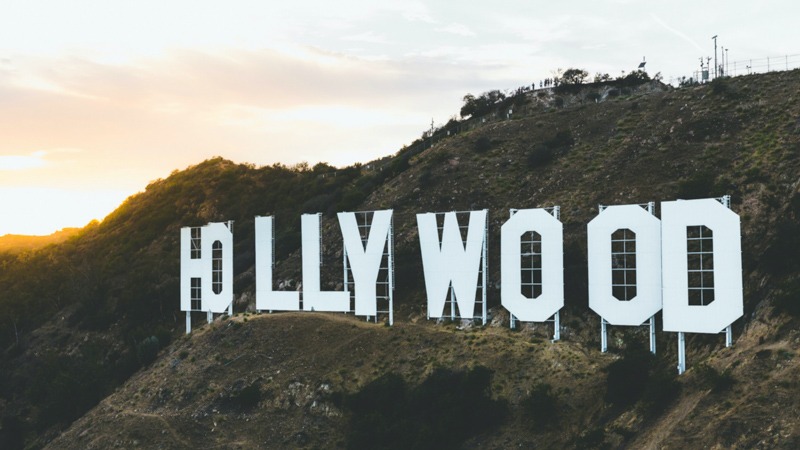 Delta 8 THC is the next trending cannabinoid on the market. Cannabis plants don't naturally synthesize it, but recent scientific breakthroughs have allowed manufacturers to extract significant concentrations of this compound from either hemp or marijuana.
There are two reasons why many people consider delta 8 THC a better alternative to marijuana in Los Angeles.
First of all, delta 8 THC produces a milder high than delta 9, which is more clear-headed and focused in the body. It's also not as trippy as the classic weed high, so there's a lower chance of getting anxious or paranoid after consuming high doses of delta 8.
Secondly, and more importantly, delta 8 THC is legal on a federal level — at least theoretically.
We'll get down to it in a bit.
Delta 8 vs. Delta 9 THC
Delta 8 and delta 9 THC fall into the category of cannabinoids known as "tetrahydrocannabinol," — meaning they're both types of THC molecules.
Delta 9 THC is the most abundant compound in marijuana, the one that gets you high. The psychoactive effects of THC are mostly associated with recreational use, but they also offer several medical benefits, such as relief from pain, reduced inflammation, deep relaxation, and improved sleep.
Delta 8 THC isn't naturally synthesized by cannabis. Instead, it's a byproduct of THC's degradation. When you weed ages or gets exposed to air for a long period of time, it will degrade into CBN (cannabinol) and its more stable form delta 8. However, only a small percentage converts into delta 8 THC.
Manufacturers extract delta 8 THC by either synthesizing it directly from delta 9 or extracting CBD, converting it into delta 9, and then synthesizing delta 8 THC from it.
As mentioned, delta 8 THC is about half as potent as delta 9. This translates into a smoother high that doesn't get the user edgy even at higher doses.
This gives delta 8 an upper hand over its more common version.
Cons of Delta 9 THC from Marijuana
In low and moderate doses, delta 9 THC has a relaxing effect on the body and mind. Higher doses induce euphoria and a giggly mood accompanied by a boost of appetite and an altered state of mind.
However, going overboard with THC may backfire at the user, causing a few unwanted reactions, such as:
Anxiety
Paranoia
Racing heart
Dizziness
Impairment of motor functions.
That's why so many people are turning to delta 8 THC. It provides them with similar health benefits to delta 9 but with a lower incidence of triggering anxiety or falling into paranoid thinking patterns.
Pros of Buying Delta 8 THC Online
Delta 8 THC has rapidly become popular all over the United States. You can find it in head shops, vape shops, dispensaries, wellness centers, and even gas stations.
However, since the market is mostly unregulated, there's a high risk of buying a mislabeled or contaminated product that will not only have less delta 8 THC than stated on the label but can also be harmful to your health.
The only way to verify the credibility of any gives delta 8 brand is to look for third-party lab reports — which is difficult when you shop for delta 8 THC locally.
The best deals on high-quality delta 8 THC products are found online, not to mention that online shopping gives you more opportunities for researching your potential delta 8 vendors. You can read certificates of analysis, read user reviews on third-party websites, and check online rankings for a fuller picture of the company.
Wondering why it's better to buy delta 8 THC online? Here are a few more arguments that should convince you:
Shipped to Your Door Legally in Your State
The best part about buying delta 8 THC online is that it's legal on a federal level. Theoretically, you can order your delta 8 THC products in Los Angeles but have them delivered from a different city in another state (e.g., from Denver or New York). Unfortunately, you can't order weed online from another state right now because the federal law doesn't allow it. Transportation of marijuana and its derivatives is considered a federal felony.
Hemp-derived delta 8 THC can be purchased from any state and delivered to your doorstep in a matter of days.
Receive in 2–3 Days with the Convenience of Shopping Online
Cannabis companies are known for their fast delivery times. Once you've ordered your products, they should arrive in 2-3 days, so it may be worth waiting a little bit more to get a certified and safe product.
Moreover, shopping for delta 8 THC online is more convenient than buying locally. You can browse between different brands and compare their products and prices in the comfort of your home.
Not to mention better prices.
Online stores can cut out the middleman to put a lower price tag on their products on top of offering discounts, coupon codes, and reward programs for returning customers.
No Anxiety As Seen with Delta 9 THC
As we said, delta 8 THC is about half as potent as delta 9 THC. Most users describe the high as smooth and less anxious. The psychoactive effects are bland when you take delta 8 alone; you feel high but in no particular direction. That's why people often blend delta 8 THC with terpenes and other cannabinoids to create whole-plant synergy.
Lasts Longer Than Delta 9 THC from Marijuana
Despite lower potency, the effects of delta 8 THC last longer than from delta 9. The appetite stimulation is also more pronounced, so be prepared for a serious case of munchies.
Top Delta 8 Online Vendors
Delta 8 THC is a young and booming space. Many great companies offer high-quality products at reasonable prices, but there's also a fair number of sketchy vendors who don't like to play the game by the rules. They make cheap delta 8 THC extracts that are made using hazardous solvents and acids. You need to have eyes all around your head if you don't want to fall victim to scammy companies. When buying delta 8 THC online, make sure to check the source of the cannabinoid, the extraction method, and third-party lab reports.
In a rush?
No problem.
Let us help you out. At WeBeHigh, we're constantly monitoring the market, reviewing the best and the worst companies selling cannabis products, including delta 8 THC extracts. After trying delta 8 THC from over 30 popular brands, we've narrowed down our choice to the top 2 online vendors known for top-shelf quality standards and integrity of laboratory testing.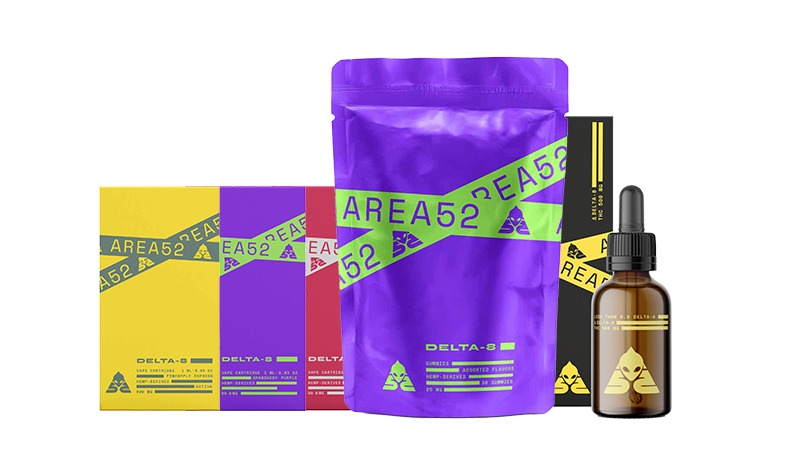 Area52 started in 2020 as a small craft company, but it has quickly grown to a decent-sized brand offering a range of delta 8 THC products in traditional formats, such as tinctures, gummies, and vape carts.
Their high-potency D8 tincture contains 1200 mg of delta 8 THC (40 mg/mL) and has been infused with a vanilla flavor. In addition, the product is sweetened with stevia, so you can enjoy a tasty tincture without taking extra calories.
The gummies come with 25 mg of delta 8 in each piece. There are 3 assorted fruity flavors in the container: Green Apple, Pineapple, and Strawberry. They're vegan and gluten-free so that you can eat them regardless of your food choices and limitations.
The vape cart packs 900 mg of pure delta 8 THC distillate blended with cannabis-derived terpenes. You can pick from the Pineapple Express, Berry Gelato, or Granddaddy Purple strains. The vaping liquid feels energizing and provides a nice mood-elevating effect.
A third-party laboratory tests all of the products offered by Area52 for potency and purity.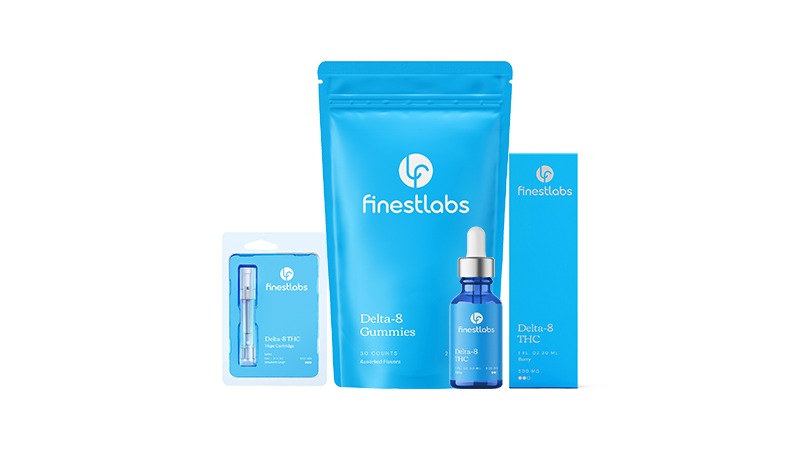 Finest Labs is the best brand for people who benefit from lower amounts of delta 8 THC. The company offers the same range of products as aea52 — gummies, tinctures, and vapes — but in lower concentrations. For example, both the vape cart and the tincture contain 500 mg of delta 8 THC, and the gummies are infused with 25 mg of d8 per piece. In addition, all products have relevant and up-to-date certificates of analysis for their cannabinoid profile and results for contaminants.
Buying Weed in Los Angeles Locally
Los Angeles is home to some of the finest recreational dispensaries in California. There are many locations where you can buy top-shelf weed, although you'll need to pay a bit more for your stash than you do in other states (e.g., Colorado). You can choose from products like cannabis buds, oils, edibles, capsules, vape liquids, topicals, and more.
Be sure to check the online dispensaries, too, as they might offer better prices for the same products.
Is Weed Legal In Los Angeles?
Yes, both recreational and medical marijuana are legal in Los Angeles.
Having 28.5 grams on us or less is not an arrestable offense. As long as we provide some form of ID to the officer and agree to appear in court, the officers will not take us to a precinct. We only have to pay a $100 fine, and we will be free to go.
Unless we have a medical card, having more than 28.5 grams on our person is classified as a misdemeanor. We can get up to six months of jail time and a $500 fine. However, medicinal marijuana cardholders can carry over 55 grams, as long as they carry their cards with them. Moreover, cultivation is now legal, and we can grow six plants for personal use.
As long as we follow the law, police officers won't give us a fine. If we have less than 28.5 grams, they might not even write a ticket. Most of the time, they will confiscate the cannabis from us, and that's it. However, we should never smoke in a public place or while operating a vehicle. Moreover, only people over the age of 18 can legally use marijuana.
Medical Marijuana Laws in Los Angeles
Los Angeles voters passed the Compassionate Use Act in 1996, legalizing medical marijuana. Eligible patients can apply for a medical marijuana card.
Who Can Buy Medical Marijuana?
Only qualifying patients that have been diagnosed with one of the following conditions can get an MMJ card and purchase marijuana from medical dispensaries:
AIDS
Anorexia
Arthritis
Cachexia (wasting syndrome)
Cancer
Chronic pain
Glaucoma
Migraine
Persistent muscle spasms
Seizures
Severe nausea
Or any other medical condition or symptom that limits a person's ability to partake in major life activities as defined in the federal Americans with Disabilities Act of 1990.
Medical patients or their primary caregivers may possess up to 8 ounces of marijuana.
Recreational Marijuana Laws in Los Angeles
In 2016, California legalized marijuana for adult use. Two years later, the first recreational dispensaries have started to pop up in Los Angeles. As a result, L.A. residents can now enjoy one of the most developed weed markets in the country.
Who Can Buy Recreational Marijuana?
21 years or older, people can possess up to 28.5 grams (1 ounce) of marijuana flower and up to 8 grams of marijuana concentrate. On top of that, adults are allowed to grow up to six living cannabis plants within their private property.
As long as you can provide a valid ID to prove your age, you have a constitutional right to purchase, possess, and consume marijuana in Los Angeles.
Can You Smoke in Public?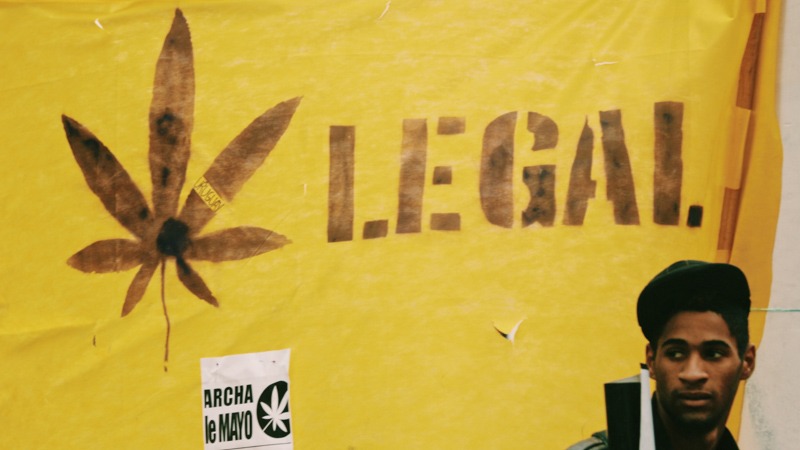 The fact that weed is legal in Los Angeles doesn't mean you can smoke it anywhere you want.
You are not allowed to smoke legal cannabis in the following places:
Public places and areas
Locations where tobacco smoking is banned
Within 1,000 feet of a school, youth center, or daycare where children reside while not inside the premises of a private residence.
You can consume legal marijuana in any of the following locations:
Private residences
Accessory structures attached to the grounds of a private residence provided that space is enclosed and secure from the public.
Outdoors on private property so long as the city/county does not ban such activities.
Traveling with Weed in Los Angeles
You can travel with weed in Los Angeles as long as you keep it in a child-proof container and away from the driver's reach. You can transport up to 28.5 grams of marijuana flower and up to 8 grams of concentrate. However, you can't take your weed over the state's borders, as it will be considered a federal felony, and you can be severely punished for that. So make sure that you leave your weed in L.A. when traveling to another state.
When it comes to driving under the influence of marijuana, this is still illegal. Penalties for marijuana DUIs can range from informal probation, fine/license suspension to social services, and jail time. Penalties are higher with each conviction.
What About CBD Hemp Oil in Los Angeles?
CBD hemp oil is legal in Los Angeles, just like all other hemp-derived products. In 2018, the federal government legalized hemp under the amended Agricultural Act, so you can legally buy hemp-based extracts as long as they contain 0.3% of THC or less. Similar to delta 8 THC products, the best deals on premium CBD oils are found online. But, again, be sure to research any company you're interested in buying from — the FDA has yet to evaluate the safety and efficacy of hemp-derived CBD before it can establish any recommendations for manufacturers.
Key Takeaways on Buying Weed in Los Angeles
Los Angeles is one of the best cities to be if you love weed. The abundance of dispensaries and local cannabis companies is second-to-none, with lots of high-quality products on the shelves waiting for you to try them.
If you don't respond well to high-THC cannabis, consider trying delta 8 THC from hemp. This THC form is twice less potent than delta 9, inducing a more laid-back high with positive energy and a lower incidence of anxiety and paranoia.
While buying delta 8 THC somewhere near you may sound convenient, we recommend finding a trustworthy online vendor if you're looking for certified products crafted to the highest standards. If you don't have time to run your own research, feel free to use our recommendations from above. Both companies make premium delta 8 THC extracts that you can order without breaking the bank.