Residents of Nevada and tourists visiting the state can buy weed with no hassle from the police. Recreational cannabis has been legal in Nevada since 2017, opening the door to one of the most promising cannabis markets in the US.
There are tons of dispensaries in Las Vegas, and the weed culture is booming in Sin City, but where do you find the best weed in Nevada? Also, what are the exact regulations surrounding the medical and recreational use of marijuana?
We'll be happy to explain.
Buying Weed Online in Nevada: Is It Even an Option?
Before the COVID-19 situation, marijuana consumers could only order weed ahead from recreational dispensaries on their website and pick it up later. Delivery services were reserved exclusively for medical marijuana patients.
That being said, since the coronavirus crisis changed how many sectors operated in Nevada, the state has permitted adult-use dispensaries to offer weed deliveries. We don't know whether these changes are temporary or will stay with Nevadians for good — but let's keep our fingers crossed that the state will adopt this temporary solution.
It works in Canada; why wouldn't it work here?
A Better and Legal Alternative to Marijuana in Nevada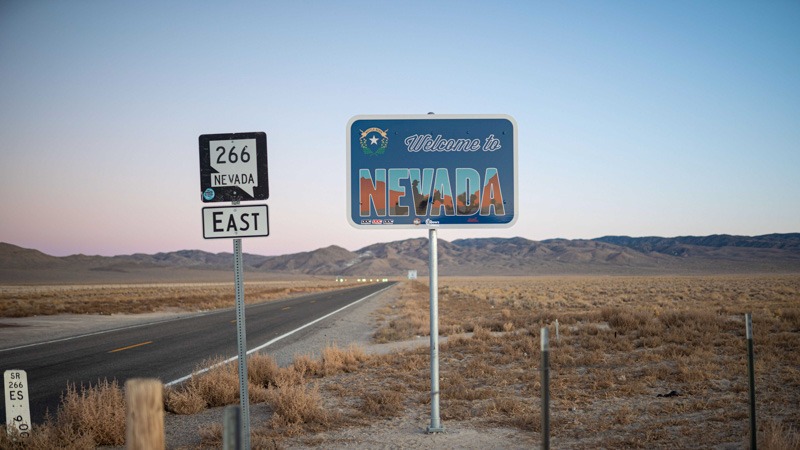 Some people aren't lucky enough to live near a cannabis dispensary to buy high-quality weed legally. For others, the high created by delta 9 THC is too intense and induces mental discomfort (anxiety, paranoid thinking). Until recently, cannabis users could only dampen the psychoactive experience with CBD, but that added additional costs to their already expensive hobby.
This is where delta 8 THC came in.
Before we elaborate on delta 9's close cousin, let's take a look at why some people choose to avoid weed.
Cons of Delta 9 THC
Most people can enjoy the psychoactive effects of marijuana without any mental discomfort. When they get intoxicated, they experience relaxation, euphoria, a boost of appetite, and a warped perception of time on top of sharpened sensory reactions.
However, some users are particularly sensitive to the psychoactive properties of delta 9 THC, which causes them to experience the following side effects in higher doses:
Mental distress (anxiety, paranoia)
Confusion
Dizziness
Low blood sugar levels (known as a 'green out)
Increased heart rate
How does delta 8 THC fit in here?
Delta 8 vs. Delta 9 THC
Both delta 8 and delta 9 are different versions of the THC molecule. As an analog of delta 9 THC, delta 8 has a similar molecular structure. However, there's a slight difference in the arrangement of their atomic bonds. For delta 8 THC, the double bond is at the 8th carbon chain, while for delta 9, this bond is at the 9th chain.
This subtle difference makes delta 8 THC about half as potent as delta 9. So you'd need to consume twice the amount of delta 8 THC to experience the same intensity of effects as with delta 9.
Another advantage of delta 8 THC is that it doesn't get the user anxious. In fact, this side effect is very rare among people who take delta 8 THC.
Last but not least, delta 8 THC comes with similar benefits to delta 9 THC when it comes to easing pain, inflammation, nausea, vomiting, and stress. It can also significantly boost appetite and protect neurons in the brain against damage.
Pros of Buying Delta 8 THC Online
As a sort of a "golden mean" between delta 9 THC and CBD, delta 8 THC has quickly garnered a lot of attention, which has paved the way to a booming market with many companies and products to choose from.
Sometimes, this choice can be overwhelming for someone who wants to try delta 8 THC for the first time.
The problem with products sold locally is that they are often mislabeled. Some can even be contaminated with toxic substances such as heavy metals, pesticides, or residual solvents.
When you shop for delta 8 THC locally, you can only rely on the store owner's or the employee's opinion about any given product.
That's why we prefer to buy delta 8 online. You can look for certificates of analysis, read user reviews on third-party websites, and search through social media groups and expert forums for professional advice.
Here are more perks to buying delta 8 THC online:
Shipped to Your Doors Legally in Your State
The boom on delta 8 THC wouldn't be possible without it being legal on a federal level.
Delta 8 THC can be extracted from both hemp and marijuana. When made from hemp plants, the final product contains no more than 0.3% of delta 9 THC — which is acceptable according to the 2018 Farm Bill. The bill legalized hemp and all its derivatives on a federal level as long as they don't cross the 0.3% threshold.
That being said, 12 states have already banned the sale of delta 8 THC, considering it as a legal grey area. Still, they're in the clear minority.
Receive in 2-3 Days with the Convenience of Shopping at Home
Perhaps the best thing about buying delta 8 THC online is the convenience it offers. You can browse between different brands and their products — potencies, formulas, sizes, flavors, and prices — in the comfort of your home. There's no need to go from one local store to another only to confirm that they're "just selling tinctures." Delta 8 THC products ordered online usually arrive in 2-3 business days.
Since online stores don't have to deal with the middleman, they can offer better prices. Customers can also take advantage of discounts, coupon codes, and reward programs to save money on their favorite products or try something new for less.
No Anxiety As Seen with Delta 9 THC
Since delta 8 THC isn't as potent as delta 9, it's less likely to get you anxious or paranoid. Instead, most users describe the sensation as clear-headed and more focused in the body. Depending on the dose, the effects can be mildly stimulating or sedating. The high from delta 8 THC alone is bland, so most people combine it with other cannabinoids and terpenes to leverage the entourage effect from cannabis.
Lasts Longer Than Delta 8 THC from Marijuana
Despite being less potent and delayed in time, the effects of delta 8 THC tend to last longer than delta 9 from marijuana. The appetite stimulation is also more pronounced, which is why it's good to have something at hand to quench the munchies. On the other hand, this "side effect" may be desirable if you have an eating disorder or suffer from a low appetite.
Best Delta 8 THC Online Vendors
No two delta 8 THC products are made the same. Since there is no standardization in the space, there's a large difference between these hemp extracts' quality. Here at WeBeHigh.com, we're dedicated to monitoring the cannabis market, reviewing the best and the worst products to provide you with a good source of information on what's good on the hood and what you shouldn't even touch.
Here are our top 2 picks after trying out over 20 popular brands in the delta 8 market.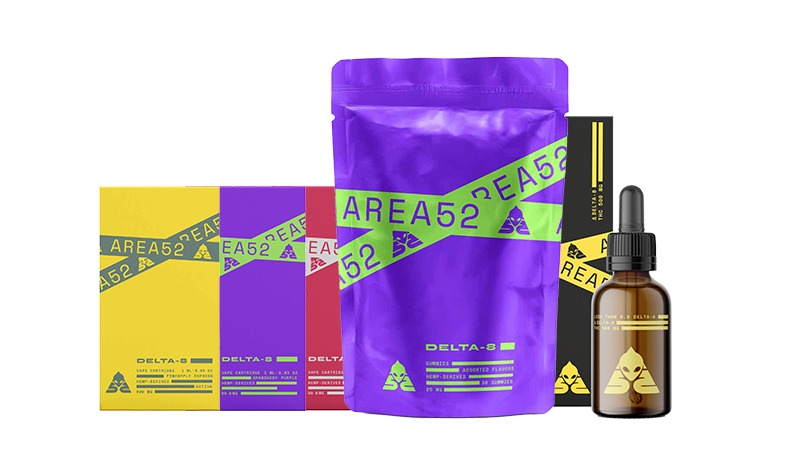 Area52 is a California-based company that produces high-quality delta 8 THC distillates from organic hemp. These extracts are then infused into various formats, including tinctures, gummies, and vape carts. Area52 is known for its integrity of farming and testing practices. Each product is thoroughly analyzed in an independent laboratory and contains batch-specific certificates of analysis.
While the company admits its products are slightly more expensive than the competition, their award-winning quality and the use of natural terpenes make them totally worth it.
Products offered by Area52:
Delta 8 THC Tincture (1200 mg, Vanilla-flavored)
Delta 8 THC Gummies (25 mg per piece, non-GMO, vegan, low-sugar)
Delta 8 THC Vape Carts (900 mg – Pineapple Express, Berry Gelato, Granddaddy Purple)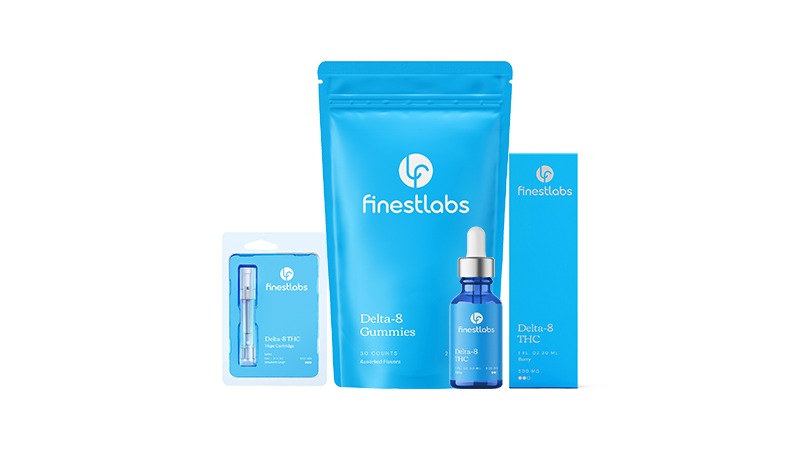 Finest Labs is a great brand for everyone interested in low-potency delta 8 THC products. The company offers a similar range to Area52 — tinctures, gummies, and vapes — but in slightly lower concentrations. Lowe potency translates to a lower cost per product, so this is the best pick if you're dipping your toes in the d8 space and looking for low-strength products to test different dosages. On top of that, the entire Finest Labs product line is tested at different stages of production, ensuring high quality and purity of its delta 8 THC distillate.
Products offered by Finest Labs:
Delta 8 THC Tincture (500 mg, Berry flavored)
Delta 8 THC Gummies (25 mg each, assorted fruity flavors)
Delta 8 THC Vape Cart (900 mg – Strawberry Cough)
Buying Weed in Nevada Locally
Nevada is home to plenty of recreational dispensaries, with their largest concentrations in Las Vegas.
If you're staying in Sin City, here's the list of the best recreational dispensaries to buy your stuff from:
Top Dispensaries in Nevada:
Name
Address
Acres Cannabis
230 Western Ave, Las Vegas 89102 NV
The Apothecarium
7885 W Sahara Ave Ste 112, Las Vegas, 89117 NV
Blackjack Collective
1736 S Las Vegas Blvd, Las Vegas, 89104 NV
Blum
1130 Desert Inn Rd, Las Vegas, 89109 NV
Canopi
6540 Blue Diamond Rd, Las Vegas, 89139 NV

123 S 3rd St, Las Vegas, 89104 NV

Rise
135 E Clearview Dr. Ste 119, Carson City, 89701 NV
Sierra Well
2765 US-50, Carson City, 89701 NV
Tsaa Nesunkwa Dispensary
963 S Pioche Hwy Ely, 89301 NV
The Green Cross Farmacy
510 W Williams Ave, Fallon, 89406 NV
Is Weed Legal in Nevada?
Yes, voters in Nevada passed the cannabis legalization bill on July 2, 2017. Anyone who's 21 and over can legally buy weed in Nevada for recreational purposes. You need to bring a valid ID, government-issued driver's license, or passport. It must be scannable and cannot be expired to confirm you're eligible to purchase weed in one of the state-licensed dispensaries.
Medical Marijuana Laws in Nevada
Although everybody aged 21 and over can buy weed in Nevada, it's still possible to obtain a medical marijuana card and benefit from some of the perks that come with it (more on that in the next section).
Who Can Buy Medical Marijuana in Nevada?
Applying for a medical marijuana card requires you to consult with a doctor about why medical cannabis could help you.
How to Qualify for Nevada's Medical Marijuana Program
Qualifying conditions include:
HIV/AIDS
Cancer
Glaucoma
Cachexia
Post-Traumatic Stress Disorder
Seizures
Severe nausea
Severe pain
Any other condition specifically approved by the Department of Health and Human Services.
After receiving a doctor's recommendation, you can apply for a medical marijuana card through the state's registry portal — with a registration fee between $50-$100 depending on the desired validity period.
Currently, it's just easier to buy weed in Nevada from recreational dispensaries. Unless, of course, you want to enjoy some benefits linked to having a medical marijuana card.
What Are the Advantages of Having a Medical Marijuana Card in Nevada?
First off, you avoid the retail excise tax, which is charged at about 10% for recreational sales. You can also access a wider range of products, especially when it comes to high-potency edibles. For example, the total THC content in an edible cannot exceed 100 mg, with a limit of 10 mg per serving for recreational sale. Medical patients can purchase weed edibles that contain 300 mg, 500 mg, or even 1000 mg of total THC.
Recreational Marijuana Laws in Nevada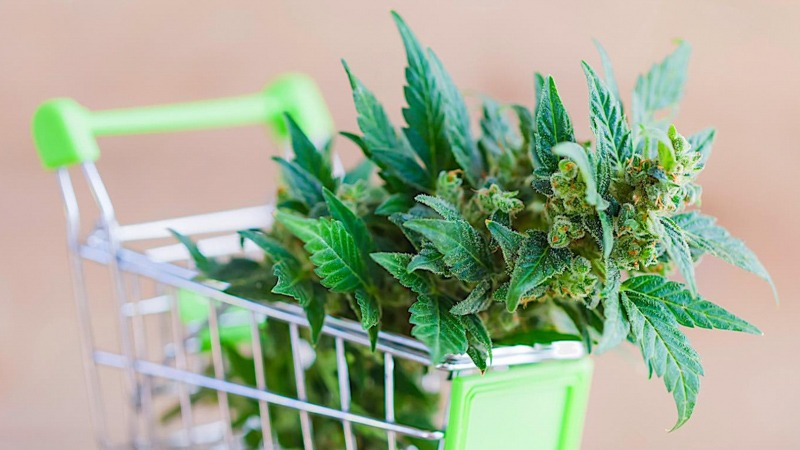 As mentioned, Nevada legalized recreational cannabis in 2017. Since then, Nevada's cannabis market is one of the fastest-growing industries in the US.
Here's what you need to know about the local laws surrounding the recreational use of weed:
Who Can Buy Recreational Marijuana in Nevada?
Recreational weed is legal in Nevada for all individuals aged 21 or over. In addition, you can legally purchase and possess cannabis and cannabis-infused products, and you can also grow your own marijuana. Nevada residents are allowed to grow up to 6 plants per household.
If you're of legal age, you're allowed to purchase up to an ounce of weed in or ⅛ of an ounce of concentrates like wax, crumble, shatter, and oils. Medical marijuana patients can buy up to 2.5 ounces of weed within a 14-day period.
Another difference between medical and recreational sales is that the latter aren't tracked. So you can come to a dispensary and buy an ounce, but the state doesn't care about it. However, if you're a registered patient, your transactions are tracked by the state's Department of Health and Human Services.
Can You Smoke Weed in Public?
It's illegal to consume marijuana in public. Consumption is restricted to private properties. There aren't any official cannabis smoking lounges, but there are plans to introduce them soon. You can find some palaces advertising as cannabis smoke lounges, but they currently exist in the grey area.
This doesn't mean that people don't smoke weed publicly in Nevada. On the contrary, it happens all the time. With all the smokeless, discreet consumption methods such as tinctures, edibles, and vapes, it's no wonder that locals and tourists aren't afraid to use their stuff openly among other people.
Traveling with Weed in Nevada
Taking your cannabis outside the state borders and trying to transport it to another state is considered a federal crime because cannabis is still listed as a Schedule I substance in The Controlled Substances Act. Therefore, you can't take your marijuana on the plane and travel with it, even if your destination state has cannabis-friendly laws too.
Traveling with weed around Nevada is permitted if you keep it in the trunk of your car, in a tightly sealed container away from the driver's and passenger's reach. Violating these rules is punishable with a fine.
What About CBD Hemp Oil in Nevada?
Hemp was removed from the Controlled Substances Act in 2018 upon the introduction of the amended Farm Bill. As a result, hemp is now considered an agricultural crop, and hemp-derived products are widely available in all 50 states.
You can travel with hemp-derived CBD around the US. Some states have their own regulations regarding CBD-infused products, so make sure to check with the local laws and see which forms of CBD are permitted. The same rules apply to traveling with CBD around the world.
Key Takeaways on Buying Weed in Nevada
The legalization of recreational marijuana in Nevada in 2017 resulted in long lines and sudden growth of one of the most prominent weed markets in the United States. But, whether you live in Las Vegas or are planning a road trip around Nevada, you can legally buy and consume cannabis as long as you adhere to the state's laws and don't try to travel with your weed on a plane to another state.
If there are no cannabis dispensaries near you, or you're too sensitive to delta 9 THC, you may consider buying delta 8 THC online. This analog of delta 9 produces milder psychoactive effects and doesn't get you anxious. On top of that, it has a few potential health benefits, and what's more important, it's (theoretically) legal on a federal level/
Where do you buy weed in Nevada? Are there any dispensaries you would recommend for first-time visitors who want to get their hands on top-shelf products?