Roughly 40 million Americans suffer from clinical anxiety disorders every year.
Anxiety is a normal reaction to stressors that humans developed throughout their evolution. However, when acute anxiety turns into a chronic disorder, it can take a serious toll on the quality of one's life. Anxiety disorders affect our performance at work or school, our relationship, and the way we cope with day-to-day problems.
CBD has recently become popular as a natural alternative to support anxiety sufferers. CBD (or cannabidiol) can promote feelings of calmness and relaxation without the side effects commonly associated with conventional treatment options.
Looking for the best CBD oil for anxiety?
You've come to the right place.
In today's guide, we share our list of top-quality CBD brands on top of the guide to using CBD oil for anxiety.
Continue reading to learn about the calming benefits of CBD, different dosage ranges, and how to use CBD to reduce stress.
5 Best CBD Oils for Anxiety (Best Brands for 2020)
Best Choice: Royal CBD
Runner Up: Gold Bee
Best Transparency: CBDPure
Best CBD Isolate: Hemp Bombs
Most Affordable Brand: CBDistillery
The CBD market has yet to get mature — meaning there are lots of brands offering mediocre-to-poor quality CBD products. The reason why many of those brands still exist in the industry is the CBD hype alone. As the market develops certain quality standards and customers become more educated on the subject of CBD, only the best brands will remain in the wake.
It's important to do meticulous research on the company you want to buy CBD oil from. From learning the source of CBD to checking the extraction method and third-party lab reports, there's a lot to look into if you want to avoid poor decisions.
To make things easier for you, we've put together a list of the best CBD oils we've tried for stress and anxiety. After going through 20+ brands, our team has selected the top vendors that combine premium quality with affordability and outstanding customer support.
Let's cover each of those brands in detail before we discuss how you can use CBD oil for anxiety.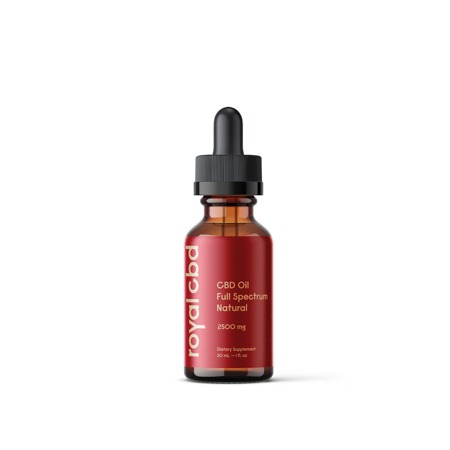 Product details:
| | |
| --- | --- |
| Total CBD Content | 250 – 2500 mg |
| Available Flavors | Berry, Mint, Natural, Vanilla |
| Potency | 8.3 – 83.3 mg/mL |
About Royal CBD:
Royal CBD is a premium online store launched by a group of hemp aficionados from California. The guys at Royal CBD offer a broad selection of different CBD products, from traditional tinctures and capsules to delicious gummies and natural topicals.
Unlike many of its competitors, Royal CBD focuses on quality rather than quantity. The company doesn't sell any over-the-top products; the Royal CBD oil is all about simplicity, reflecting the original phytochemical profile of the original hemp plant.
Speaking of which, Royal CBD uses organic hemp grown by farmers in Colorado and California. These plants are cultivated without pesticides, herbicides, or synthetic growth boosters to ensure that the source material is clean and high in CBD.
The company makes its full-spectrum CBD oil using supercritical CO2 extraction, without toxic solvents; each batch is rigorously tested in third-party laboratories and comes with a Certificate of Analysis proving its potency and purity levels.
The oil is available in 4 concentrations: 250 mg, 500 mg, 1000 mg, and 2500 mg. The highest potency provides 83.3 CBD in each mL. Royal CBD combines its full-spectrum extracts with premium-grade MCT oil for easier dosing and better absorption. The MCT oil gives the product a neutral taste compared to other products we've tried so far.
However, if you dislike the grassy taste of natural CBD oil, you can try one of the Royal CBD's flavored versions: Mint, Berry, or Vanilla.
Royal CBD offers a 30-day money guarantee program, which tells much about the brand's confidence in the quality of its products.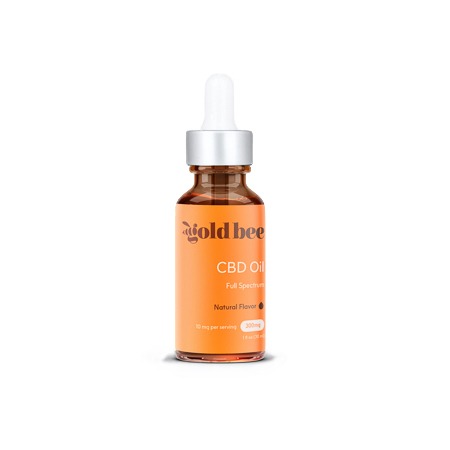 Product details:
| | |
| --- | --- |
| Total CBD Content | 300 – 1200 mg |
| Available Flavors | Natural (unflavored) & Honey |
| Potency | 10 – 40 mg/mL |
About Gold Bee:
The second-best brand in our ranking of top CBD oils for anxiety, Gold Bee also comes from California. This company started out from a bit of a different angle, selling superfoods like organic honey and MCT oil. The team at Gold Bee has decided to expand their line of premium products with a selection of CBD oil drops, capsules, gummies, topicals, and vape pens.
From food to health supplements, the philosophy represented by Gold Bee is clear: its goal is to provide natural solutions for both human health and, as a "collateral benefit", for the health of our planet.
Similar to the Gold Bee CBD honey, its CBD oil comes from non-GMO organic hemp plants, ensuring a CBD-rich source for further extraction. Similar to Royal CBD, Gold Bee uses supercritical CO2 as their 'solvent.' Supercritical extraction results in potent extracts that are free of toxic solvent residue.
The full-spectrum CBD oil from Gold Bee comes in three basic concentrations: 300 mg, 600 mg, and 1200 mg. At this potency range, this product is a good choice for both novice and experienced consumers alike. If you're just getting started with CBD, the 250 mg bottle will help you accurately figure out your optimal dosage. From there, you can try the other potencies to see which one turns out to save you more money in the long run.
So far, Gold Bee offers only one flavor option (unflavored) of its CBD oil. If you don't like the natural hemp flavor, you can check out other Gold Bee products, such as CBD gummies, capsules.
3. CBDPure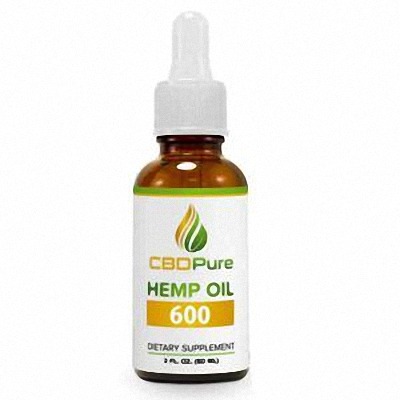 Product details:
| | |
| --- | --- |
| Total CBD Content | 100 – 1000 mg |
| Available Flavors | Unflavored |
| Potency | 3.3 – 33 mg/mL |
About CBDPure:
CBDPure offers the best low-potency CBD oil for those who benefit from lower doses when it comes to anxiety. CBDPure is also one of the most honest and transparent manufacturers we've come across to date. Not only does the company cover each stage of production of its CBD products, but it also shows lab reports from third-party testing for each batch.
CBDPure's product line up is even simpler than Royal CBD and Gold Bee. This company offers only traditional full-spectrum oils and high-potency capsules. The CBD oil is available in 3 strengths: 100 mg, 600 mg, and 1000 mg. The highest potency provides 33 mg of CBD and other phytocannabinoids in each mL.
If you use lower doses of CBD oil for your anxiety symptoms, CBDPure is one of the best companies on the market. The brand also offers a 100% Satisfaction Guarantee program, meaning you can return the product for a full refund within 90 days if you're not satisfied with the results.
4. Hemp Bombs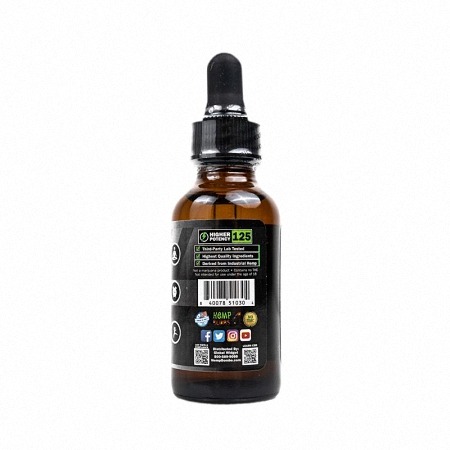 Product details:
| | |
| --- | --- |
| Total CBD Content | 125 – 4000 mg |
| Available Flavors | Unflavored, Berry, Watermelon, Orange Creamsicle, Peppermint |
| Potency | 4 –133.3 mg/mL |
About Hemp Bombs:
Hemp Bombs offers the best support for anxiety sufferers when it comes to isolate-based CBD oil. This American company offers 99% pure CBD extracts that are available in a variety of potency and flavor options. The strongest bottle provides a whopping 133.3 mg of CBD per mL. Hemp bombs also make CBD vape oils, gummies, capsules, and less conventional products such as tattoo aftercare or CBD-infused beard balm.
Hemp Bombs CBD oil comes in five CBD concentrations, from 125 mg to 4000 mg of total CBD. The hemp used for this CBD oil comes from organic European farms and is processed using clean, atmospheric CO2 for high potency and purity.
This product lacks the entourage effect because it contains only CBD. Without other cannabinoids and terpenes in the extract, CBD isolate may need higher doses to remain effective in certain cases. But that's what Hemp Bombs does best.
On a positive note, CBD isolates are considered more versatile than full-spectrum CBD. They have no odor and flavor, so you can infuse them into food, drinks, or consume under the tongue without the botanical aftertaste in your mouth.
5. CBDistillery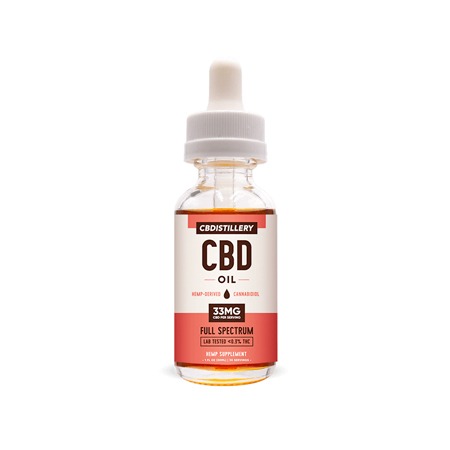 Product details:
| | |
| --- | --- |
| Total CBD Content | 250 – 5000 mg |
| Available Flavors | Unflavored |
| Potency | 8.3 – 166 mg/mL |
About CBDistillery:
CBDistillery is an industry veteran, but the company has managed to uphold its stellar reputation over the years thanks to its high-quality standards and a wide range of different forms of CBD available for sale.
CBDistillery's CBD oil is available in five different strengths, starting from 250 mg up to 5000 mg of CBD per bottle. You can choose between full-spectrum CBD or pure CBD oil (THC-free). The highest potency offers 166 mg of CBD per serving, which is enough to keep the users supplied for weeks or months.
CBDistillery currently offers the best CBD oil in this price range. If you want to check how CBD oil affects your anxiety but you're on a budget, this company has every type of CBD you're looking for.
The reason why CBDistillery scores the last place on our list of the best CBD oils for anxiety is that the company doesn't use organic hemp plants, unlike the other brands we've mentioned here.
What is CBD?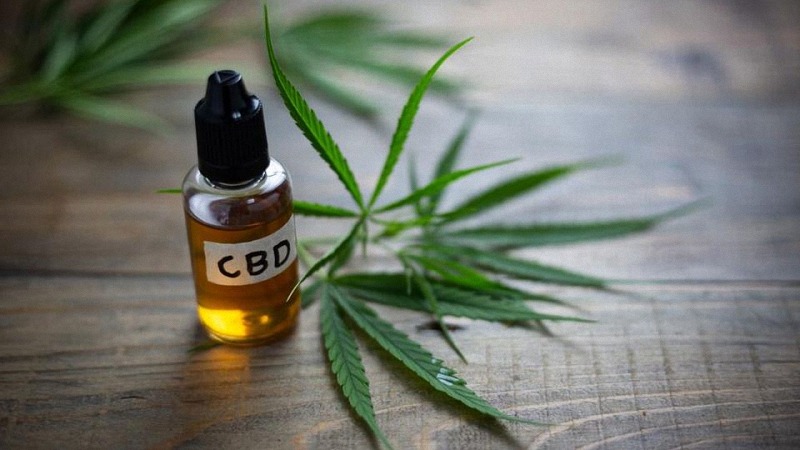 CBD is the acronym for cannabidiol, a natural compound extracted from cannabis plants. CBD interacts with the body's endocannabinoid system (ECS) — the body's regulatory biological network. The ECS maintains homeostasis when the body gets exposed to external changes or stressors.
Cannabinoids like CBD and THC mimic the actions of the body's naturally produced endocannabinoids. They signal the ECS through the network of cannabinoid receptors to exert specific actions on the body and brain. Cannabinoid receptors are spread throughout the whole body and are relevant for the majority of biological processes.
Cannabinoids and the ECS can affect memory, sleep, appetite, fertility, cognition, immune function, and our responses to stress.
CBD produces its calming effects by binding to the cannabinoid receptors and activating the cannabinoid system. As a result, the ECS can effectively restore the balance and natural harmony within the body.
As more studies into the impact of CBD on human biology emerge, we can get a better understanding of the exact mechanisms behind the medical versatility of this compound.
Common Anxiety Treatments
Anxiety is the body's reaction to stress. It's completely natural and happens when we experience stressful or dangerous situations. Anxiety is also an umbrella term to describe a wide range of disorders. People with anxiety disorders may experience persistent and acute fears when there are no serious threats around them. Their feelings and behavior may often be caused by a response to certain triggers, such as specific people, objects, or events. Sometimes, these feelings of unease may occur on a general basis.
The most common types of anxiety disorders include:
Generalized Anxiety Disorder (GAD)
Social Anxiety Disorder (SAD)
Panic Disorder
Phobias
Symptoms of an anxiety disorder include, but aren't limited to:
Restlessness
Heightened tension
Rapid breathing
Feelings of nervousness
Feelings of impending danger
Shaking
Sudden fatigue
Digestive problems
Attention deficits
There are different types of anxiety treatments, from cognitive-behavioral therapies to pharmacological treatment. For GAD, medication includes Selective Serotonin Reuptake Inhibitors (SSRIs). SSRIs are antidepressants that are commonly used for symptoms like anxiety and panic attacks.
However, behavioral therapy and prescription medications may not work for everyone. Their effectiveness can vary between individuals, hence the increased attention surrounding the use of CBD oil for anxiety in recent years.
Here's how CBD oil can help you ease anxiety and improve your body's response to stressors.
Benefits of CBD Oil for Anxiety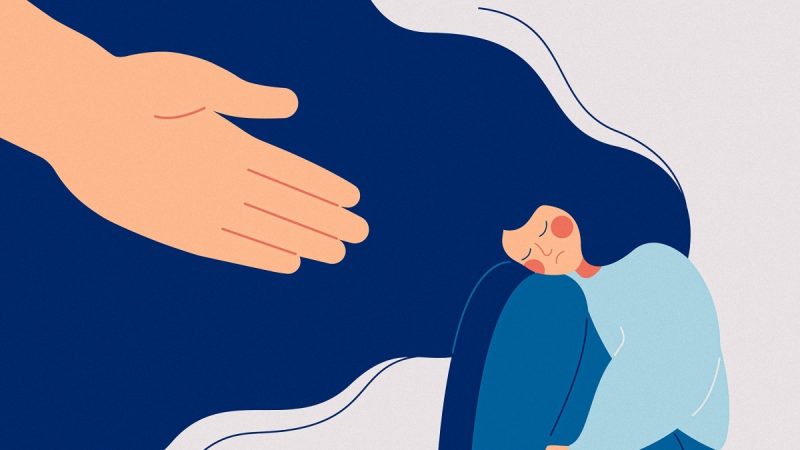 Social Anxiety Disorder (SAD)

Studies have pointed to CBD as the potential solution for lowering anxiety levels in patients with SAD. SAD involves feelings of embarrassment, low self-esteem, or fear of others' judgment. A person suffering from SAD will generally avoid social situations.
According to a study published in the Journal of Psychopharmacology, CBD may reduce anxiety in patients with SAD by acting on limbic and paralimbic activity in the brain.
GAD and Public Speaking
Generalized Anxiety Disorder has many faces, one being the fear of public speaking. The symptoms of this fear include various physiological responses, such as shaking, sweating, stammering, etc.
One study showed interesting results when it comes to CBD and the fear of public speaking. After administering CBD before a speech, the participants of the study experienced reduced anxiety and discomfort in their speech. They also reported cognitive improvements.
Sleep Disorders, Anxiety, and Pediatric PTSD
PTSD often involves sleep disturbances and increased anxiety levels. In a case study of a ten-year-old girl, researchers concluded that CBD helped to relieve her symptoms of PTSD. The trial run with CBD oil resulted in a consistent reduction of anxiety levels and improved sleep quality.
How Much CBD Oil Should I Take for Anxiety?
CBD affects everyone differently. The optimal dosage for each individual depends on their age, gender, weight, metabolism, unique body chemistry, and severity of symptoms. The FDA classifies hemp-derived CBD oil as a health supplement or novel food, meaning that it's not an officially acknowledged medicine.
Therefore, there are no official guidelines as to how much CBD you should take for anxiety. However, experts recommend starting out with 2–6 mg per 10 pounds of body weight. After a week of consistent dosing, you can reassess the effects and adjust the dose if needed. This approach allows for working your way up slowly to the point where you experience relief without using too much oil.
Please note that CBD is non-intoxicating, meaning it won't get you high. Hemp-derived CBD products contain 0.3% THC or less. These are insufficient concentrations to produce any psychoactive effects. By definition, hemp is a cannabis plant with less than 0.3% content.
What is Depression?
Depression is a clinical condition that involves several symptoms, one of them being recurring anxiety. Depression has become a recognized problem in society, although it can be challenging to treat. That's because there are limited support services for patients with depression, a lack of understanding of this disease, and a range of personal conditions that come into play.
Depression usually involves long periods of abnormally low mood and sadness. It affects 10% of the U.S. population. Depression treatment can be both behavioral and pharmacological depending on the symptoms and individual responses.
While pharmacological treatment can help some people, they may also have severe side effects, such as:
Insomnia
Severe mood swings
Sexual dysfunction
Suicidal thoughts
Another problem with antidepressants is that people often need to try several types of medications before finding one that works. The time one needs to spend figuring out the right antidepressant can be demotivating itself, let alone the side effects.
That's why some people seek help in CBD as an alternative treatment. If you want to incorporate CBD into your routine, make sure to consult with a holistic doctor if you consider cutting down on antidepressants. Rapid withdrawal can cause severe side effects, so we also recommend getting expert advice.
Does CBD Help with Depression?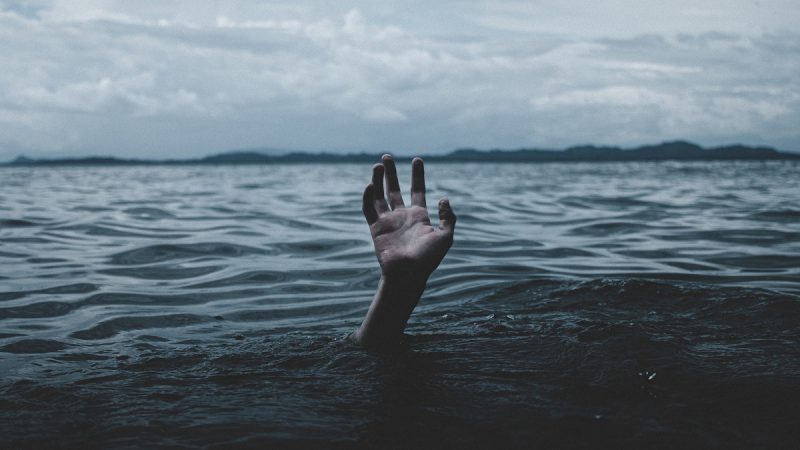 Recently, there have been several studies that led scientists to encourage discoveries about the benefits of CBD for depression, especially when it comes to treating anxiety and stress-related issues.
Let's take a look at what studies are saying about CBD and depressive behaviors.
Using CBD for Chronic Depression
While the mechanism behind these effects isn't yet understood, some studies suggest that CBD could be an effective treatment for depression. By interacting with the CB1 receptors in the brain, CBD can promote emotional stability and reduce anxiety, possibly acting as an antidepressant.
CBD and Serotonin Receptors
Remember when we mentioned SSRIs?
Serotonin is a naturally occurring chemical in the brain that plays a vital role in mood regulation among many other things. Low levels of serotonin are associated with depression. There's evidence that CBD has a positive effect on the brain's serotonin receptors. It operates on a similar mechanism to the SSRI medications by altering the way that serotonin receptors work. These changes in serotonin receptivity may result in balancing the mood and keeping depressive thoughts at bay.
CBD, Anxiety, and Depression
Anxiety is extremely common in people suffering from depression. One of the main benefits of CBD is that it helps to improve responses to stress triggers, which are essential components of anxiety and depression. Situations that cause anxiety disorders are more severe for those who already have anxiety issues. If CBD can reduce stress levels, it may be a useful tool for lowering anxiety on a daily basis, especially if the individual suffers from stress-related depression.
This is one of the most promising areas of research regarding CBD and depression. Let's hope that further studies will help us establish how effective CBD could be in this condition.
What Are the Side Effects of CBD Oil?
CBD is generally considered safe and non-toxic regardless of the dose. It can have a few mild side effects, most of which are nonexistent at regular doses.
Side effects depend on the dosage and may vary between individuals. They can include:
Dry mouth
Changes in appetite
Dizziness
Sedation
Diarrhea
CBD also interacts with a wide range of prescription drugs, so again, make sure to consult with a doctor before buying CBD oil.
Final Thoughts on the Best CBD Oils for Anxiety
As researchers are digging deeper into the benefits of CBD for mental health, this may unlock new applications for this incredible hemp extract. One of the broadest research areas for the use of CBD is anxiety and depression.
CBD helps the endocannabinoid system maintain homeostasis (balance), modulate brain activity, and support serotonin and endocannabinoid levels — all of which are important for regulating stress and anxiety.
We hope that this article has helped you understand the potential benefits of CBD oil for anxiety. If you don't feel confident doing your own research on the best CBD vendors on the market, feel free to use our recommendations and let us know in the comments how CBD works for you!