If you're interested in finding a place that sells CBD oil that's located near you, then you're in for a treat. In this article, we'll give you insight into which methods you can use to find CBD oil in a quick, hassle-free way!
Everyone using CBD oil is interested in finding a place nearby where they can purchase it. However, it's not only important to find a CBD place near you but it's also important to find a high-quality product. That's why we've decided to make this guide for all you CBD enthusiasts.
Furthermore, you'll learn how much you should expect to pay for grade-A CBD oil so you don't end up paying more than you need to.
Before You Look For "CBD Oil Near Me" (–You)
Before you set off on your quest to find the best CBD oil near you, first brush up on the medical marijuana laws in your state. Namely, in some states, you are required to get an MMJ card in order to purchase any kind of CBD product. On the other hand, in some states, you can simply ask for a doctor's recommendation for the oil.
However, if you already have a medical marijuana card, then there's no need to worry. All you need to do is find a trusted CBD oil manufacturer, and you're set!
Unfortunately, for most people, that's where the real problem is.
Finding The Right CBD Oil For You
Basically, when it comes to CBD oil, there's hemp-based oil, and there's cannabis oil.
Hemp-based CBD oil contains under 0.3% THC, whereas cannabis oil has between 5% and 10%. In no way does that mean that Hemp oil is less effective than Cannabis oil.
Obviously, you're not going to get high from hemp-based oil. However, if you're dealing with any type of pain, or you're suffering from severe anxiety, then it's just the thing for you. Although the oil won't cure your condition, it will do wonders to relieve pain and stress.
However, you need to remember that just because cannabis oil helps someone with their ailment doesn't mean you should choose it over hemp-based oil. The best thing you can do is try out both types, and see which works better for you.
How To Find Quality CBD Oil Near You
If you truly want to buy top-quality CBD oil, then there are a few things you need to be mindful of:
Check the transparency of the company. Do they share their lab results, or do they keep them a secret? A trustworthy company shouldn't have a problem sharing lab results online.
Does the company use third-party lab testing?
What extraction method do they use?
Are the crops free of harmful chemicals such as pesticides, fertilizers, and herbicides?
Finally, if the company checks off all the boxes on our list, then you also need to see whether the customer support service provides full refunds to unsatisfied customers.
To help you in your search, we've provided reviews of some of the best CBD oil brands for you to check out.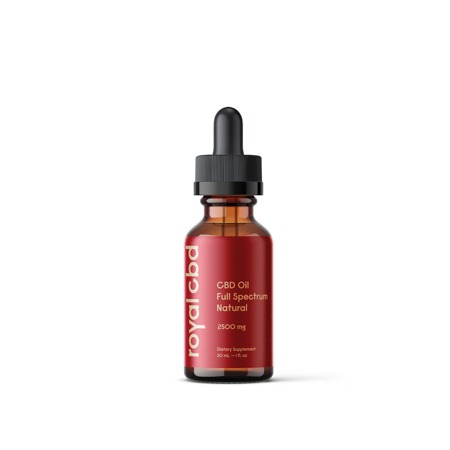 Pros
Cons

Organic hemp
Made with supercritical CO2
It's a full-spectrum extract
Available in 4 strengths and flavors
Up to 2500 mg of CBD per bottle
3rd-party tested for quality
Great natural flavor thanks to MCT oil
30-day money-back guarantee

A bit more expensive than other brands (but they have decent discounts and reward program)
No CBD vapes (yet)
Royal CBD is consistently one of the leading brands when it comes to CBD oil. They provide shipping to all 50 U.S. states.
When you load their website, you can see all the information about their products, so you can come to an informed decision on which oil to choose, what flavors and potencies are available, and how to mix and match Royal CBD goods to save the most money on your order.
Speaking of which, Royal CBD products are a bit more expensive than the other ones from our list, but the company has a great approach to making them affordable for potential customers. From first-order discounts to special coupon codes, veteran pricing, and an engaging reward program — Royal CBD goes above and beyond to make their premium products accessible.
Royal CBD provides CBD extracts that you can take under the tongue, eat, or rub into your skin. The only problem is choosing which product to buy!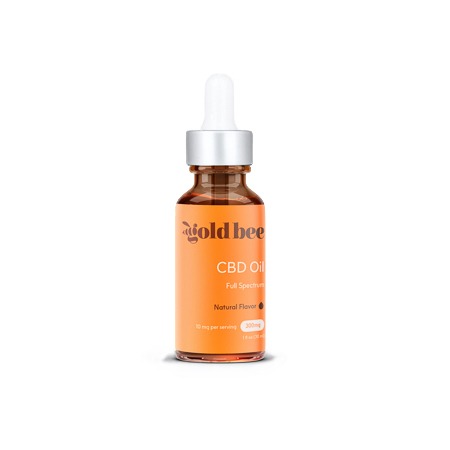 Pros
Cons

US-grown, non-GMO hemp
Full-spectrum CBD
Up to 40 mg CBD/mL
Delicious honey flavor
Great potency range for beginners
Third-party tested for potency and purity
Ethically packaged

Limited product selection
Gold Bee has CBD oil that's sourced from material rich in CBD. Their plants are non-GMO and grown in the open sun to provide organic products that leverage the concept of the entourage effect. Third-party lab reports are available on request. The company ships to all 50 U.S. states and they offer full transparency when it comes to their products. If you want quality, Gold Bee CBD oil definitely won't disappoint. You can check out the brand's money-back guarantee program if you're looking for a risk-free way to try its products first-hand.
#3 CBDistillery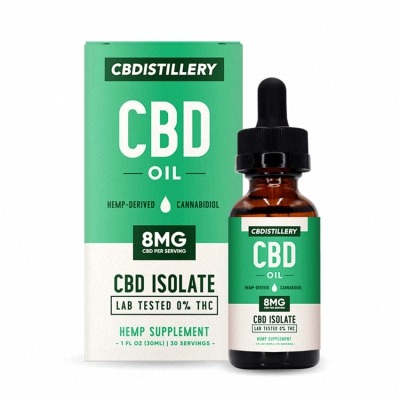 Pros
Cons

Non-GMO hemp
Extracted with supercritical CO2
Available as full-spectrum and broad-spectrum
5 strengths to choose from
Up to 166.6 mg of CBD per milliliter
Lab-tested for quality
Affordable!

Non-organic hemp
No flavored oils in stock
CBDistillery is a well-known brand in the CBD oil industry. If you're interested in their products, you'll be glad to know that you can order anything you want online. All of their products are lab tested, and they use a CO2 extraction method. Aside from an outstanding selection of products, the company offers them in both full-spectrum and broad-spectrum versions. These are also one of the most potent CBD oils out there, providing a whopping dose of 166 mg in each milliliter. If you prefer other formats, the company also has capsules, gummies, topicals, and isolate powders. All in all, CBDistillery is one of the best brands in the business.
Is CBD Oil Legal Everywhere?
CBD oil is legal in the United States (on the federal level) as long as it comes from hemp and contains less than 0.3% THC.
In 2018, President Trump signed the 2018 Farm Bill, an act that removed hemp from the Controlled Substances Act. Hemp plants are now an agricultural commodity that can be grown and processed for any purpose, including food, textiles, biofuel, housing, and health supplements.
Hemp-derived CBD products are legal in all 50 states. You can easily buy them without prescription in pharmacies, dispensaries, vape stores, head shops, and wellness centers across the country.
If you're looking for a marijuana-derived CBD oil, make sure that you live in a state that allows medical or recreational marijuana use. Otherwise, you can face criminal charges for possession.
Check out our guide on the legal status of CBD in the United States for more details.
Best Way to Find CBD Oil Near You? Shop Online, Not Locally
While going to a local store to buy CBD oil near you is a convenient option, shopping for CBD online may help you save more money and time on finding high-quality products.
Here's why it's worth to find a reputable online retailer:
Benefits of Buying CBD Oil Online
Better Product Selection: online stores usually sell more CBD products than local retailers, as they don't require "shelf space" to store their assortment. When you browse for CBD online, you can choose from products like oils, tinctures, gummies, capsules, vapes, skincare, and even pet products. In-store vendors usually stock one or two types of CBD.
Easier Research: comparing different CBD products in terms of their quality can be very time-consuming in a local store. Besides, you need to rely solely on the salesman's knowledge about CBD. When shopping online, you have access to the company's website, user reviews, and Certificates of Analysis (COA) from third-party laboratories. Online research wins all the way.
Lower Prices: online stores cut out the middleman, so they can afford to set lower prices on their products. You can also take advantage of discounts, bulk pricing, reward programs, and special coupon codes. It would be difficult to find these perks in your local store.
Tips on Finding High-Quality CBD Products
Although CBD oil has many potential therapeutic benefits, the FDA has not acknowledged it as a medicine — at least not yet. Thus, CBD products remain in the regulatory limbo of health supplements.
What does it mean for CBD users?
It means that manufacturers can get pretty liberal when it comes to the labeling of their products. Many CBD oils on the market contain less CBD than advertised, and some of them may even come with dangerous additives or contaminants, such as pesticides, heavy metals, and solvents.
Don't worry, there are a few steps you can follow if you want to become able to weed out fly-by-night companies and always choose high-quality products:
Choose products made from organic, non-GMO hemp: Hemp plants accumulate all substances from the environment they grow in, meaning they can draw both the good chemicals and the bad ones. The best hemp for CBD oils is grown organically, from non-GMO seeds, and without pesticides and fertilizers. Such crops yield CBD-rich flowers, yielding more active compounds in the extract with less material.
Only purchase from reputable companies that can provide third-party lab reports: Independent laboratories can tell you if the amount of CBD advertised on the product matches the actual content. They can also detect unwanted chemicals, such as heavy metals, mycotoxins, and pesticides.
Opt for CO2-extracted CBD: CO2 extraction yields the purest products with consistent potency levels in all batches. This method uses pressurized CO2 instead of the combination of solvents and heat. It can slowly extract CBD and other beneficial compounds from the plant material without destroying the volatile molecules.
Look for full-spectrum CBD oil: There are three types of CBD oil: full-spectrum CBD, broad spectrum CBD, and CBD isolate. Full-spectrum means that the CBD oil has been made using the entire plant, and as such, it contains CBD, minor cannabinoids, terpenes, flavonoids, essential fatty acids, vitamins, and even trace minerals. These compounds enhance the effectiveness of CBD by working synergistically with it — this synergy is known as "the entourage effect." Broad-spectrum extracts are pretty much the same, save for the lack of THC. These products are a good alternative for those who are apprehensive about taking any THC in their CBD oil. If you're allergic to any hemp compounds other than CBD, try your luck with CBD isolate. It won't give you the entourage effect due to the lack of other substances, but it's a more versatile product than the two above formats.
Companies claiming that CBD can cure anything are companies to avoid: CBD is a powerful compound that has many positive effects on our physical and cognitive health. People use it for a wide range of conditions to recover and manage symptoms more effectively without the side effects of conventional therapies. However, CBD is not a quick fix for all your health problems; it won't cure any disease, mend broken bones, or replace a healthy diet and workouts. If you see companies claiming that CBD can cure cancer — or anything, for that matter — it's an instant red flag.
The Conclusion
Overall, finding CBD oil near you doesn't need to be unnecessarily difficult. If you're having a hard time figuring out where to start looking, try out one of the brands we've suggested. We can assure you that they're all top-quality brands.