Those looking for high-quality CBD oil in Florida are in for a real treat. The state is one of the fastest-growing CBD oil markets in the US, with CBD stores popping up from Orlando to Miami. Only California boasts a higher number of CBD-stocked retails than Florida.
CBD is federally legal thanks to the 2018 Farm Bill. However, states have the right to implement their own regulations regarding hemp and hemp-derived CBD products.
What does buying CBD oil look like in Florida?
Find out in this article!
Is CBD Oil Legal in Florida?
That depends on which type of CBD oil we're referring to. There's a significant difference between marijuana-derived CBD oil and hemp CBD oil, both when it comes to their chemical makeup and legal status.
We'll discuss them below.
Marijuana CBD Oil in Florida
CBD oil sourced from female marijuana flowers is classified as "medical marijuana." Such products have more than 0.3% THC and are only legal for medicinal use. This means you need to apply for a medical marijuana card if you want to legally buy marijuana CBD oil. Recreational use of cannabis remains illegal in Florida.
Patients qualified for the state's medical-marijuana program are allowed to purchase and possess up to 30 grams of marijuana at a time for personal use. However, before a patient gets qualified, they must prove that prior attempts to cure their ailments with conventional treatment have failed and marijuana CBD oil is their last resort.
Hemp CBD Oil in Florida
Unlike marijuana, hemp plants contain less than 0.3% THC super dry mass and are legal on the federal level. This makes them more accessible than marijuana products.
CBD oil from hemp has similar benefits to the one derived from marijuana but it doesn't produce any psychoactive effects. Some experts also argue that it takes as little as 1% THC to unlock the full potential of cannabinoids but if you can't legally buy your marijuana CBD oil, hemp may be your only option.
Moreover, hemp CBD oil is usually higher in CBD and offers many vitamins, minerals, and antioxidants. There are many forms of CBD oil to choose from, including sublingual drops, capsules, vapes, edibles, topicals, and pure isolates.
Where to Buy CBD Oil in Florida?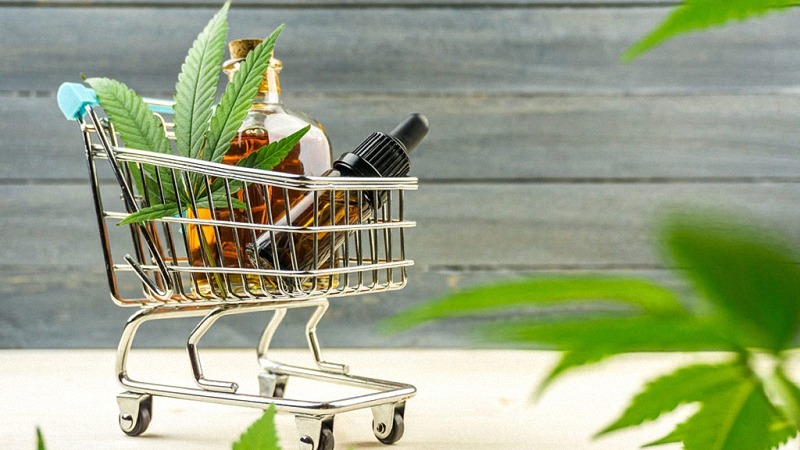 Those looking for CBD oil and other hemp products can use two options: either buy their CBD online or do it locally.
Here's how to do it on the web.
Buying CBD Oil Online in Florida
The majority of CBD stuff is sold online these days. Once you know how to determine high-quality CBD oil and find a reputable manufacturer, you can start browsing through different products to find a brand that best suits your preferences.
Here's what to look for when buying CBD oil online:
Hemp Source: hemp plants are bioaccumulators, meaning they absorb all substances from their environment, both the good and the bad ones. In order to yield pure and potent crops, the hemp must be grown in clean and nutrient-rich soil, without using pesticides, herbicides, or chemical fertilizers.
Extraction Method: many companies use hazardous solvents such as propane or butane to obtain their extracts. While butane and propane are relatively inexpensive, they can leave behind toxic residue in the end product after extraction, passing to your system as you ingest the oil. Steer clear of such products. Instead, choose CBD oil extracted with CO2. This method uses carbon dioxide in different states to pull the cannabis compounds from the plant, leaving a clean liquid extract.
Transparency: If you can read a company like a book, it's an indicator that they make high-quality CBD products. Well, they might just as well be bragging about how awesome they are, but then there's the question of lab reports. Most reputable companies provide third-party lab reports for each batch of their product to prove their potency, quality, and safety. Laboratory tests analyze the cannabinoid profile of the end product and look for potential contaminants to ensure its purity. If a company has nothing to hide, they will be proud to display those results on their website. Otherwise, you may want to consider other options.
Buying CBD oil online is a great option for people who want to save on their CBD products. Many companies offer great deals for returning customers, as well as seasonal discounts and loyalty programs to make natural supplementation more affordable.
Best Places to Buy CBD Oil Locally in Florida
Florida is home to a plethora of CBD stores, so if you fancy retail therapy and don't mind spending some time in town, here's a list of the best retailers in the state:
CBD Oil Shops in Miami
Name
Address
The Joint Smokeshop
710 Washington Ave, Miami Beach, FL 33139
Nugbrand South Beach
1422 Alton Rd, Miami Beach, FL 33139;

2324 N Miami Ave., Miami, FL 33127;

2206 NE 123rd Street North Miami, FL 33181

4020 NW 26th St, Miami, FL 33142

101 Vapor & Smoke Shop
10110 NW 27th Ave, Miami, FL 33147
CBD Oil Shops in Orlando
| | |
| --- | --- |
| Name | Address |
| Smoke Shope | 4316 Curry Ford Rd, Orlando, FL 32806 |
| Trulieve Orlando | 4544 N Orange Blossom Trail, Orlando, FL 32804 |
| The Hemp Depot | 110 N Bumby Ave, Orlando, FL 32803 |
| | 8000 International Dr #116, Orlando, FL 32819 |
| | 4316 Curry Ford Rd, Orlando, FL 32806 |
CBD Oil Shops in Tampa and St. Petersburg
| | |
| --- | --- |
| Name | Address |
| Hot Wax Glass Ybor | 1524 E 7th Ave, Tampa, FL 33605 |
| Best Smoke | 2120 S Macdill Ave, Tampa, FL 33629 |
| The Smoke Bodega | 911 Sheldon Rd, Tampa, FL 33615 |
| Your CBD Store | 1219 Dr. M.L.K. Jr St N, St. Petersburg, FL 33701 |
| | 8435 4th St N, St. Petersburg, FL 33702 |
CBD Oil Shops in Gainesville
| | |
| --- | --- |
| Name | Address |
| Blue Crystal Cornucopia | 1801 NE 23rd Ave, Gainesville, FL 22609 |
CBD Oil in Jacksonville
| | |
| --- | --- |
| Name | Address |
| CBD HUGS | 6857 St Augustine Rd, Jacksonville, FL 32217 |
| Your CBD Store | 9965 San Jose Blvd #54, Jacksonville, FL 32257 |
Final Thoughts on Buying CBD Oil in Florida
Florida is one of the fastest-growing CBD markets. With CBD stores popping up each month one after another, finding high-quality CBD oil there is easy like a walk in the park.
Just make sure you know what type of CBD oil you're looking for. CBD products made from marijuana are still illegal for recreational use in Florida. If you want to buy these products, you'll need to apply for a medical marijuana card and buy your medicine from one of the state-licensed dispensaries.
Hemp CBD oil is legal in all 50 states, and Florida is no exception. You can buy it both locally and online. But before you do, we recommend doing thorough research on the companies you're considering as your future vendors. Only buy from manufacturers that use organic hemp, extract their oils with CO2, and show 3rd-party lab reports for their products.
How do you buy your CBD oil in Florida? Do you prefer online stores or local vendors? Let us know in the comments!