In January 2020, Illinois became the 11th state to legalize marijuana. Although the Illinois General Assembly passed HB1438 legalizing recreational cannabis use and sale in the state for adults on June 25, the new law went into effect on January 1, 2020.
This means that you can legally buy weed in Chicago and other Illinois cities if you're 21 or older.
With a well-developed medical marijuana program, Illinois is quickly becoming a role model for other states considering legalization within their borders.
In this article, you'll learn everything you need to know about cannabis laws in Chicago, including both medical and recreational laws, as well as where to buy high-quality weed in the city.
Buying Weed Online in Chicago: Is It Even an Option?
Buying weed online is a trending topic. There's been a rapid rise in the number of searches for "buy weed in the Chicago area" over the last 12 months, making for 25 searches per day and about 100 people searching for weed online daily.
There's no doubt that Chicago has the potential to grow strong in online weed delivery businesses, but for now, the privilege of running one belongs only to medical marijuana patients.
If you have a medical marijuana card, you can either pre-order weed online and pick it up at a dispensary near you, or you can actually have it delivered to your door.
Recreational online weed sale is against the law in Chicago, although this looks like a transition stage, considering that country-wide cannabis sales are expected to hit $57 billion by 2027. Online ordering and weed delivery in Illinois would benefit both customers and the economy alike.
How Do I Order Weed Online?
First, you need to check with your local dispensary to determine whether it offers delivery services for patients. If this is the case, we suggest using this option instead of buying your weed locally in Chicago. You'll save time on waiting in long queues and potential disappointment due to stock sell-outs and lack of choices. With only 9 dispensaries open to serve the city's entire adult population, you can expect these sell-outs to happen in no time.
A Better and Legal Alternative to Buying Weed Online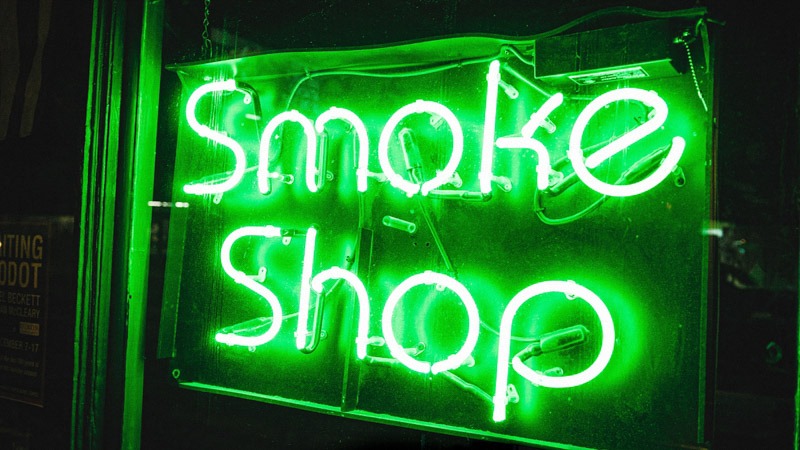 Being unable to purchase weed online with a delivery option can be frustrating considering how easy it is to shop for different products on the web these days. However, for some people, the lack of opportunities for buying weed online isn't a problem. Unfortunately, despite its relatively good safety, delta 9 THC isn't for everybody.
Here's why.
Cons of Delta 9 THC from Marijuana
Marijuana is generally well tolerated by humans. The majority of people who use it recreationally can enjoy its psychoactive effects without the feelings of edginess and mental distress. In low and moderate doses, marijuana has a relaxing effect that can also induce euphoria on top of other mind-altering effects.
However, high doses of delta 9 THC, especially those beyond one's tolerance, can backfire at the user, aggravating mental discomfort. Some of the side effects of delta 9 THC from marijuana include:
Anxiety
Paranoid thinking
Increased heart rate
Dizziness
Short-term cognitive impairment
Problems with coordination
Until recently, cannabis users could only choose between CBD and delta 9 THC. But today, we have a new cannabinoid that is gaining attention in the cannabis community; it's mildly psychoactive, and better yet, it's (theoretically) legal on a federal level.
It's delta 8 THC.
Delta 8 vs. Delta 9 THC
Delta 8 THC is an analog of delta 9, meaning it has a similar molecular structure but subtle differences in effects caused by their arrangement of atomic bonds. For example, for delta 9 THC, the double bond is at the 9th carbon chain, while for delta 8, this bond is at the 8th chain.
This difference makes delta 8 THC about half as potent as delta 9. You'd need to consume twice as much to experience the same intensity of effects. Most delta 8 users describe their experience as clear-headed, elevating, and less anxious than marijuana. That's why so many people are turning from regular weed to delta 8 THC.
On top of that, delta 8 has similar benefits to delta 9 when it comes to easing pain, anxiety, nausea, vomiting, inflammation, and boosting appetite. In fact, appetite stimulation is even more pronounced than with the classic herb.
Pros of Buying Delta 8 THC Online
As more people become interested in the cognitive potential of delta 8 THC, the demand for high-quality products is on the rise. The delta 8 space is a young and booming market, with many great companies and an equal amount of sketchy vendors. For a beginner consumer, it's difficult to tell the difference between high-quality and poorly-manufactured delta 8 extracts.
There are three criteria according to which you should pick out your vendors: the hemp source, extraction method, and third-party testing.
However, it isn't easy to check these criteria when you shop for delta 8 THC locally. When you buy hemp-derived products online, it's easier to research your potential vendor by reading the certificates of analysis of their products, looking for user reviews on third-party websites, and checking for professional advice on forums and social media groups.
This isn't the only perk that comes with buying delta 8 THC online. Here's why most transactions for delta 8 are made through the web.
Shipped to Your Door Legally in Your State
Delta 8 THC can be derived from hemp.
Hemp products contain less than 0.3% of delta 9 THC.
The 2018 Farm Bill says that hemp and its derivatives are legal as long as they meet the above condition.
Can you connect the dots?
You can legally order hemp-derived delta 8 THC online and have it delivered to your doorstep from another state — something which isn't an option with marijuana right now.
Received in 2-3 Days with the Convenience of Shopping at Home
Since the market is very competitive, companies are trying to win customers with their service, offering fast delivery times. Usually, your products should arrive in 2-3 days, which isn't that long considering that you're getting safe and certified extracts.
Buying delta 8 THC online also offers greater convenience; you can compare different brands, formulations, flavors, potencies, and prices without leaving your home. Moreover, you can do it, whether it's 2 pm or 3 am while you're sitting in front of your laptop in pajamas.
Not to mention better prices.
With no middleman involved, online delta 8 THC stores can offer lower prices on their products. Customers can also take advantage of discounts, coupon codes, and reward programs.
No Anxiety As Seen with Delta 9 THC
As mentioned earlier, delta 8 THC is roughly half as potent as delta 9 THC. As a result, the psychoactive experience is easier on the mind and more focused on the body. The high from delta 8 THC alone may feel bland, which is why many people combine it with cannabinoid blends for a more complex profile of effects. Due to a lower potency, delta 8 THC is less likely to get you anxious or paranoid. In fact, these side effects are very rare among d8 users.
Lasts Longer Than Delta 9 THC from Marijuana
A funny thing about delta 8 THC is that despite lower potency and delayed onset, its effects tend to last longer than delta 9 THC from marijuana. Moreover, delta 8 THC is also a stronger appetite stimulant, useful for people who struggle with eating disorders or low appetite.
Best Delta 8 THC Online Vendors
The Delta 8 THC space is similar to where the CBD market was a few years ago — it's a Wild Wild West.
This means that there are no regulations regarding the standardization of delta 8 THC extracts, nor are there any instructions regarding proper labeling. Therefore, it's the customer's responsibility to verify the quality of delta 8 THC products, whether by a first-hand experience or by reading lab reports, checking the hemp source, and looking at the company's transparency and reputation.
In a rush?
Here are the 2 top picks that we've selected at WeBeHigh to provide you with a strong core to get started with delta 8 THC.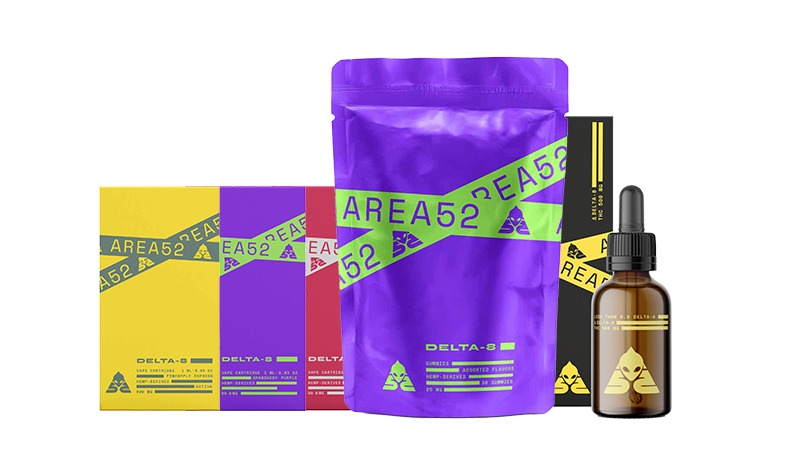 Area52 specializes in unique cannabinoids like CBG, CBC, CBN, and delta 8 THC. Their current product lineup includes delta 8 THC distillates from organic hemp in traditional formats like tinctures, edibles, and vapes.
The Area52 delta 8 THC tincture comes in a tasty vanilla flavor that is sweetened with natural stevia. It contains 1200 mg in a 30 mL bottle, translating to 40 mg of delta 8 in every milliliter. It's a dose that most users consider strong.
The company also offers delta 8 THC gummies in three assorted fruity flavors: Strawberry, Green Apple, and Pineapple. Each gummy packs a healthy dose of 25 mg of delta 8 THC.
Their best-selling product is the delta 8 THC vape carts. This product line features 900 mg of delta 8 THC infused with exotic terpenes from the Pineapple Express to Berry Gelato, to Granddaddy Purple cannabis strains.
The Area52 collection is extensively tested in a third-party laboratory for potency and purity, including the results for pesticides, heavy metals, and residual solvents.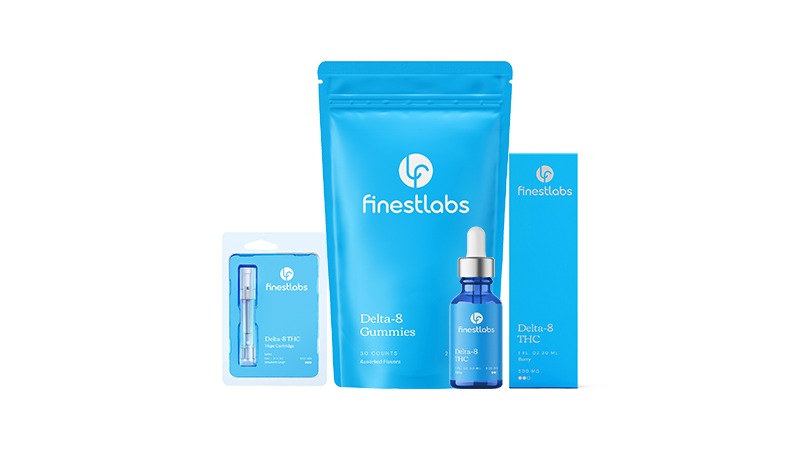 Finest Labs is the go-to brand for beginner users or lightweight people. The company offers similar products to Area 52 — tinctures, gummies, and vape carts — but in slightly lower concentrations.
For example, the Finest Labs delta 8 THC natural tincture contains 500 mg of delta 8 THC; the gummies are infused with 25 mg per piece, and the vape cart is infused with 500 mg of delta 8 distillate combined with terpenes obtained from the Blueberry strains for a delicious sweet flavor and relaxing effects.
Lower concentrations mean lower cost per product, so if you're dipping your toes in the delta 8 space, Finest Labs is a decent pick, in our opinion.
Buying Weed Locally in Chicago
As the capital city of Illinois, Chicago is home to many places where you can buy high-quality weed. But, as we said, at the moment, you can only buy weed from a medical dispensary and nowhere else. Retail stores won't open until May 1st, 2020, but when the licenses are issued, you can expect many recreational dispensaries to pop up in the city.
List of Chicago Medical Marijuana Dispensaries:
| | |
| --- | --- |
| Name | Address |
| Dispensary33 | 5001 N. Clark St. |
| NuMed Chicago | 1308 W. North Ave. |
| Midway Dispensary | 5648 S. Archer Ave. |
| Columbia Care | 4758 N. Milwaukee Ave. |
| Sunnyside Dispensary | 3812 N. Clark St. |
| Modern Cannabis | 2847 W. Fullerton Ave. |
| The Herbal Care Center | 1301 S. Western Ave. |
| Zen Leaf Chicago | 6428 N. Milwaukee Ave. |
| Mission Illinois | 8554 S. Commercial Ave. |
5 Best Cannabis Dispensaries in Chicago
This section shares the top 5 places to buy weed in Chicago, according to online reviews.
1. Dispensary33
5001 N. Clark St.
Dispensary33 opens at 6 am Monday to Sunday, selling dry flowers, pre-rolled joints, edibles, concentrates, vape pens, and plenty of other options. In addition, you can browse their products online using the menu of their website.
At peak hours, Dispensary33 uses a paging system similar to what busy restaurants employ in their spaces. In addition, they have an official waiting room with a Dark Matter coffee pop-up with a movie marathon.
2. NuMed Chicago
1308 W. North Ave.
NuMed is open from 8 am to 7 pm from Tuesday to Sunday (closed on Mondays). The dispensary sells strain-specific cannabis buds, oils, edibles, beverages, and pre-rolled joints, along with CBN and CBD-infused products. Unfortunately, NuMed has yet to bring its full recreational menu to its website.
3. Midway Dispensary
5648 S Archer Ave.
Midway is currently the best dispensary for selecting marijuana cartridges, which makes it an ideal place for vaping enthusiasts. On top of their vapes, the guys at Midway sell edibles, topicals, and even THC-infused bath bombs. Their full menu is available online.
4. Sunnyside Dispensary
3812 N. Clark St.
Sunnyside Dispensary is working Monday–Sunday from 6 am to 10 pm. The place sells cannabis flower, pre-rolled joints, and vape pens — and they have a huge selection of edibles, including birthday cake, apple cinnamon cereal, and blackberry lemonade.
5. Modern Cannabis
2847 W. Fullerton Ave.
Modern Cannabis specializes in selling various cannabis strains and CBD- and CBN-infused flowers, tinctures, concentrates edibles, and oils. The dispensary also has an impressive selection of topicals, including lotions, pain creams, anal suppositories, Epsom bath salts, and more.
Is Weed Legal in Chicago?
Yes, cannabis is legal in Chicago for both medical and recreational use.
You need to be aged 21 and over to buy weed from one of the state-licensed dispensaries and can purchase up to 30 grams of marijuana flower at a time.
Continue reading for a detailed breakdown of both medical and recreational weed laws in Chicago.
Recreational Marijuana Laws in Chicago
Who Can Buy Recreational Marijuana?
Adults can buy up to 30 grams, or about one ounce, of marijuana flower, edibles totaling more than 500 mg of THC, and five grams of concentrated cannabis products.
Some Facts About Recreational Marijuana Use in Chicago
If you're not an Illinois resident, you can buy half those amounts.
Cannabis-infused products with less than 35% THC are subject to a 10% tax from the purchase price.
Cannabis-infused products with more than 35% THC are taxed at 20%.
Marijuana strains with more than 35% THC are taxed at 25%.
Recreational consumers CAN'T grow their own weed.
Marijuana consumption is limited to private residences unless local jurisdictions decide otherwise.
On January 1, the only entities allowed to sell marijuana for recreational consumers will be the currently operating medical dispensaries and cultivators until new licenses are handed. The state should start this process on March 15, 2020, with the first license issued in May 2020.
People who have been convicted of possession of under 30 grams before legalization have the right to have their records referred to the Prisoner Review Board and Governor Pritzker for pardon. In addition, the State's Attorney office has stated that they will expunge all misdemeanor marijuana convictions once weed becomes legal.
Medical Marijuana in Laws Chicago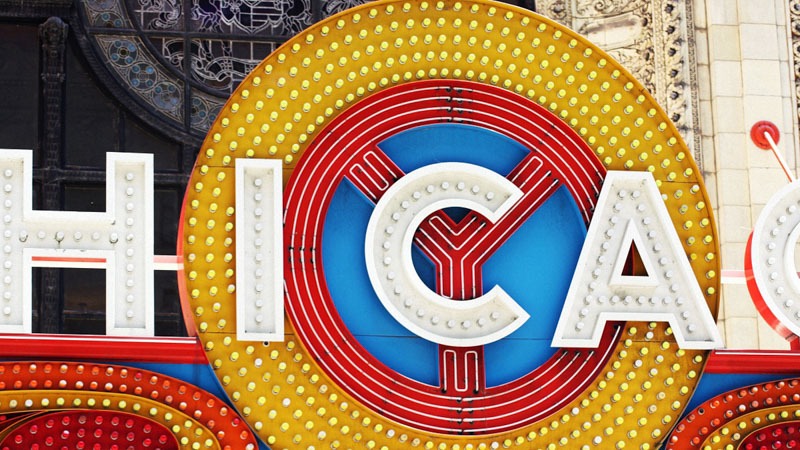 Qualified patients and designated caregivers can purchase and possess up to 2 ½ ounces of cannabis per 14-day period. There are currently 39,808 registered patients, as estimated by the Illinois Department of Public Health.
Who Can Buy Medical Marijuana?
To qualify for medical marijuana treatment, a person must suffer from one of the following conditions:
Alzheimer's disease
Amyotrophic Lateral Sclerosis (ALS)
Anorexia nervosa
"Any medical condition for which an opioid has been or could be prescribed by a physician based on generally accepted standards of care."
Arnold Chiari malformation
Autism
Cachexia/wasting syndrome
Cancer
Causalgia
Chronic Inflammatory Demyelinating Polyneuropathy
Chronic pain
Complex regional pain syndrome type 2
Crohn's Disease
Dystonia
Ehlers-Danlos syndrome
Fibromyalgia
Fibrous dysplasia
Glaucoma
Hepatitis C
HIV/AIDS
Hydrocephalus
Hydromyelia
Interstitial Cystitis
Irritable bowel syndrome
Lupus
Migraines
Multiple Sclerosis
Muscular Dystrophy
Myasthenia Gravis
Myoclonus
Nail patella syndrome
Neuro-Behcet's autoimmune disease
Neurofibromatosis
Neuropathy
Osteoarthritis
Parkinson's disease
Polycystic kidney disease
Post-traumatic stress
Reflex Sympathetic Dystrophy (RSD)
Rheumatoid Arthritis
Sjogren's syndrome
Spinal cord disease
Spinocerebellar Ataxia (SCA)
Superior canal dehiscence syndrome
Syringomyelia
Tarlov cysts
Tourette's syndrome
Traumatic brain injury and post-concussion syndrome
Ulcerative colitis
A registered patient may grow up to five mature cannabis plants if they don't want to purchase from a medical dispensary.
Can You Smoke Weed in Public?
Public consumption of marijuana is illegal and strictly prohibited. Furthermore, you're not allowed to consume weed in the following places:
Any motor or vehicle
On school grounds
Any place near someone under the age of 21
Any place near police officers, corrections officers, firefighters, and bus drivers.
The law in Chicago allows landlords, employers, private clubs, and universities to ban cannabis use within their territories.
Traveling with Weed in Chicago
You can travel with Weed in Chicago as long as you don't try to take it out of the state. Transporting marijuana between states is illegal and severely punished by federal law. For those traveling with weed in Chicago, it's important to remember that your products should be kept in their original containers (preferably in child-proof ones) and away from the driver's reach.
What About CBD Hemp Oil in Chicago?
CBD hemp oil has been legal since the signing of the 2018 Farm Bill by President Trump. The new law removed hemp from the list of controlled substances, legalizing the plant and its derivatives on a federal level. You can find CBD hemp oil and other forms of CBD in local pharmacies, dispensaries, vape shops, head shops, and organic health stores.
However, since the market is unregulated — much has changed positively, though — there are still many mislabeled and poorly produced CBD oils on the local scene. So, for now, the best way to get high-quality CBD oil without breaking the bank is to find a trusted online vendor, just like with delta 8 THC products.
Key Takeaways on Buying Weed in Chicago
If you want to buy weed in Chicago, there's good news and bad news.
The good news is that weed is now legal for recreational use in Illinois, so both Chicago residents and tourists can enjoy their herb without having to worry about being arrested.
It's legal to possess, consume, and buy cannabis as well as cannabis-infused goods from one of the state-licensed dispensaries.
Now, here's the catch. There are ONLY nine dispensaries in Chicago so far, with more to enter the market in May 2020. Until then, the operating dispensaries will either have to supply themselves with massive amounts of flowers and products to meet the demand, or the government will need to start issuing licenses faster than promised. Otherwise, Illinois may start running low on weed in a very short time.
If you're looking for a legal alternative to marijuana in Chicago, consider trying out delta 8 THC; this analog of delta 9 provides a smoother experience and has a lower incidence of anxiety. It's also legal on a federal level (and let's hope it will remain this way).
What are your favorite dispensaries to buy weed in Chicago?