Denver is the epicenter of adult-use cannabis legalization and regulation. Colorado has always been a trailblazer for weed laws, so it's no wonder that many states thinking about legalization see it as a role model when setting out their own legislation.
In 2012, Colorado voters passed Amendment 65, which legalized the recreational use of marijuana. However, the first steps towards legalization were made by Denverites in 2005 when they approved a ballot measure that made Denver the first city to decriminalize possession of up to 1 ounce of marijuana.
While it remains illegal to consume cannabis openly or publicly anywhere in Colorado, Denver is home to "marijuana hospitality establishments," which work similarly to smoke lounges or European cannabis clubs.
But where exactly do you buy the best weed in Denver?
What are your rights as a recreational user, and how do they differ from those granted to medical marijuana patients?
You'll learn everything from this guide.
Let's explore your options!
Buying Weed Online in Denver: Is It Even an Option?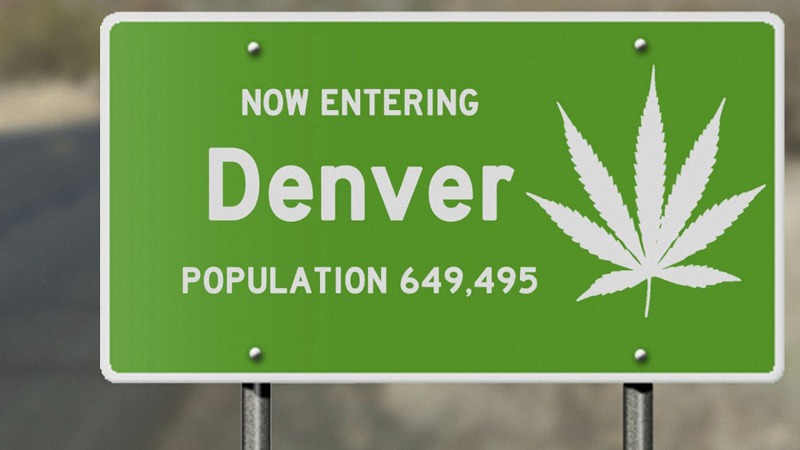 Technically speaking, you can, but it doesn't work like mail-order marijuana services in California or Canada.
Mail-order services actually deliver weed to your door, which is probably what the near future will look like for marijuana purchases.
If you want to buy weed online in Denver, you can order ahead from a dispensary and pick up your stuff later on. But, unfortunately, dispensaries aren't allowed to offer delivery services.
A Better and Legal Alternative to Marijuana in Denver
Until recently, the only way to buy weed online in the US was to order from a dispensary and pick up your stuff later. But, with a new(ish) kid on the block, cannabis aficionados can enjoy legal high in all 50 states.
Besides the legal problems, not everybody responds well to the high induced by THC. Some people experience mental distress, while others feel too lazy after blazing up.
The new cannabis discovery solves both problems; ever heard of delta 8 THC?
If not, we'll explain everything to you below.
But first, let's focus on why some people choose to avoid high-THC cannabis.
Cons of Delta 9 THC from Marijuana
Marijuana is relatively safe both as a medical and recreational substance. Even the WHO has acknowledged that "cannabis has a relatively good safety profile."
Most people can enjoy the high without getting anxious or paranoid. But others, especially those with sensitive cannabinoid receptors, may not respond well to its intoxicating effects.
At higher doses — ones that significantly breach one's tolerance to THC — it can cause the following side effects:
Sedation
Confusion
Anxiety
Paranoia
Increased heart rate
Delta 8 vs. Delta 9 THC
Delta 8 THC is an analog of delta 9 THC. It has a similar chemical structure in simple terms, but there's a difference in the way their atomic bonds are arranged. For delta 8 THC, the double bond is at the 8th carbon chain, while for delta 9, the bond is at the 9th chain.
This subtle difference makes delta 8 THC twice less psychoactive than delta 9. You'd need to consume twice as much of it to experience the same intensity of effects. Most people report the vibe from delta 8 as clear-headed, easy-going, and less anxious. Many delta 8 users take it to boost their cognitive experience as a means of "brain hacking."
The side effects like anxiety and paranoia are very rare among delta 8 users, which is why so many people are turning to it these days.
On top of that, delta 8 THC may provide similar benefits for pain, anxiety, stress, inflammation, sleep problems, nausea, and vomiting.
Pros of Buying Delta 8 THC Online
Until recently, delta 8 THC was known only to scientists, but it has made it to the commercial sector with the recent breakthroughs in extraction methods. As a result, Delta 8 THC products are popping up virtually everywhere, even at gas stations. However, the problem with the products sold locally is that they are often untested; thus, they may contain significantly less delta 8 THC than advertised or be contaminated with pesticides or toxins from improper extraction.
Buying delta 8 THC online gives you more options for verifying the credibility of your potential vendor. You can look for third-party lab reports, read user reviews, and reach out to expert blogs and profiles on social media to get a bigger picture of the company and its products.
Not only that, but shopping for delta 8 online also comes with other perks, such as:
Shipped to Your Door Legally in Your State
As mentioned, delta 8 THC can be derived from both hemp and marijuana. Hemp-derived delta 8 products are legal on a federal level because they contain less than 0.3% delta 9 THC. So you can order delta 8 THC from Las Vegas and have it delivered to your home in Colorado. Not a chance when it comes to buying regular weed this way.
Receive in 2-3 Days with the Convenience of Shopping at Home
Cannabis companies are known for relatively fast delivery times. Once you've made up your mind and placed an order, your products should arrive within 2–3 days, which isn't that long considering that you're buying certified and safe extracts.
Besides, shopping at home is without a doubt more convenient than going from one store to another, sometimes visiting several locations before you get what you've been looking for. Buying delta 8 THC online gives you access to hundreds of different products — formulations, sizes, potencies, flavors — in the comfort of your home.
Not to mention better prices. Since there's no middleman involved, online stores can offer lower prices on their products and things like discounts, coupon codes, and reward programs.
No Anxiety As Seen with Delta 9 THC from Marijuana
Since delta 8 THC is about half as potent as delta 9 THC, it also has a lower incidence of triggering anxiety and paranoia. This is the main reason why certain cannabis users are turning from regular weed to delta 8 THC. However, the sensitivity of cannabinoid receptors may change over time, especially with regular THC use, so some people can get anxious from smoking weed at some point in their lives.
Lasts Longer than Delta 8 THC from Marijuana
Despite lower potency and delayed onset, the effects of delta 8 THC last longer than the high from marijuana. Also, appetite stimulation is more pronounced, which may be helpful for people with eating disorders or loss of appetite.
Best Delta 8 THC Online Vendors
The best way to find high-quality delta 8 THC online at reasonable prices is to look for a reputable online vendor. Unfortunately, online stores are often run by manufacturers whose entire business revolves around hemp to know their niche. However, if you're in a rush, we've selected our top 2 online vendors who specialize in premium delta 8 THC extracts; both companies use organic hemp and test their products in third-party laboratories for the delta 8 content as well as for the presence of pesticides, heavy metals, microbial contaminants, and residual solvents.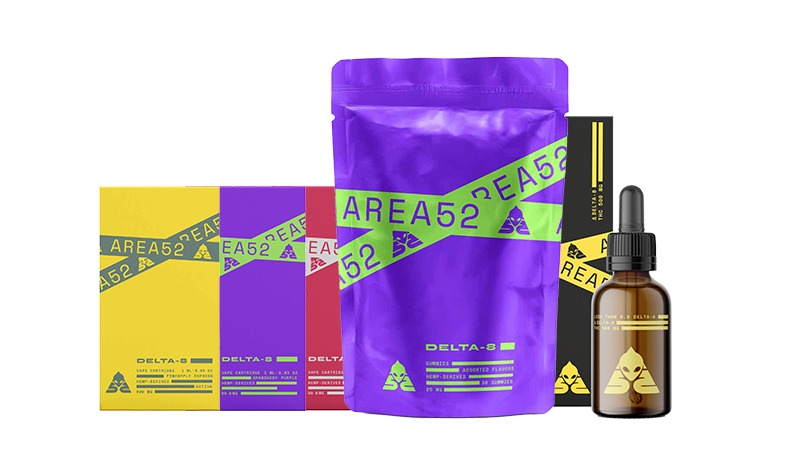 Area52 is a California-based retailer that offers delta 8 THC distillates in traditional cannabis formats — including tinctures, edibles, and vapes.
The company has a potent 1200 mg d8 vanilla tincture in its selection, which boasts 40 mg of delta 8 THC in every milliliter. As a result, this product is both potent and cost-effective, especially if you're just getting started with d8 products.
The guys at Area52 also offer delicious delta 8 THC gummies in assorted fruity flavors. Like the tincture, the gummies are quite strong, with each piece delivering 25 mg of pure delta 8 THC.
You can also try out their best-selling delta 8 THC vape, which has been infused with strain-specific cannabis terpenes. This vape contains terpenes from the Pineapple Express, Berry Gelato, or Granddaddy Purple strains that choose.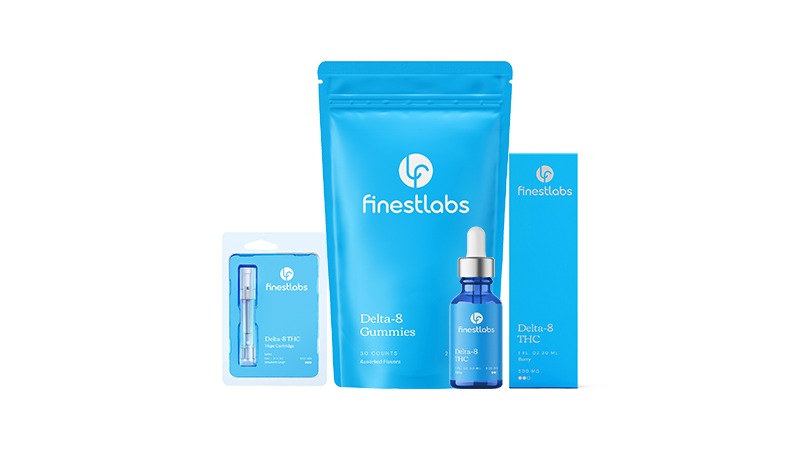 Finest Labs is the go-to choice for people who benefit from lower amounts of delta 8 THC in their routine (e.g., new users, lightweight people, or microdosers).
Just like Area52, this brand also offers delta 8 THC tinctures, gummies, and vapes — but in slightly lower concentrations.
For example, the Finest Labs delta 8 THC tincture contains 500 mg of delta 8 THC and comes only in the Berry flavor.
Their gummies are a great option for microdosers and beginner users because they only have 25 mg per piece. If you take delta 8 THC for microdosing, you can even cut one gummy in half and spread the amount of CBD between more doses.
Like the tincture, the Finest Labs delta 8 THC carts contain 500 mg of delta 8 THC distillate and a blend of Strawberry Cough cannabis strains terpene. However, they are better suited for evening use due to their relaxing effects and body high.
Buying Weed Locally in Denver
With 179 retail dispensaries and 211 cultivators within the city, you can find a premium quality flower, potent concentrates, and delicious edibles around nearly every corner.
Below we present the best places to buy weed in Denver:
| | |
| --- | --- |
| Name | Address |
| The Joint | 4735 W 38th Ave, Denver, CO 80212 |
| Good Chemistry | 1724 S Broadway, Denver, CO 80210 |
| Verde Natural | 5101 E Colfax Ave, Denver, CO 80220 |
| Lightshade | 745 E 6th Ave, Denver, CO 80203 |
| Simply Pure | 2000 W 32nd Ave, Denver, CO 80211 |
1. The Joint
Located in an old house on the commercial side of 38th Avenue, The Joint is the creme de la creme of what Denver's Barkley district has to offer. This place has a lovely atmosphere; budtenders share their good-neighbor energy with customers, walking them through the impressive selection of flowers and sharing their picks for a stroll down nearby Tennyson Street, a restored cultural alley lined with shops and restaurants. On Tuesdays, you can pop in and get 5 joints for $20.
2. Good Chemistry
Good Chemistry is hands down one of the best places to buy weed in Denver when it comes to strain selection and the attitude of bartenders towards customers. With over 20 strains of flower, you can buy yourself some truly unique buds — on top of admiring one of the largest lineups of concentrates in the states. Many of these concentrates are made from their own strains.
3. Verde Natural
Founded in 2009, Verde Natural remained a medical dispensary until fall 2017, when its founder Chuck Blackston — the man behind the best phenotypes of Lemon Skunk — decided to open his genetics to retail masses. As a result, every strain in the dispensary's selection has been grown in living soil using beneficial microbes, hand-trimmed, and cured just perfectly to maintain potency and their alluring aromas.
4. Lightshade
Lightshade was founded in 2012 and has grown into a humble empire since then. Started as an integrated mom-and-pop shop, Lightshade now has 8 locations throughout Denver, so if you want to buy weed in the city easily, this place is an obvious one to stop by. Lightshade is known for strains such as The White, Mother's Milk, Read-Headed Stranger, and Lavender Jones. Their storefronts are always crowded, telling a lot about the quality of weed you'll find there.
5. Simply Pure
Simply Pure is a great place for people who want to enjoy award-winning flowers and then stick around the neighborhood to indulge in craft cocktails and the best ice cream in Denver. Buying weed in Simply Pure gives you access to some of the best-crafted strains in terms of their terpene profiles, including Super Lemon Haze and Chocolope.
Is Weed Legal in Denver?
Yes, marijuana is legal in Denver for both medical and recreational use. Colorado has been the pioneer of the US legalization movement, becoming one of the first states to legalize recreational weed in 2012.
Recreational Marijuana Laws in Denver
As mentioned, Colorado has passed Amendment 64, allowing for possession of up to 1 ounce of cannabis per adult 21 years or older. An ounce is also the legal limit for retail purchases for Colorado residents. Non-residents can only buy up to a quarter of an ounce per transaction.
You can give or trade marijuana with adults, but you're not allowed to sell them unless you're a licensed dispensary. This means that you can freely trade your Jack Herer for your friend's Mango Haze, but you can't take financial gratification for that.
It's also illegal to take any marijuana products out of the state, as it's considered a federal offense.
Medical Marijuana Laws in Denver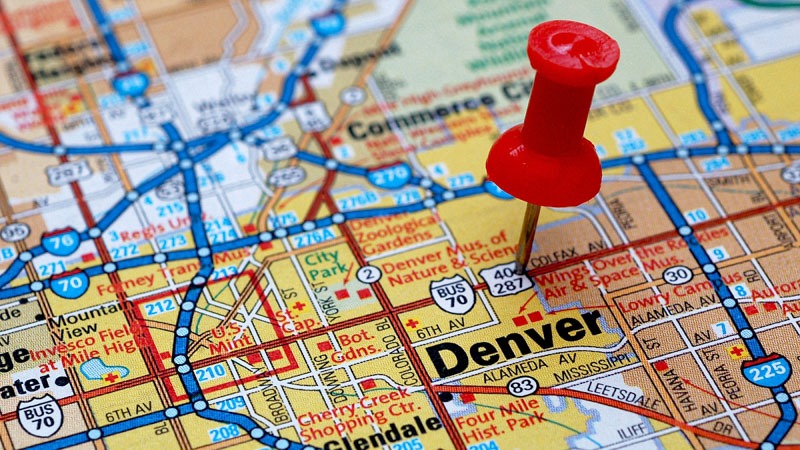 Marijuana has been legal in Colorado for medicinal purposes since 2000 when 54% of state voters approved Amendment 20, better known as the Colorado Medical Use of Marijuana Initiative. Qualified patients and their caregivers can purchase and possess up to 2 ounces of marijuana from a state-licensed dispensary and grow up to 6 marijuana plants, 3 of which can be flowering at a time.
Who Can Buy Medical Marijuana?
Qualifying conditions include:
Any condition for which a physician would prescribe an opioid
Autism spectrum disorder
Cachexia
Cancer
Chronic pain
Chronic nervous system disorders
Glaucoma
HIV or AIDS
Nausea
Persistent Muscle Spasms
Post Traumatic Stress Disorder
Seizures
Medical Marijuana Facts and Statistics in Colorado & Denver:
The three Colorado counties with the highest number of medical marijuana patients are El Paso (18,648), Denver (17,847), Jefferson (12,325).
65% of active patients are male, and 35% are female
The average age of applying users in Colorado's Medical Marijuana Registry is 42.5 years old.
One-third of Colorado medical marijuana patients have designated a caregiver to grow their medicine for them.
Caregivers may possess the upper limit of marijuana allowed for each patient, but they can't join together to grow marijuana plants collectively.
As of June 2015, 113,585 current patients in Colorado's Medical Marijuana Registry and 301,667 adults had applied.
Can You Smoke Weed in Public?
The law in Denver prohibits smoking in any public area — this applies to both tobacco and marijuana. So if you want to consume weed, you must do it on private property. Of course, this doesn't change the fact that people in Denver light up in the open space, but you generally shouldn't do it if you don't want to garner attention from the police.
Can You Travel with Weed in Denver?
Yes, you can travel with weed in Denver as long as you don't take it over state lines. The federal law prohibits the transportation of marijuana. For in-state travels, we recommend keeping your weed in a child-proof container and away from the direct reach of the driver.
What About CBD Hemp Oil in Denver?
The US government removed hemp from the list of controlled substances in 2018. The new Farm Bill legalized hemp plants and their derivatives as long as they contain no more than 0.3% delta 9 THC. Hemp-derived CBD oils are widely available in cannabis dispensaries, head shops, wellness centers, vape shops, and organic health stores. You can also find many great vendors online, where the best deals on high-quality CBD products are found.
Key Takeaways on Where to Buy Weed in Denver
In a city with more cannabis dispensaries than Starbucks stores, finding high-quality weed is as easy as breathing, so if you live in Denver, you may consider yourself very lucky.
The dispensaries we've listed in our guide are the best places to buy weed in town, in our opinion, so that you can use them as your "surefire" options. But feel free to explore the city's green gems on your own — you won't be disappointed, we swear.
And if weed isn't your cup of tea, you may want to try out some delta 8 THC online. This "cannabis light," as some people call it, is quickly gaining popularity among health-conscious consumers. It offers a smoother vibe and doesn't get you anxious at higher doses.
We hope this article has helped you understand the marijuana laws in Colorado and get a general idea of where to look for weed in Denver. Then, have fun shopping for your favorite strains in the Mile High City!