Michigan was the 13th state to legalize medical marijuana in 2008. In November of 2018, voters in Michigan passed Proposal 1, making their home state the 10th state in America and the first in the Midwest to legalize recreational weed.
Official sales were planned to begin on December 1, 2019. However, due to the lack of enough supplies and locations to purchase marijuana, sales were moved to December 1, 2020. They were originally scheduled to one month later, so such a turnaround left many businesses unprepared. In order to meet the demand for adult-use supplies, medical dispensaries were allowed to transfer up to 50% of their marijuana to recreational stores.
Most towns and cities in Michigan (over 1,400) have currently postponed recreational sales, including Detroit. However, many of them are simply delaying their approval until the officials iron out legislative details in that matter. Widespread sales are expected to roll out by June 2020.
In this article, we shed light on cannabis laws in Michigan and highlight the best places to buy weed in the Great Lake State.
Buying Weed Online in Michigan: Is It Even an Option?
Since weed is legal in Michigan and recreational sales are rolling out across its cities, you may be wondering whether it's possible to order your weed online.
Well, to some extent, yes.
Mail order marijuana services are unavailable in Michigan, so if your definition of online purchases is something similar to Canada, then no, you can't buy weed online.
But, if you want to order ahead and pick your greens later in your dispensary, the answer is a sound 'yes.'
Buying weed in Michigan this way will save you time standing in long queues, not to mention that it's better to order your weed ahead if you smoke rare strains or limited products.
A Better and Legal Alternative for Marijuana in Michigan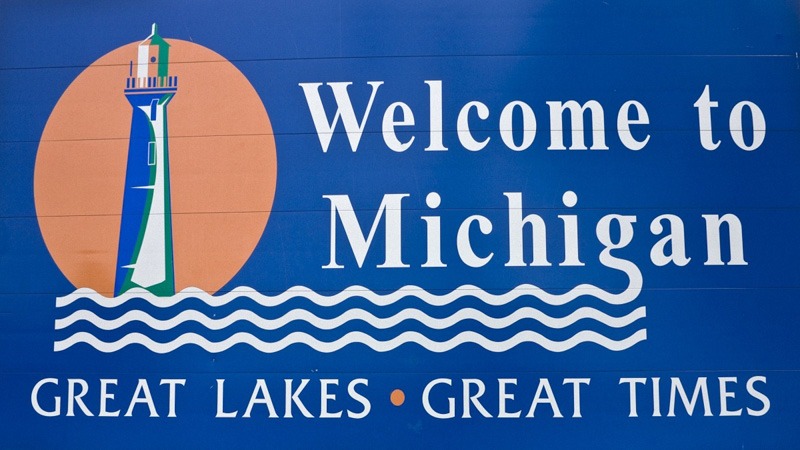 If you're looking for a workaround to buying weed online legally, we've got you covered. While it's not the weed per se, it's the new(ish) cannabinoid that has recently made a transition from research labs to the commercial scene.
Ever heard of delta 8 THC?
Below, we elaborate on what delta 8 THC is, how it compares to delta 9, and why it has gained so much popularity in such a short time span.
But first, let's take a moment to consider why some people choose to avoid high-THC cannabis.
Cons of Delta 9 THC from Marijuana
Low and moderate doses of delta 9 THC have a relaxing effect on the user, which is often accompanied by euphoria, a giggly mood, altered perception of time, and appetite boost.
Marijuana has a generally good safety profile and most users can enjoy its psychoactive properties without any kind of mental distress.
However, some people have very sensitive cannabinoid receptors which easily get stimulated by higher doses of delta 9 THC.
Once THC significantly breaches your tolerance threshold, you may experience the following reactions:
Anxiety
Paranoia
Increased heart rate
Sedation
Fatigue
Confusion
Problems with coordination
Delta 8 vs Delta 9 THC
Both delta 8 and delta 9 are different types of the THC molecule. Delta 8 is an analog of delta 9 THC, meaning it has a similar molecular structure. However, there's a slight difference in the arrangement of their atomic bonds. For delta 8 THC, the double bond is at the 8th carbon chain, while for delta 9, this bond is at the 9th chain.
This makes delta 8 THC twice less potent than delta 9. You'd need to consume twice as much of delta 8 to experience the same intensity of effects. The chances of getting anxious and paranoid are also lower for that reason. In fact, this side effect is very rare among people who use delta8 THC.
Delta 8 THC also provides similar benefits to delta 9 when it comes to easing pain, inflammation, nausea, vomiting, anxiety, and boosting appetite.
Pros of Buying Delta 8 THC Online
Buying delta 8 THC online comes with many perks, but the most important one is the ease of research. You can look for certificates of analysis, read user reviews on third-party websites, or browse through forums and social media groups to get advice from more experienced users.
Besides, shopping for delta 8 THC online offers some other benefits, such as:
Shipped to Your Door Legally in Your State
Hemp-derived delta 8 THC is legal because it contains less than 0.3% of delta 9 THC.
Such products meet the conditions of the 2018 Farm Bill, which legalized hemp on a federal level.
Although some states have decided to ban the sale of delta 8 because they consider it a legal grey area, you can order delta 8 THC products from most states and have it delivered to your doorstep here in Michigan.
Receive in 2-3 Days with the Convenience of Shopping at Home
At first glance, shopping for delta 8 THC locally seems more convenient because all you need to do is step into the store, pick what you've come for, and enjoy your delta 8 — easy peasy, right?
But, considering that nearly 70% of hemp-derived products sold locally are mislabeled, this solution looks relevant only in theory.
When you buy delta 8 THC online, your products should arrive within 2-3 days, which isn't that long considering that you're getting certified and safe extracts
Not to mention that you can browse through hundreds of products in the comfort of your home.
Online stores also offer better prices on their products because there's no middleman involved in running the store..
No Anxiety as Seen with Delta 9 THC
Since delta 8 THC is about half as potent as delta 9, there's also a lower likelihood of triggering anxiety and paranoia. High doses of delta 8 THC tend to have a sedating effect on the user, leading to tiredness, confusion, and a trippy sensation — but one that's not overwhelming.
Lasts Longer Than Delta 9 THC from Marijuana
Despite a delayed onset and lower potency, the effects of delta 8 THC stay longer with the user. The appetite stimulation is also stronger, which is why we should keep a snack or a hearty meal at hand when you're about to have a sesh with delta 8.
Best Delta 8 THC Online Vendors
The abundance of different delta 8 THC brands and products can be overwhelming for first-time users. If you've never shopped for delta 8 before, keep in mind that the purchase process involves the same research criteria as you use when buying CBD online. You need to consider the hemp source, extraction method, transparency, reputation, and third-party testing practices of your potential vendor.
Based on the above criteria, we have selected the top 2 online vendors that offer premium-quality delta 8 THC at reasonable prices — while actively advocating for raising the quality and transparency standards among delta 8 producers.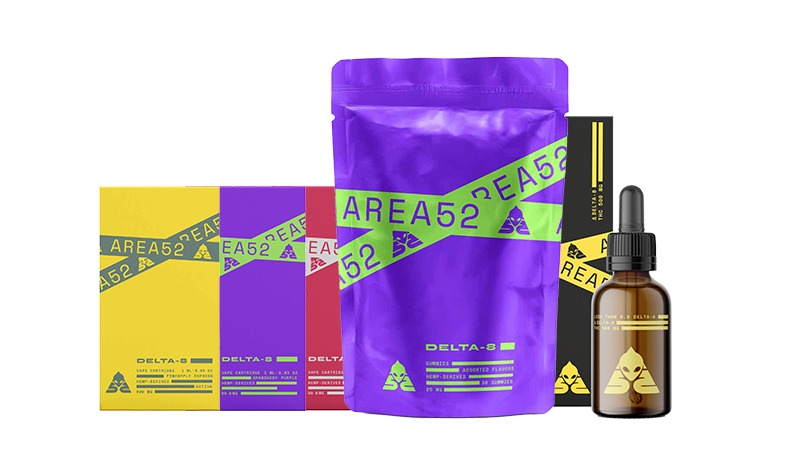 Area52 is a company that specializes in award-winning delta 8 THC distillates. The company uses organic hemp as the source of their extracts, which are grown in Colorado and Kentucky; once extracted and distilled, the delta 8 THC extract is infused into a variety of formats typical of cannabis products — including tinctures, gummies, and vape carts.
The delta 8 THC extracts offered by Area52 are very potent. For example, the d8 vanilla tincture packs 1200 mg of delta 8 THC in 30 mL, translating to 40 mg in each milliliter. The gummies contain 25 mg per piece, so a little goes a long way with these little treats. Finally, the Area52 vape cart contains 900 mg of delta 8 THC combined with a blend of strain-specific terpenes from the Pineapple Express, Berry Gelato, or Granddaddy Purple. Each strain has their own exotic aromas add a jolt of positive energy to the already elevation effects of d8.
All products from Area52 are tested by a third-party laboratory for potency and purity, including the results for pesticides, heavy metals, solvents, and microbial contaminants.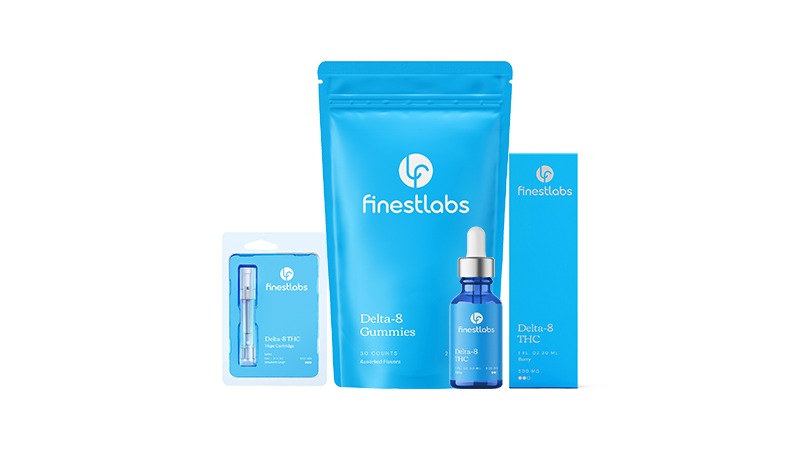 Finest Labs is a California-based company that focuses on low-strength delta 8 THC products crafted for beginner users, lightweight people, and microdosers. The brand offers similar forms of delta 8 to Area52 — tinctures, vapes, and gummies — but in slightly lower concentrations.
The Finest Labs natural delta 8 THC tincture contains 500 mg of delta 8, which is over half the potency of the A52 tincture. The gummies are infused with 25 mg per piece, and the vape carts contain 900 mg of delta 8 THC and a terpene blend from the Strawberry Cough  strain. This product is perfect fro afternoon and evening use.
Buying Weed Locally in Michigan
As mentioned, there are already a few operating dispensaries in Michigan, so if you live near one of them, you can access high-quality marijuana at affordable prices and learn from experienced budtenders who will help you set your first steps in the bush.
Below we list all marijuana dispensaries in Michigan:
Marijuana Dispensaries in Ann Arbor
| | |
| --- | --- |
| Name | Address |
| Arbor Wellness | 321 East Liberty |
| Exclusive Brands | 3820 Varsity |
| Greenstone Provisions | 338 Ashley |
| Ann Arbor Healing | 3720 Washtenaw, Ann Arbor |
| Om of Medicine | 111 South Main, Ann Arbor |
| Skymint | 1958 South Industrial Highway, Ann Arbor |
Marijuana Dispensaries in Morenci
| | |
| --- | --- |
| Name | Address |
| Michigan Supply and Provisions | 1096 East Main |
| Pinnacle Emporium | 1098 East Main, Morenci |
Marijuana Dispensaries in Evart
| | |
| --- | --- |
| Name | Address |
| Lit Provisioning Center | 600 West 7th, Evart |
Marijuana Dispensaries in Bay County
| | |
| --- | --- |
| Name | Address |
| Roots | 3557 Wilder Road, Bay City |
| Nature's Medicines | 3480 E, North Union Road, Bay City |
Marijuana Dispensaries in Negaunee
| | |
| --- | --- |
| Name | Address |
| The Fire Station | 162 Heritage DR, Negaunee |
Marijuana Dispensaries in Chesaning
| | |
| --- | --- |
| Name | Address |
| Releaf Center for Compassionate Care | 144 W Broad, Chesaning |
Marijuana Dispensaries in Burton
| | |
| --- | --- |
| Name | Address |
| The Barn | 3941 East Bristol, Burton |
Marijuana Dispensaries in Battle Creek
| | |
| --- | --- |
| Name | Address |
| WMAMS | 330 E Columbia Ave Suite 2, Battle Creek |
Marijuana Dispensaries in Jackson
| | |
| --- | --- |
| Name | Address |
| Choice Labs | 3331 Page Ave, Jackson |
| 20 Past 4 | 3590 Ann Arbor Road, Jackson |
Marijuana Dispensaries in River Rouge
| | |
| --- | --- |
| Name | Address |
| 1st Quality Medz | 286 Burke Street, River Rouge |
Is Weed Legal in Michigan?
Yes, both medical and recreational use are legal in Michigan.
Recreational Marijuana Laws in Michigan
Voters in Michigan passed Proposal 1 in November of 2018, legalizing marijuana for recreational use for adults.
Who Can Buy Recreational Marijuana?
Under proposal 1, adults 21 and older are legally allowed to buy and possess up to 2.5 ounces of cannabis outside their home and up to 10 ounces in their home. Moreover, adults can grow up to 12 cannabis plants and possess no more than 15 grams of concentrate at a time.
Medical Marijuana Laws in Michigan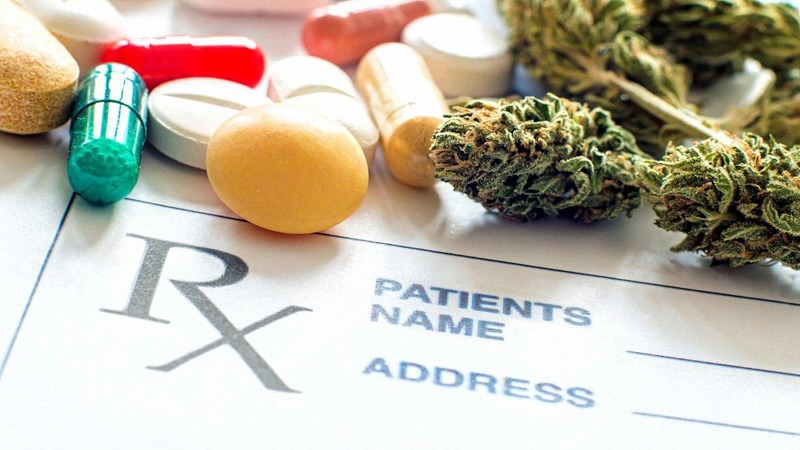 Medical marijuana users can possess up to 16 ounces of marijuana-infused products in solid form, 7 grams of marijuana-infused product in gaseous form, or 36 fluid ounces of marijuana-infused product in liquid form. In addition, qualifying patients can also grow up to 12 marijuana plants, as long as they're away from public view. Patients may also designate a caregiver who will buy their medicine on their behalf.
Who Can Buy Medical Marijuana?
In order to be qualified to the state's medical marijuana program, a person must be diagnosed with one of the following conditions:
Alzheimer's Disease
Amyotrophic Lateral Sclerosis (ALS)
Cachexia / Wasting Syndrome
Cancer
Crohn's Disease
Glaucoma
Hepatitis C
HIV/AIDS
Nail Patella
Seizures
Severe and chronic pain
Severe and persistent muscle spasms
Severe nausea
Any other medical condition approved by the Department of Community Health
Patients must obtain a written certification from a medical doctor of osteopathy. A physician must diagnose the patient with one of the above conditions, stating that in their opinion, the patient will benefit from this type of therapy.
Can You Smoke Weed in Public?
Public cannabis consumption is still prohibited in Michigan, and so is driving under the influence of weed. People must consume their herbs on private properties, even if they're medical marijuana users.
Traveling with Weed in Michigan
Traveling with marijuana within the state borders is legal for recreational users, patients, and caregivers as long as their products meet certain requirements:
They must be kept in a sealed and labeled container
They must be stored in the trunk of the car
*If your car doesn't have a trunk, you must store your weed in a location that's not easily accessible from its interior.
Should you violate these stipulations, you can face a civil fine of up to $250.
Transporting marijuana from Michigan to other states is prohibited because cannabis falls under the Schedule I category of the Controlled Substances Act and remains illegal on the federal level. Forms of exporting include driving, shipping, boating, flying, and mailing cannabis.
What About CBD Hemp Oil in Michigan?
CBD hemp oil is legal in all 50 states. In 2018, President Trump signed the amended Agricultural Act known as the new Farm Bill — legalizing hemp and its derivatives on a federal level. According to the new law, hemp is no longer a controlled substance; it's an agricultural commodity.
CBD hemp oil is widely available in local dispensaries, head shops, vape shops, pharmacies, and organic health stores in Michigan. However, since the market remains unregulated, many products sold locally are mislabeled and can be dangerous for your health — unless you're buying from a cannabis dispensary. But even then, your choice is limited to a few basic formats like tinctures, capsules, or gummies. Online stores offer a broader selection of products and better deals on high-quality CBD oils.
Key Takeaways on Buying Weed in Michigan
During the first days of recreational sales, weed marijuana dispensaries sold more than $200,000 worth of product. Considering the setbacks on the road to rolling out retail sales, this is a decent score.
As the east coast leader in legalization, Michigan sets the bar high for other states, both when it comes to their laws surrounding cannabis and the quality of weed.
Until recreational marijuana becomes more available in Michigan, you may consider trying out hemp-derived delta 8 THC. Its psychoactive effects are milder than the ones induced by delta 9 from marijuana, but more importantly, the compound is legal on a federal level and you can easily buy it online from another state.
Where do you buy weed in Michigan? Do you order ahead from online dispensaries? Share your thoughts in the comments!