As New Jersey works toward implementing a safe and fair adult-use cannabis market, the state authorities still have plenty of regulations to cover.
So, where do you buy weed in New Jersey now that the sales remain in legal limbo?
Is there a workaround to getting high-quality marijuana in New Jersey without a dispensary near you?
There are many questions about buying weed in New Jersey; people are asking about the launch date of recreational dispensaries, and there's an evident demand for online weed stores.
Here we cover everything you need to know about marijuana laws in New Jersey.
Buying Weed Online in New Jersey: Is It Even an Option?
Recreational online sales remain far off due to the current status of the adult-use market in New Jersey and federal law. While some states have temporarily allowed online sales during the COVID-19 crisis, it will take at least a few years until this becomes a custom in every state.
Online sales are illegal in New Jersey because marijuana remains a controlled substance on a federal level. This means that you can't buy marijuana online from one state and have it delivered to another — because it's considered the transportation of drugs.
The federal government would need to legalize or at least decriminalize marijuana nationwide to allow online recreational sales with a model similar to Canadians use.
That being said, there's one workaround for buying weed online in New Jersey.
A Better and Legal Alternative to Marijuana in New Jersey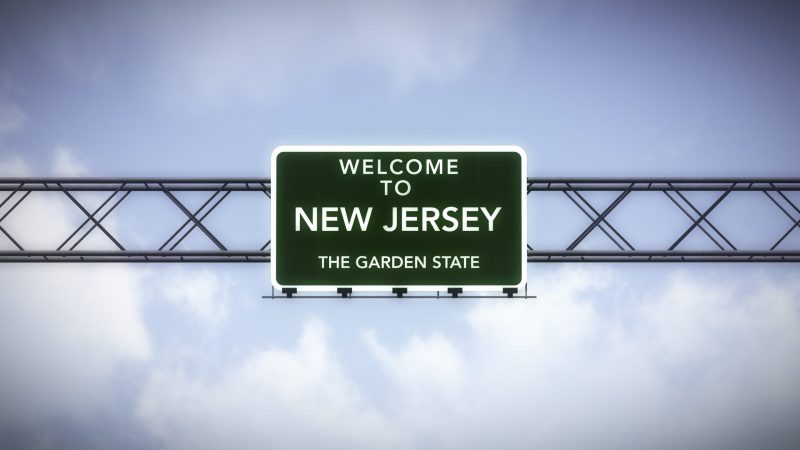 Recent scientific breakthroughs in extraction methods have allowed manufacturers to explore cannabinoids and their analog to create unique formulations in their cannabis extracts.
Delta 8 THC is one of such "discoveries." Until recently, this cannabinoid remained underground, but today, it's making big headlines on the commercial scene.
But, before we elaborate on delta 8 THC and its benefits, let's take a moment to answer why some people are apprehensive about using regular weed.
Cons of Delta 9 THC from Marijuana
Most people can enjoy the psychoactive effects of marijuana without any mental distress. Marijuana has a relatively safe profile both as a medical and recreational substance, as suggested by the World Health Organization (WHO).
In low and moderate doses, THC promotes relaxation, calms the nervous system, induces euphoria, increases appetite, and alters our sensory perception.
However, high doses of THC can backfire at the user, especially if they have sensitive cannabinoid receptors that easily get overstimulated by a higher amount of weed.
The side effects of smoking too much weed at a time include:
Confusion
Dizziness
Sedation
Anxiety
Paranoia
Increased heart rate
Low blood sugar levels (greening out)
Delta 8 vs. Delta 9 THC
Delta 8 THC is an analog of delta 9 THC. In simple English, this means that they have a similar molecular structure. However, there's a slight difference between the arrangement of their atomic bonds.
For delta 8 THC, the double bond is located at the 8th carbon chain, while for delta 9 THC, this bond is at the 9th chain.
This subtle difference makes delta 8 THC about half as potent as delta 9. Thus, to experience the same intensity of effects, one would need to consume twice the delta 8.
For that reason, delta 8 THC is also less likely to trigger anxiety and paranoia, which is why it has so many fans all over the states.
Delta 8 THC also shares a few health benefits with delta 9 to ease pain, inflammation, stress, nausea, and vomiting. It also has appetite-stimulating and neuroprotective properties.
Pros of Buying Delta 8 THC Online
Delta 8 THC is a trending topic, so it's no wonder that hemp companies have been feverishly churning out new delta 8 products this year. Unfortunately, the market is largely unregulated, which creates space for fly-by-night vendors who are just trying to capitalize on a booming market and use low customer awareness to their advantage.
When you shop for CBD locally, it's easy to stumble upon mislabeled, sometimes contaminated products that shouldn't be allowed for sale in the first place. Relying solely on a store owner's opinion isn't enough when you're about to buy something that will directly influence your health.
If you want to buy high-quality delta 8 THC in New Jersey, we suggest that you find a trustworthy online vendor.
Here's why.
Shipped Legally to Your Door in Your State
As mentioned earlier in the article, delta 8 THC can be extracted from both hemp and marijuana.
While marijuana products are allowed only in the states that have legalized the plant for recreational use, hemp-derived delta 8 THC is legal on a federal level.
That's because hemp-derived products contain less than 0.3% of delta 9 THC and comply with the provisions set out by the 2018 Farm Bill.
So far, only 11 states have banned the sale of delta 8 THC, including Alaska, Arkansas, Arizona, Colorado, Delaware, Idaho, Iowa, Kentucky, Mississippi, Montana, Rhode Island, and Utah.
Receive in 2-3 Days with the Convenience of Shopping at Home
Shopping for delta 8 THC online very convenient. You can browse between hundreds of different brands and products in the comfort of your home, and once you've made up your mind, your products should arrive in 2-3 days. Moreover, online stores often offer better prices on their products because there's no middleman involved. Customers can take advantage of discounts, coupon codes, and reward programs to save money on high-quality delta 8 THC.
No Anxiety as Seen with Delta 9 THC
Perhaps the greatest advantage of delta 8 THC over marijuana is the lack of anxiety at higher doses. In fact, this side effect is very rare among delta 8 users. That's because delta 8 THC is twice less potent than delta 9. As a result, it produces a more clear-headed high that is focused on the body. In addition, many people consume delta 8 THC combined with other cannabinoids and terpenes for a more complex profile of effects and enjoyable flavors.
Lasts Longer Than Delta 9 THC from Marijuana
Despite being half as strong and delayed in time, the effects of delta 8 THC tend to last longer than delta 9 THC from marijuana. Delta 8 is also a stronger appetite stimulant.
Best Delta 8 THC Online Vendors
There's a large degree of difference between delta 8 THC products. Since the market is unregulated, it's the user's responsibility to research their potential vendors. If you don't have time to do your own industry overview, we're here to help. At WeBeHigh.com, we're constantly monitoring the delta 8 THC space, reviewing the best and the worst companies according to our selected quality criteria, such as hemp farming, extraction methods, and third-party testing.
Here are our top 2 delta 8 THC online vendors for 2022.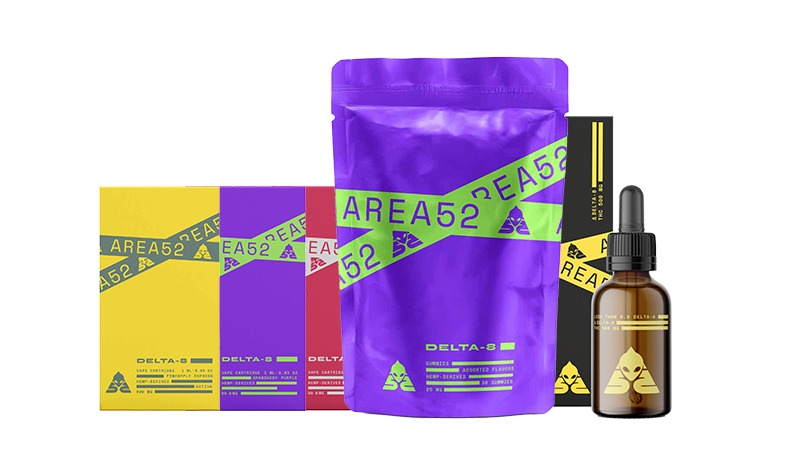 Area52 is a relatively new name on the market, but the company has already garnered a lot of attention from experts and cannabis aficionados. Area52 specializes in pure delta 8 THC distillates infused into classic cannabis formats, such as tinctures, gummies, and vape carts.
The company uses organic hemp grown in Colorado and Kentucky to produce its extracts. Each product is regularly tested for potency and purity in an independent laboratory, including the results for pesticides, heavy metals, microbial contaminants, and solvents.
Area52 offers potent delta 8 THC extracts in different variants, including:
Delta 8 THC Tincture: 1200 mg, Vanilla-flavored
Delta 8 THC Gummies: 25 mg each, non-GMO, vegan, low-sugar, assorted fruity flavors
Delta 8 THC Vape Cart: 900 mg – Pineapple Express, Berry Gelato, Granddaddy Purple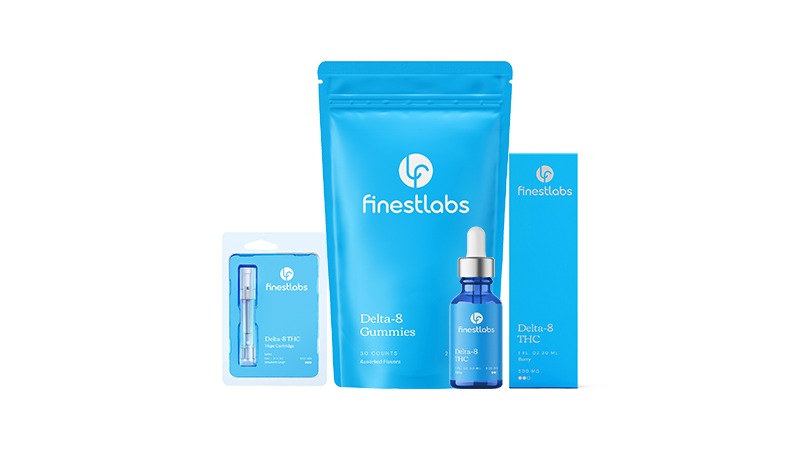 Finest Labs is another great company if you're looking for premium-quality delta 8 THC products. Similar to Area52, this brand uses traditional forms of delta 8 — tinctures, gummies, and vape carts — but in slightly lower concentrations.
Lower potency translates into lower cost per product, which makes this brand a good choice if you're dipping your toes in the delta 8 space and want to try out different dosages without breaking the bank.
All products from the Finest Labs collection are tested at different stages of production to ensure consistent potency and the highest purity of their distillate.
Products offered by Finest Labs:
Delta 8 THC Tincture: 500 mg, Berry flavored
Delta 8 THC Gummies: 25 mg each, assorted fruity flavors
Delta 8 THC Vape Cart: 900 mg – Strawberry Cough
Buying Weed Locally in New Jersey
Buying weed locally in New Jersey isn't an option for now. The state authorities are trying to work out a reasonable infrastructure for recreational sales, so it may take at least one year until the new rules are drawn out. So, for now, the only way to get high-quality weed in New Jersey is to have a medical marijuana card or grow your own plants.
Is Weed Legal in New Jersey?
Yes, marijuana is legal in New Jersey for both medical and recreational use.
Medical Marijuana in New Jersey
According to the New Jersey Compassionate Use Medical Marijuana Act, patients diagnosed with an approved debilitating medical condition can apply for a medical marijuana card after receiving a recommendation from a physician registered with the Medical Marijuana Program. In addition, the patient must have and maintain a bona fide physician-patient relationship with their doctor; a bona fide relationship is when the physician has ongoing responsibility for the diagnosis, care, and treatment of a patient's condition.
Who Can Buy Medical Marijuana?
As mentioned, your physician must certify that you suffer from an approved debilitating condition, such as:
Amyotrophic lateral sclerosis
Multiple sclerosis
Cancer
Inflammatory bowel disease
Post-Traumatic Stress Disorder (PTSD)
Terminal illness provided that the doctor has given a prognosis of fewer than 12 months of life.
If the patient is intolerant to conventional therapy, they can use medical marijuana for the following conditions:
Acquired immune deficiency syndrome
Glaucoma
Seizures
Epilepsy
Intractable skeletal, muscular spasticity
Severe nausea
HIV
Qualified patients can purchase no more than 2 ounces of medical marijuana in a 30-day period. The medical marijuana certification lasts for up to 90 days. After that time, a patient must seek reevaluation. Dispensaries can sell medical marijuana in increments of one eight and one-quarter of an ounce.
Recreational Marijuana Laws in New Jersey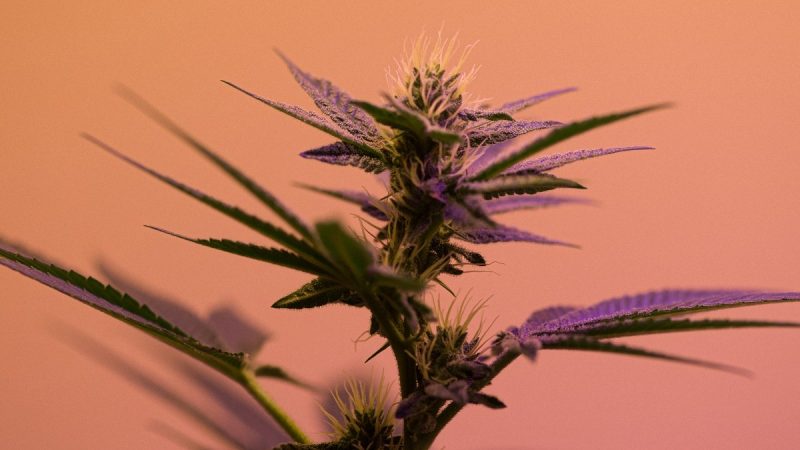 Recreational marijuana became legal in New Jersey by signing the New Jersey Cannabis Regulatory, Enforcement, Assistance, and Marketplace Modernization Act. The new law was signed in February 2021 by Governor Phil Murphy.
Who Can Buy Recreational Marijuana?
Residents aged 21 and over may possess up to an ounce of cannabis or its equivalence. Still, there's no physical way to buy weed right now, as recreational dispensaries aren't open yet.
Can You Smoke Weed in Public?
Patients can only consume their medicine on private properties.
They cannot smoke medical marijuana:
On public transportation
On a school bus
In a private vehicle
On any school ground
At any correctional facility
At any public beach, park, recreation center
Any other place where smoking is prohibited
Traveling with Weed in New Jersey
You can travel with weed because you're not transporting amounts larger than the state possession limits allow without a commercial cannabis license. When it comes to unsealed cannabis products, they must be "located in the trunk of a motor vehicle, behind the last upright seat in a trunkless vehicle, or the living quarters of a motor home or house trailer."
Any marijuana purchased in the state cannot be legally be exported from one state to another. These rules apply to both medical and recreational marijuana.
What About CBD Hemp Oil in New Jersey?
Hemp and its derivatives were legalized in 2018 by the amended Farm Bill, which made a clear distinction between hemp and marijuana. Cannabis that contains less than 0.3% of delta 9 THC is legal on a federal level. Hemp farmers can grow their crops for many purposes, including food, clothing, paper, biofuel, construction materials, and health supplements like CBD oil.
You can easily find CBD hemp oil in New Jersey's pharmacies, vape shops, head shops, wellness centers, and organic health stores. However, since the market remains unregulated, the best way to buy high-quality CBD extracts is to find a reputable online store.
Final Thoughts on Buying Weed in New Jersey
New Jersey residents can finally enjoy legal weed — but there's no place to buy it from!
Medical dispensaries won't help because there's already a shortage of such stores in the state, so we must wait for the government to work out a legal infrastructure for recreational sales quickly.
If growing weed or buying from the streets isn't your pair of shoes, you may want to consider buying delta 8 THC online. This analog of the standard THC provides a smoother cognitive experience without anxiety and is legal on a federal level — at least for now.