Vermont became the state to first legalize recreational marijuana through legislative powers alone in 2018, just over a decade after legalizing medical marijuana.
However, the legislation approach of the Vermont government is different than most states. Although adults 21 or older can legally grow and possess marijuana for personal use, there's no legal framework for recreational sales yet.
While you wait for the cannabis dispensaries and lounges to open, you can use common sense and courtesy to get your hands on high-quality weed. Meeting friendly growers who will "gift" cannabis to you or paying for certain services instead of paying straight for weed are two popular options to buy in Vermont if you don't want to grow your own.
Continue reading to learn about your options!
Buying Weed Online in Vermont: Is It Even an Option?
Vermont has yet to launch recreational sales. The first adult-use dispensaries may start showing up as early as 2022, but as we said, your current options are limited to growing your own plants or having a friend who grows and is willing to share their herb with you.
Nevertheless, there's one workaround for buying weed in Vermont. It's not the weed as you know it — but a little bit lighter version. It comes from cannabis, and it's a cousin compound of delta 9 THC from marijuana.
A Better and Legal Alternative to Marijuana in Vermont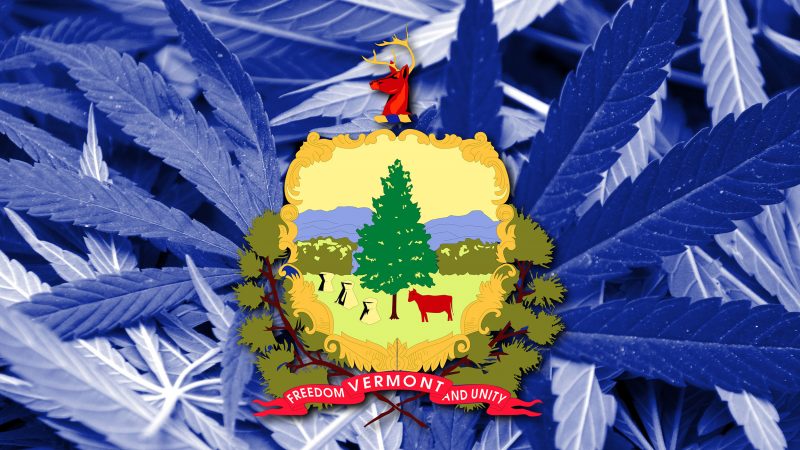 Ever heard of delta 8 THC?
Thanks to recent scientific breakthroughs, cannabis companies can now produce significant amounts of this unique cannabinoid from both marijuana and hemp plants.
Since delta 8 THC can be extracted from hemp, such products are theoretically legal on a federal level.
But, before we move on to the benefits of delta 8 THC, let's take a moment to answer why some cannabis users choose to avoid high-THC strains and other products.
Cons of Delta 9 THC from Marijuana
Marijuana is relatively safe both as a medical and recreational substance. Even the World Health Organization (WHO) has acknowledged that cannabis is a benign substance whose side effects are insignificant from the clinical perspective.
Most people can enjoy the psychoactive effects of weed without any mental discomfort. On the contrary, the high induced by delta 9 THC is usually deeply relaxing and euphoric, featuring an elevated mood, increased appetite, and warped perception of time.
However, some cannabis users are particularly sensitive to the high from marijuana. In other words, their cannabinoid receptors in the brain easily get overstimulated by higher doses of delta 9 THC.
For sensitive users, weed can cause the following short-term side effects:
Dizziness
Confusion
Anxiety
Paranoid thinking
Increased heart rate
Low blood sugar levels (known as "greening out")
Delta 8 vs. Delta 9 THC
Delta 8 THC is an analog of delta 9 THC. In other words, it's a very similar compound, but with a slight difference between the arrangement of their atomic bonds. For delta 9 THC, the double bond is at the 9th carbon chain, while for delta 8 THC, this bond is at the 8th chain.
As a result, delta 8 THC is about half as potent as delta 9. As a result, the psychoactive experience induced by delta 8 is smoother, clear-headed, and more focused in the body. It's also less likely to trigger anxiety and paranoia — which is the main reason why some people abstain from smoking weed.
Delta 8 THC also shares some health benefits with delta 9 regarding easing pain, inflammation, nausea, vomiting, and stress. It can also stimulate appetite and protect neurons in the brain against damage.
Pros of Buying Delta 8 THC Online
The above benefits and the legal status of delta 8 THC have quickly paved the way for a booming market. Today, you can easily find delta 8 THC products in local vape stores, head shops, and even at gas stations.
However, the problem with the products sold locally is that most of them are mislabeled. As a result, they often contain significantly less delta 8 THC than stated on the packaging; some are also contaminated with toxic chemicals resulting from improper purging.
It isn't easy to verify the quality of delta 8 products when you shop somewhere near you. In contrast, buying delta 8 THC online provides you with more research tools. You can do a background check on any vendor by looking into certificates of analysis, checking user reviews, and searching through social media groups and niche forums to get a bigger picture of the company.
There are also more benefits to buying delta 8 online, such as:
Shipped to Your Door Legally in Your State
This is perhaps the best part of buying delta 8 THC. You don't need to live in a state that has legalized marijuana because delta 8 can also be extracted from hemp. In addition, Hemp-derived products contain 0.3% of delta 9 THC or less, so they are legal on a federal level — this applies to delta 8 THC.
That being said, 12 states have already banned delta 8 THC, considering it as a legal grey area. The list includes Alaska, Arkansas, Arizona, Colorado, Delaware, Iowa, Idaho, Kentucky, Mississippi, Montana, Rhode Island, and Utah.
Receive in 2-3 days with the Convenience of Shopping at Home
Shopping for delta 8 THC online is more convenient than trying to find a store that sells such products near you
You can browse through hundreds of different products — potencies, formulations, sizes, flavors, and prices — in the comfort of your home. Moreover, you can take advantage of better prices because online stores can cut out the middleman. Online retailers often have special discounts, coupon codes, and reward programs for returning customers.
No Anxiety as Seen with Delta 9 THC
Since delta 8 THC is about half as strong as delta 9 THC, it also comes with a lower risk of triggering anxiety. In fact, these side effects are very rare among delta 8 users. The psychoactive experience is smoother, more clear-headed, and focused in the body. The high from delta 8 THC may feel bland, which is why many people combine it with other cannabinoids and terpenes; it helps them achieve a fuller profile of effects on top of more enjoyable flavors.
Lasts Longer than Delta 9 THC from Marijuana
A funny thing about delta 8 THC is that the effects last longer than delta 9 THC despite being less potent and delayed. Delta 8 THC is also a stronger appetite stimulant. This may be the desired effect for people with low appetite or eating disorders, but the powerful munchies require a hearty meal at hand; keep that in mind when using delta 8 recreationally.
Best Delta 8 THC Online vendors
The Delta 8 THC space is similar to where the CBD market was a few years ago. There are no regulations and standardization of manufacturing and labeling delta 8 THC products. There are many great companies in the space, but there's also no shortage of sketchy vendors who have just seen an opportunity to cash in on a booming industry.
Here at WeBeHigh, we're monitoring the market's standards, reviewing the best and the worst cannabis products out there. Our quality criteria for choosing delta 8 companies include the source of hemp, the extraction method, the company's reputation, and transparency — especially in terms of third-party testing.
Below you'll find our top 2 deltas 8 THC online vendors for 2022.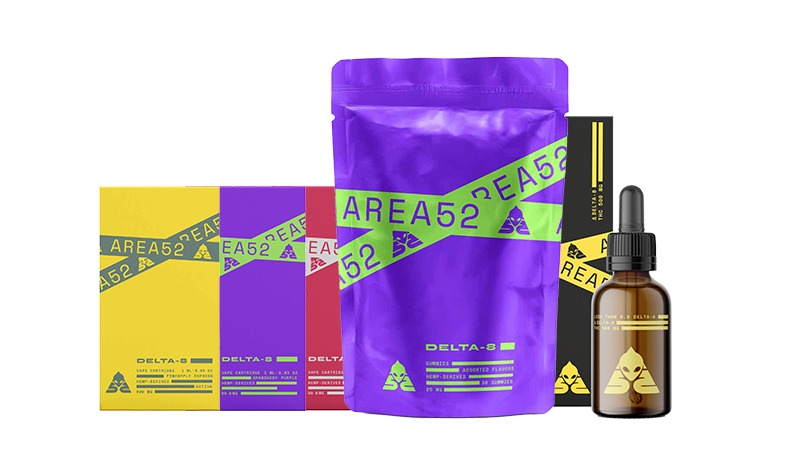 Area52 is a relatively new company in the industry. Still, the quality of ingredients, their integrity of farming and testing, and top-shelf transparency have already coined them a reputation as one of the best delta 8 THC vendors in the space. With every product ordered from Area52, you receive a batch-specific certificate of analysis with results for the product's potency and purity.
The company specializes in pure delta 8 THC distillates, which they infuse into classic cannabis formats like tinctures, gummies, and vape carts. These are high-potency products, so they're a good fit for experienced users and beginners looking for a cost-efficient product to get started with delta 8 extracts.
While the company admits its products are a bit more expensive than the competition, this is an objective result of not cutting corners in terms of quality.
Products offered by Area52:
Delta 8 THC Tincture: 1200 mg, Vanilla-flavored
Delta 8 THC Gummies: 25 mg each, non-GMO, vegan, low-sugar, assorted fruity flavors
Delta 8 THC Vape Cart: 900 mg – Pineapple Express, Berry Gelato, Granddaddy Purple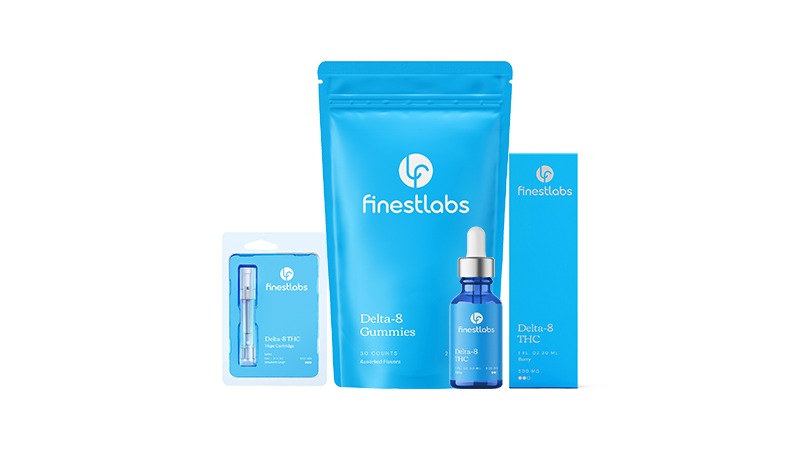 Finest Labs is another new player on the market. This California-based company offers similar products to Area 52 — tinctures, gummies, and vape carts — but in slightly lower potencies. Lower concentrations mean lower cost per product, making this company a good pick if you're just getting started with delta 8 THC products.
The entire Finest Labs collection is tested in an independent laboratory for delta 8 THC content and purity, including the results for pesticides, heavy metals, and residual solvents.
Products offered by Finest Labs:
Delta 8 THC Tincture: 500 mg, Berry flavored
Delta 8 THC Gummies: 25 mg each, assorted fruity flavors
Delta 8 THC Vape Cart: 900 mg – Strawberry Cough
Buying Weed in Vermont Locally
There are currently five dispensaries operating in Vermont. The state is considering adding a sixth dispensary once the program has scored more than 7,000 patients. Dispensaries can offer home delivery services. However, these places can only sell marijuana to medical users. Recreational sales are expected to launch in 2022.
Medical Marijuana Dispensaries in Vermont:
| | |
| --- | --- |
| Name | Address |
| Southern Vermont Wellness – Battleboro | 942 Putney Rd Battleboro, VT 05301 |
| PhytoCare Vermont | 120 Depot St Ste 103 Bennington, VT 05201 |
| Grassroots Vermont | 84 Lovers Lane Brandon, VT 05733 |
| Champlain Valley Dispensary | 1 Steele St Ste 124 Burlington, VT 05401 |
| Vermont Patients Alliance | 188 River St Montpelier, VT 05602 |
Is Weed Legal in Vermont?
Yes, marijuana is legal in Vermont for both medical and recreational use. However, there are differences in the rights of medical marijuana patients and the rights of recreational consumers. For one, medical users can actually buy their medicine from one of the 5 state-licensed dispensaries. On the other hand, recreational users must wait until adult-use dispensaries and lounges become legal.
Here's what you need to know about buying marijuana for medical and recreational purposes.
Medical Marijuana Laws in Vermont
You must be a resident of Vermont to register for a medical marijuana card provided that you qualify for the state's medical marijuana program.
Who Can Buy Medical Marijuana?
If you want to qualify for a medical marijuana card in Maine, you must be diagnosed with either of the following conditions:
Cachexia or wasting syndrome
Cancer
Crohn's disease
Glaucoma
HIV or AIDS
Multiple Sclerosis
Parkinson's disease
PTSD
Seizures
Severe or chronic pain
Severe nausea
And any patient receiving hospice care.
Those qualifying for a medical marijuana card can purchase and possess up to two ounces of marijuana. Patients are also allowed to cultivate up to 9 marijuana plants, of which no more than two may be mature.
According to the Vermont Department of Public Safety, there are currently 4,438 registered medical marijuana patients.
Can You Designate a Caregiver to Buy Marijuana on Your Behalf?
Yes, if you're a Vermont resident with a medical marijuana card, you can designate a caregiver to pick up your medicine for you. A caregiver is a person who has agreed to take responsibility for managing the well-being of a patient concerning using marijuana for symptom relief. The caregiver must be 21 years of age or older and may serve only one patient at a time.
Recreational Marijuana in Vermont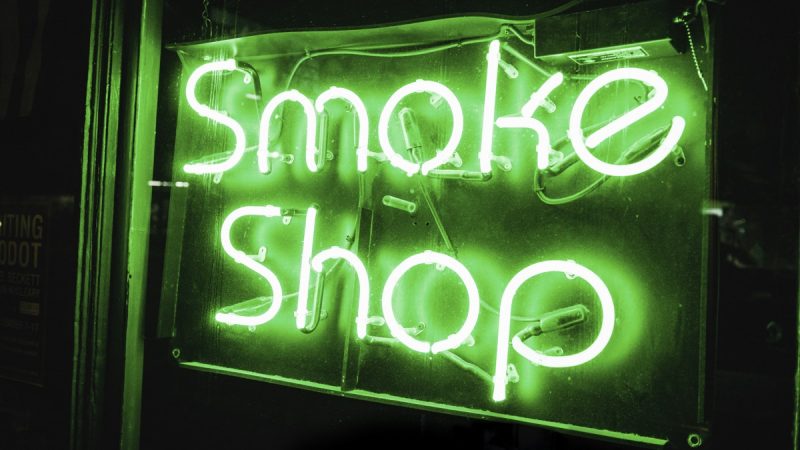 As of 2021, recreational marijuana is legal in Vermont, but there's a problem with buying it locally, at least by the end of 2022.
Who Can Buy Recreational Marijuana?
The state is planning to introduce the framework for recreational sales, but this sector remains in a grey area until then. This means that certain companies are offering "services" that you pay for in exchange for weed. That way, you're not buying weed per se — you're just buying services, which is not against the law.
Vermont legislators are trying to introduce recreational dispensaries and cannabis lounges by the end of 2022.
You will see several different strains of cannabis flower categorized by their genetics, mostly into Sativas, Indicas, and everything in between (hybrids). Vermont will probably follow other states when it comes to weed products available for sale.
Dispensaries will also sell concentrates, edibles, transdermal products, seeds, and clones ready to grow.
Can You Smoke Marijuana in Public?
No, marijuana consumption is currently limited to private properties. Later in 2020, cannabis lounges may start to open up, but until then, it's best to smoke your weed at home.
Traveling with Weed in Vermont
You can travel with weed in Vermont as long as you're not trying to take it out of the state. Transporting marijuana between states is prohibited by federal law. For local travels, it's important to keep your weed in a child-proof container, preferably in a place that isn't within the direct reach of the driver.
Can You Take Weed on a Plane from Vermont to Another Legal State?
No. All weed and cannabis products purchased in Vermont must be consumed in Vermont. Trying to cross state lines with marijuana is a criminal offense and can get you into serious trouble with the law. Do not risk crossing state lines with marijuana!
What About CBD Hemp Oil in Vermont?
CBD hemp oil is legal in all 50 states, and Vermont isn't an exception. The 2018 Farm Bill legalized hemp and all its derivatives on a federal level. Hemp plants contain less than 0.3% of THC, so they don't produce psychoactive effects. As a result, hemp farmers can use their crops for many purposes, including clothing, paper, biofuel, construction materials, food, and health supplements like CBD oil.
You can find CBD hemp oil in Vermont's pharmacies, vape stores, head shops, and organic health stores. However, since the market remains unregulated, the best deals on high-quality CBD products are found online.
Key Takeaways on Buying Weed in Vermont
If you want to buy weed in Vermont, you may end up disappointed, at least for now. There are no operating recreational dispensaries, and only medical marijuana patients can legally purchase weed in the small state. Recreational users can possess, grow, and gift marijuana, but the sales will need to wait until 2022.
If you're looking for a legal alternative to buying weed online in Vermont, consider trying out delta 8 THC. This milder analog of delta 9 creates a smoother cognitive experience with less anxiety than its more common cousin. Delta 8 THC is also legal on a federal level, so you can order it from one of the 38 states that still allow the sales of delta 8 products.
How do you get your weed in Vermont? Do you have a medical cannabis card, or are you using the "gifting" system? Let us know in the comments!