After several years of failing to legalize marijuana in New York, Governor Cuomo has finally succeeded. So this year, New Yorkers have one big reason to celebrate, as the Big Apple joins the other 15 states that gave weed the green light.
However, despite recreational legalization and the state's potential to become one of the most prominent markets, it can take at least a year for the officials to establish a legal framework for retail sales.
The biggest problem with buying weed in New York is the lack of adult-use dispensaries. New Yorkers must either grow their own or have a friend who will grow weed for them.
It's no wonder why people are looking for some alternatives to buying weed in New York.
In this article, we cover the most important details about the new marijuana laws in the state — and provide one appealing alternative to buying weed online.
You can also check out this article, Where to Buy Weed in New York City? (Top Dispensary Deals), if you are living in NYC.
Buying Weed Online in New York: Is It Even an Option?
There's a whole new infrastructure involved in setting up cannabis dispensaries for retail sales. Since marijuana is legal in New York, and there are no dispensaries across the state, New Yorkers wonder if they can follow their Canadian neighbors and purchase weed using marijuana delivery services.
Unfortunately, this won't happen for the next few years. Most states are waiting for the federal government to decriminalize marijuana and take it off Schedule 1 of the Controlled Substances Act.
Nevertheless, there's one workaround if you want to order weed online in New York.
Ever came across delta 8 THC?
If not, we explain everything below.
A Better and Legal Alternative to Marijuana in New York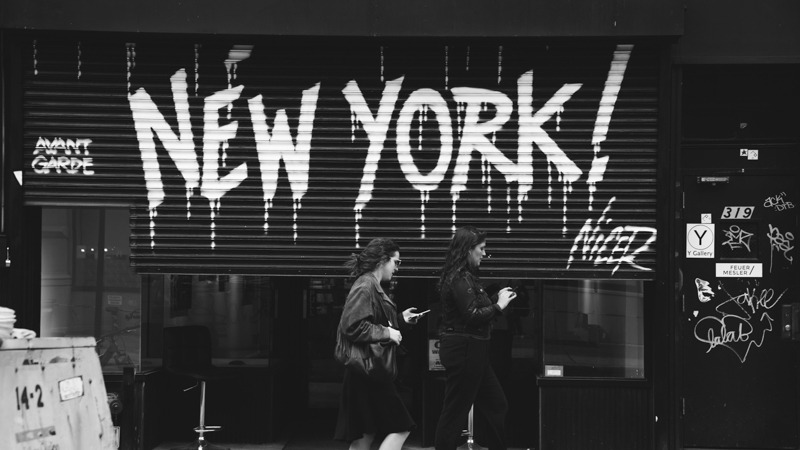 As mentioned above, the only way for New Yorkers to get high-quality weed is to grow their own plants. However, growing weed takes time, and it would be nice to have something to smoke in that 6-8-week period.
Buying weed from dealers is risky, so unless you have a friend who shares and cares, you'll need to find some alternative.
Delta 8 THC is the best that could happen to cannabis users in years.
This novel compound is making big headlines in the weed space thanks to the latest extraction methods.
Delta 8 vs. Delta 9 THC
Since both delta 8 and delta 9 have "THC" in their names, they share similar properties. However, there are slight differences in how they affect the user.
Delta 8 THC is around half as potent as delta 9. You'd need to take twice as much of it to experience the same type of high as you do with delta 9 THC. The effects are more clear-headed and focused on the body. The high from delta 8 alone is bland. You feel buzzed but in no particular direction, which is why many people combine delta 8 THC with terpenes and other cannabinoids from cannabis.
However, before we cover the benefits of delta 8 THC, let's take a look at why some people choose to avoid high-THC cannabis.
Cons of Delta 9 THC from Marijuana
Marijuana has a decent safety profile as a medical and recreational substance. Low and moderate doses induce relaxation, elevate the mood, relieve pain, and ease stress. Higher doses have an intoxicating effect, producing euphoria, giggles, increased appetite, and alteration in sensory perception.
However, when you take too much THC at a time, it can backfire on you, causing anxiety, paranoia, and increased heart rate.
For many people who are sensitive to the trippy character of THC, these effects induce mental discomfort that effectively discourages them from further cannabis use.
Pros of Buying Delta 8 THC Online
According to anecdotal reports from d8 users, this cannabinoid can reduce stress, improve sleep quality, reduce pain, relieve nausea, stimulate appetite, and protect neurons from damage.
Since delta 8 THC entered the cannabis space in the last year, it has grabbed weed aficionados by the throat, resulting in a surge of delta 8 THC products on local markets.
You can find delta 8 THC virtually everywhere, from head shops and vape stores to organic health stores and even gas stations.
However, most products sold locally are mislabeled and may be contaminated with residual solvents that stem from improper purging. This, in turn, can make the product dangerous for your health.
If you're looking for more opportunities to research your potential supplier, consider looking for delta 8 THC companies online. You can look for third-party lab reports, read user reviews, compare different brands, and look for help on social media and niche forums from more experienced users.
On top of that, buying delta 8 THC online comes with other perks, such as:
Shipped to Your Door Legally in Your State
The best thing about buying delta 8 THC online is that it's legal on a federal level — at least theoretically.
Delta 8 THC can be extracted from hemp plants, which calls for extracting CBD first, converting it into delta 9 THC, and then synthesizing delta 8 THC. The end product contains less than 0.3% of delta 9 THC, so it's considered legal according to the 2018 Farm Bill.
You can order it from any state in the country and have it delivered to your door in a matter of days.
Speaking of which…
Receive in 2–3 Days with the Convenience of Shopping Online
Cannabis brands are generally fast when it comes to shipping. Most delta 8 THC producers will deliver their products within 2–3 business days.
Shopping for delta 8 THC online is also more convenient. You don't need to drive between different stores to find what you're looking for. In addition, online stores offer several different product types and formulas that you can compare without leaving your house.
Moreover, online stores usually have better prices on their products due to lower operational costs. Since there's no middleman involved, consumers can take advantage of discounts, reward programs, and coupon codes.
No Anxiety As Seen with Delta 9 THC
Delta 8 THC is about half as strong as delta 9 THC. It's also less likely to trigger anxiety and paranoia. Users describe the high as more clear-headed, easy-going, creative, and less overwhelming.
Lasts Longer Than Delta 9 THC from Marijuana
Here's a fun fact about delta 8 THC: its effects last longer than delta 9 THC from marijuana despite a delayed onset and lower potency. Delta 8 THC is also a stronger appetite stimulant, which may prove helpful for people struggling with eating disorders.
Top Delta 8 Online Vendors
The delta 8 THC space is relatively new, so the market lacks regulation regarding manufacturing and labeling standards. As mentioned in a few sections above, there are many great brands out there, but there's also a fair number of scammy companies mooching on low customer awareness.
We advise new delta 8 users to research their potential suppliers, checking for parameters like laboratory testing, user reviews, hemp farming, and extraction methods.
Here are the top delta 8 brands that sell pure delta 8 THC distillate in various formats — all third-party tested and certified.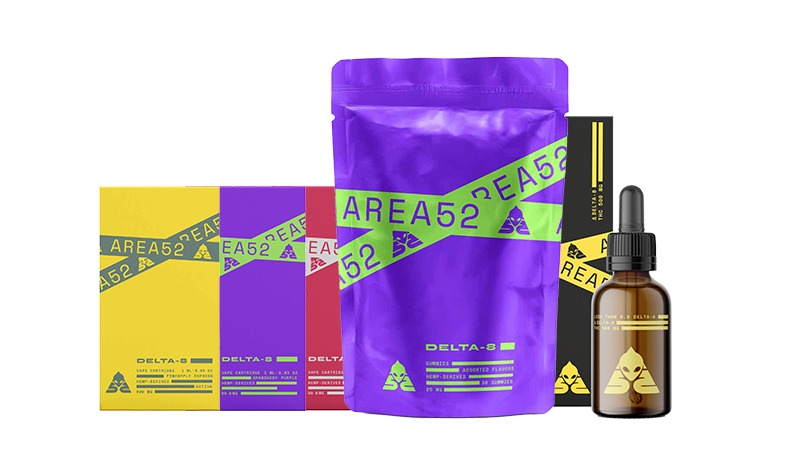 Area52 specializes in delta 8 THC distillates infused into traditional formats for cannabis products — including tinctures, vapes, and edibles.
Unlike many brands in the delta 8 space, Area52's formulations are simple but crafted with decency and high-quality ingredients. In addition, each product batch is tested in an independent laboratory; you can access the certificates of analysis on the company's website, with results for the cannabinoid profile and purity.
Products offered by Area52:
Delta 8 THC Tinctures (1200 mg, Vanilla)
Delta 8 THC Gummies (25 mg, non-GMO, vegan, low-sugar)
Delta 8 THC Vape Carts (900 mg of delta 8 THC distillate, Pineapple Express, Berry Gelato, Grandaddy Purple terpenes)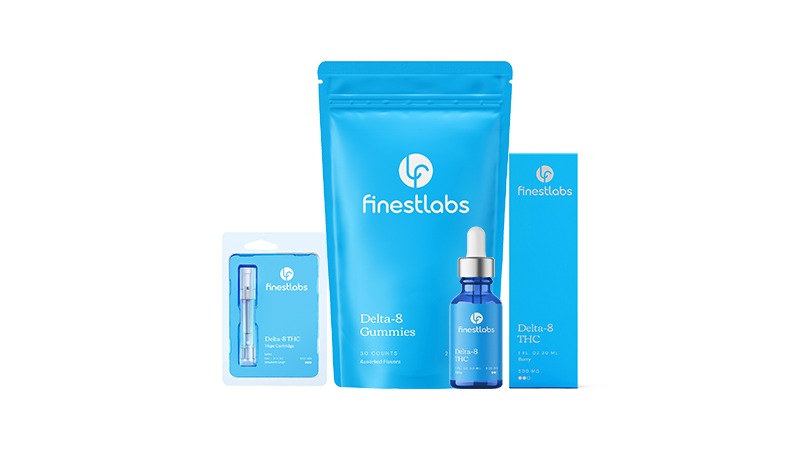 Finest labs is the best company to buy delta 8 THC from if you benefit from lower doses in your routine. Lightweight users and fans of microdosing will be delighted by the potency of these products. They are available in the same forms as the extracts from Area52 — featuring tinctures, vapes, and gummies.
Finest Labs uses organic hemp and employs slow extraction methods to produce pure delta 8 THC distillate that is safe for both the user and the environment. The entire product lineup is tested at each stage of production, from the seed to the bottle.
Products offered by Finest Labs:
Delta 8 THC Tinctures (500 mg)
Delta 8 THC Gummies (25 mg per gummy, vegan, low-sugar)
Delta 8 THC Vape Carts (900 mg, Blueberry strain terpenes)
Buying Weed in New York Locally
Since marijuana has become so decriminalized, there are many spots where we can buy it. However, the locals recommend visiting a few spots where dealers usually hang out. The first is college campuses — more specifically, the NYU campus. We can find some students there who will help us find a dealer.
1.Union Square Park
Another great spot to find weed is on the north side of Union Square Park. During the day, there are many groups of people smoking anend selling marijuana there. However, we recommend asking someone before going to the dealers. If we ask a smoker, they might tell us who has a high-quality product and the best prices.
2. Washington Heights
Washington Heights is also a great spot where tourists can find weed. Moreover, it's usually of much better quality than the one in Union Square Park. We recommend finding the dealers that hang out on the south side of the park. Depending on where we buy the weed, the prices can start from $20 to $40 per gram.
3. Marijuana Dispensaries
Marijuana dispensaries are a great alternative if we're only looking to buy some CBD oils or cannabis-based products. Moreover, dispensaries are legitimate businesses, so we are not breaking the law when buying from them. We can find a great selection of vape pens, tinctures, and capsules. However, we do need to be medical marijuana cardholders to buy from dispensaries.
Is Weed Legal in New York?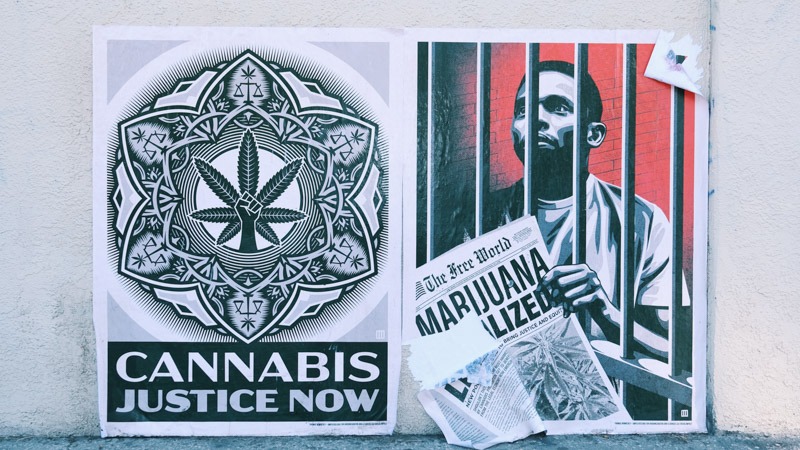 Yes, marijuana has just been legalized for recreational use in New York a few years after the medical legalization. Here's a brief overview of the state cannabis laws.
Medical Marijuana Laws in New York
New York legalized medical marijuana in July 2014, when Gov. Andrew Cuomo signed the Compassionate Care Act. The state has a well-developed program for qualifying patients.
Who Can Buy Medical Marijuana?
You can buy medical marijuana if you're 18 or older and have a medical marijuana card. Patients applying for the card must be diagnosed with one of the following conditions:
Amyotrophic lateral sclerosis (ALS)
Cancer
Epilepsy
Inflammatory bowel disease
Huntington's disease
HIV/AIDS
Multiple sclerosis
Neuropathy
Parkinson's disease
Post-traumatic stress disorder (PTSD)
Severe nausea
Severe chronic pain
Opioid use disorder
Cards are valid for 1 year; then you need to renew them. Terminal patients can get a lifelong card.
From there, you can purchase medical marijuana from one of the state-approved dispensaries.
Recreational Marijuana Laws in New York
Yes, New York legalized recreational marijuana in 2021 under SB845A, or the Marijuana Regulation and Taxation Act.
Who Can Buy Recreational Marijuana?
New Yorkers aged 21 and up can purchase and possess up to 3 ounces of marijuana buds and 24 grams of concentrates. However, there are no operating dispensaries yet, so physically you can't buy weed until the legal infrastructure has been set out.
Can You Smoke in Public?
No, marijuana must be consumed on private property. New York state has explicitly banned marijuana consumption in the following areas:
Boarding areas
Child care services
Commercial establishments
Colleges and universities
Job sites
Enclosed indoor public spaces
Public mass transit vehicles
Bars and restaurants
General hospitals
Indoor areas
Zoos
Traveling with Weed in New York
Traveling with weed in New York is legal, but you must keep it in a child-proof container and away from the driver's reach, preferably on the backseat or in the trunk. However, you can't take marijuana out of the state, as it will be considered as the transportation of drugs; it's a federal felony that can land you in prison for up to several years.
What About CBD Hemp Oil in New York?
CBD hemp oil (and all hemp-derived products) was legalized in 2018 with the signing of the 2018 Farm Bill. The new law reclassified hemp as an agricultural crop. So now it can be grown and harvested for any use, including food, clothing, construction materials, paper, biofuel, and health supplements like CBD extracts.
You can find CBD hemp oil in local pharmacies, vape stores, head shops, organic health stores, and dispensaries. However, similar to delta 8 THC products, the best companies and deals on CBD is found online.
Key Takeaways on Buying Weed in New York
The last year of lockdowns and remote working has put the New York state in serious need of tax revenue. So the main argument in favor of marijuana legalization in New York was that the new industry could reduce unemployment on top of pumping millions of dollars into the local budget.
And so the money talked — similar as it did in other states that legalized.
Now that New York has paved the way for a recreational marijuana market, we can soon expect recreational dispensaries to open. But before that happens, the only way to buy weed in the state is to have a friend who is an experienced grower — or look for delta 8 THC online. This different form of THC provides a smoother and less intense experience than the classic high from weed.