Migraines can knock you off for a whole day.
Sometimes, this debilitating throbbing headache can last for several days in the most severe cases.
If you've ever had a migraine attack, you'll always throw daggers at people who compare it to a regular headache. Migraines can get beyond being manageable, preventing you from engaging in even the simplest activities.
Migraines are particularly troublesome for women. 18% of women in the US suffer from regular migraines compared to only 6% of men. And yet, despite the obvious prevalence, we know very little about what causes this condition and how to manage it.
After failing with traditional treatments, many people desperately turn to natural resources for relief — such as CBD oil.
CBD is known for its ability to reduce inflammation and relieve pain, but recent studies suggest it can also help fight migraines.
In this article, we'll highlight the top 5 CBD oil companies that sell CBD oil online. We'll also summarize everything that has been said about using CBD for migraines so far.
Best CBD Oil for Migraines (Top 5 Brands)
Buying CBD oil online requires serious research, and that takes precious time.
Most people don't want to spend hours reading about different sources of hemp, extraction methods, certificates analysis, and all the other factors that determine the quality of CBD oil.
Some people just want a straight answer — "you should trust this brand because…"
You'll get your answer in this section. Below we show you our top 5 brand recommendations for CBD oil and migraines.
1. Royal CBD (Best Migraine Reliever)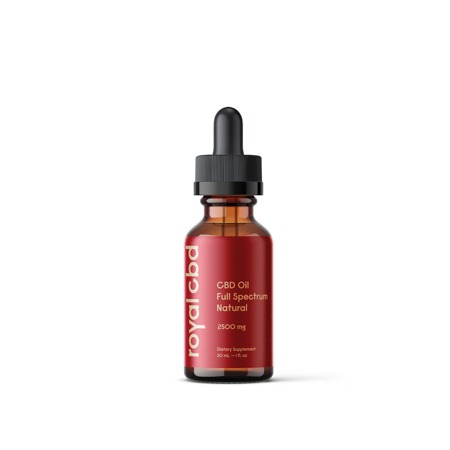 Product Details
| | |
| --- | --- |
| Total CBD Count | 250 mg – 2500 mg |
| Available Flavors | Natural, Berry, Mint, Vanilla |
| Potency | 8.3 mg – 83.33 mg |
Why Royal CBD is the Best Migraine Reliever
Started in 2017 by a group of cannabis aficionados, Royal CBD is a premium California-based brand that offers organic CBD products from high-quality ingredients.
Unlike many other new brands, Royal CBD focuses on simplicity and transparency instead of trying to impress customers with "cutting-edge" products. The company's selection of CBD extracts includes traditional formats such as oil drops, capsules, gummies, and topicals. We've tested out the Royal CBD oil and loved how it helped with migraines after consistent supplementation.
This CBD oil is available in 4 potency options: 250 mg, 500 mg, 1000 mg, and 2500 mg. On top of the nice neutral unflavored CBD oil, you can also try 3 different flavors, such as berry, mint, and vanilla. This is a full-spectrum product, so you're getting the entire range of valuable hemp compounds, such as cannabinoids, terpenes, and flavonoids. They produce the entourage effect, which scientists describe as synergistic effects achieved by all substances occurring in hemp. This allows lower doses of CBD oil to remain effective for migraines.
The Royal CBD oil tastes exceptionally well for a full-spectrum product. It has been thoroughly filtered and has a nice golden-brown color and viscous texture.
Pros
Cons

Sourced from US-grown organic hemp
Extracted with supercritical CO2
Contains full-spectrum CBD
Available in 4 different strengths and flavors
Up to 83.3 mg/mL of CBD
3rd-party tested for potency and purity
Pleasant neutral flavor

Only available online at the moment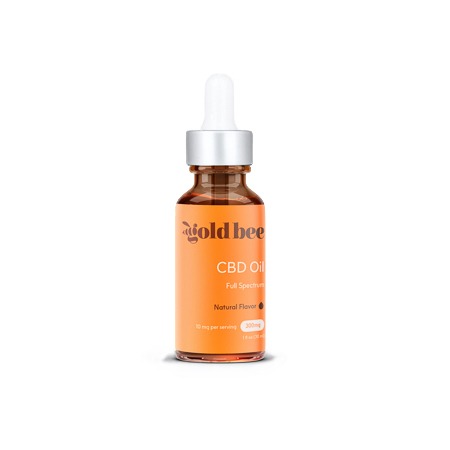 Product Details
| | |
| --- | --- |
| Total CBD Count | 250 – 1000 mg |
| Available Flavors | Not yet |
| Potency | 8.3 – 33.3 mg/mL |
About Gold Bee
Our runner up, Gold Bee is another CBD brand based in California. The company's mission is to destigmatized hemp, which has been unjustly demonized for almost a century, and provides the health benefits of CBD oil at affordable prices. Gold Bee has a trusted network of local farmers as well as growers from Colorado; their partnership resulted in creating a proprietary blend of high-CBD hemp strains — the source of their concentrated CBD extracts.
Similar to Royal CBD, Gold Bee specializes in making full-spectrum products, so you're getting the entourage effect from all the beneficial compounds from hemp. However, this company offers fewer potency options, ranging from 250 mg to 1000 mg of CBD per bottle.
Gold Bee is the best brand for migraine sufferers whose CBD dosage doesn't exceed 30 mg daily as well as for new consumers. The company also offers other forms of CBD, including CBD gummies, capsules, vapes, and topicals. All of the Gold Bee's products are sourced from organic hemp plants.
If you don't want to commit on the first date, the Guys at Gold Bee have a risk-free 30-day trial period, during which you can decide whether or not CBD oil works for you. If it fails to deliver expected effects, you can send the product back for a full refund.
Pros
Cons

Made with US-grown organic hemp
Infused with full-spectrum CBD
Up to 33 mg CBD/mL
Great potency range for beginners
Third-party tested for potency and contaminants
3. CBDPure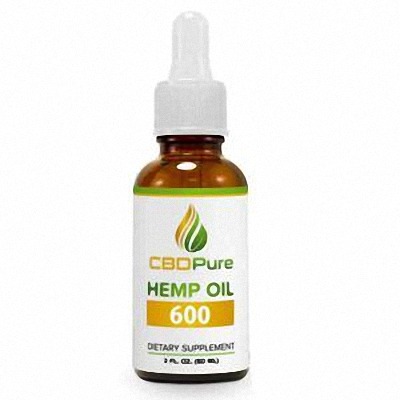 Product Details
| | |
| --- | --- |
| Total CBD Count | 100 – 1000 mg |
| Available Flavors | None |
| Potency | 3.3 – 33 mg/mL |
About CBDPure:
CBDPure is the best brand for people looking for low-potency CBD oil to manage their migraines. This is one of the most transparent companies we've ever ordered CBD from. The guys at CBDPure describe each stage of production of its CBD oil, providing extensive lab reports from third-party testing for each batch of product.
CBDPure's product selection includes only traditional oil drops and soft gel capsules, both of which contain full-spectrum CBD. The CBD oil is available in 4 strengths: 100 mg, 300 mg, 600 mg, and 1000 mg. The strongest version carries 33 mg of CBD in each mL.
Similar to Gold Bee and Royal CBD, CBDPure makes full-spectrum extracts so they can remain effective at lower dosages. However, if you want something a bit stronger, we recommend you go with the two competitor brands.
Nevertheless, if you decide to buy from CBDPure, you can use its 100% Satisfaction Guarantee program, which allows you to return the product for a full refund within 90 days after purchase if you're not satisfied with the effects.
Pros
Cons

Made from organic Colorado-grown hemp
Extracted with supercritical CO2
Lab-tested for cannabinoid profile and purity
90-day return policy

Only two forms of CBD available
Low potency
4. Hemp Bombs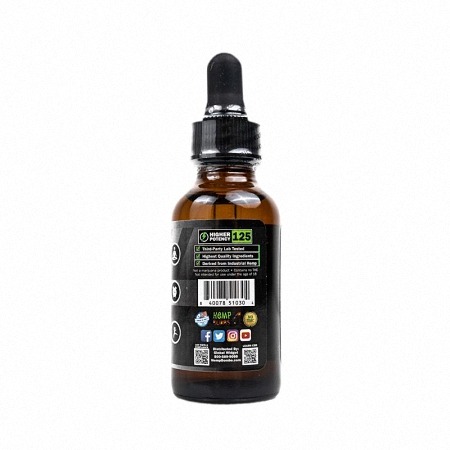 Product Details
| | |
| --- | --- |
| Total CBD Count | 125 – 4000 mg |
| Available Flavors | Natural, Acai Berry, Orange Creamsicle, Peppermint, Watermelon |
| Potency | 4 – 133.3 mg/mL |
About Hemp Bombs
If you're looking for the best isolate-based CBD oil for migraines, Hemp Bombs is your best bet. On top of selling 99% pure CBD oil drops, this American-based company also offers gummies, vape oils, and products such as tattoo aftercare or beard oils.
Hemp Bombs CBD oil is available in 5 concentrations, from 125 mg to a whopping 4000 mg of CBD per bottle. The strongest version contains 133.3 mg CBD per mL.
Hemp Bombs claims to use organic hemp from certified farms in Europe. Similar to other premium brands on the market, the guys at Hemp Bombs use CO2 in its supercritical state for maximum purity. Since the oil is made with CBD isolate it contains zero THC.
If your job requires you to undergo regular drug testing, then you don't want any THC in your CBD oil. This product allows you to avoid even trace amounts of the psychoactive cannabinoid.
CBD isolate also offers higher versatility because it's odorless and flavorless. You can add it to carrier oils and make tasty products using natural flavorings. On top of that, the isolate will give you the highest dose of CBD per serving at a lower price than full-spectrum CBD.
Unfortunately, CBD isolates are generally considered inferior to full-spectrum products due to the lack of entourage effect. This makes them less preferred option among consumers.
Pros
Cons

Sourced from organic hemp
Extracted with supercritical CO2
THC-free
Available as broad-spectrum or isolate
3rd-party tested for potency and purity

No "entourage effect" from other cannabinoids and terpenes
Most people don't need such potent CBD oils in their routine
Infused with synthetic flavorings
5. CBDistillery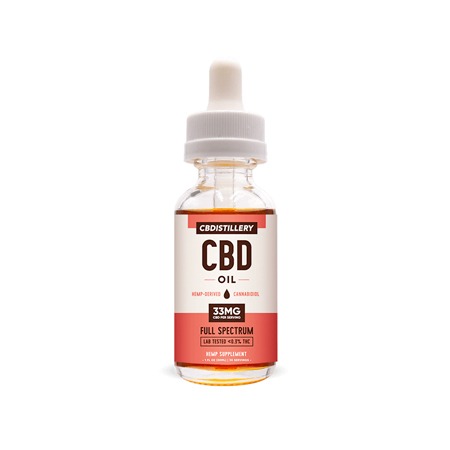 Product Details
| | |
| --- | --- |
| Total CBD Content | 250 – 5000 mg |
| Available Flavors | None |
| Potency | 8.3 – 166 mg/mL |
About CBDistillery
CBDistillery is one of the most reliable brands on the market, and one of the first companies to enter the American CBD industry. Despite its stellar rap among customers, CBDistillery hasn't settled and has recently reformulated its product line up — offering both full-spectrum and pure CBD.
There are five different strengths to choose from, starting at low-potency 250 mg up to 5000 mg of total CBD, which covers the entire potency range for all types of consumers.
These are the most affordable oils on the market. The 250 mg CBD oil costs just $20, so if your dosage doesn't exceed 8 mg CBD daily, you can get yourself supplied with a premium-quality product without breaking the bank.
Pros
Cons

Available as full-spectrum or broad-spectrum CBD
Extracted with supercritical CO2
5 strengths to choose from
Up to 166.6 mg of CBD per bottle

The hemp isn't organic
Only unflavored CBD oil available
What Are Migraines?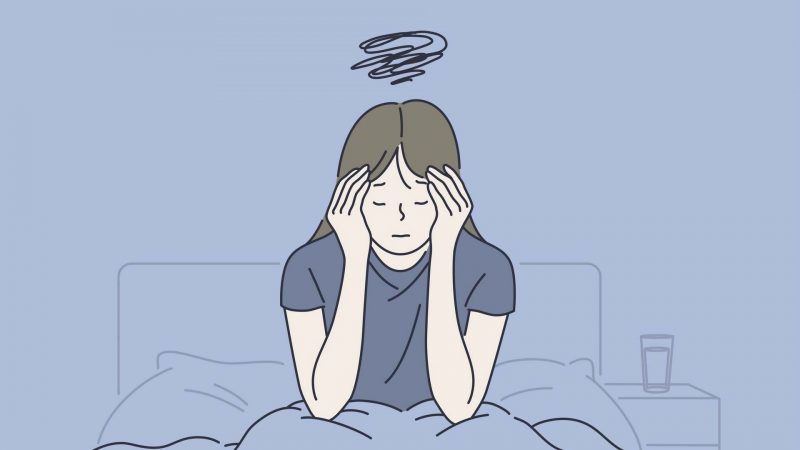 Migraines are very intense headaches that can last for anywhere between 4–72 hours. They're perceived as a pulsing sensation, usually affecting one side of the head.
Most often, it feels as if someone was pounding your head with a hammer while trying to squeeze your eyes out of your skull.
On top of the unmanageable pain, migraines can also lead to experiencing other symptoms such as vomiting, nausea, and sensitivity to sounds and light.
According to global statistics, migraines affect over 38 million people within the US alone. Women are three times more likely to suffer from migraine headaches than men.
Migraines have two distinct forms: with or without aura.
About 70–90% of people experience migraines without aura. This type lasts up to 72 hours and includes throbbing pain on one side of the head.
Migraine with aura is another form that stems from neurological symptoms caused by the headaches, such as tunnel vision, colored spots in the eyes, blind spots in the field of vision, and flashing lights.
Migraines can be acute or chronic; chronic migraines can last even 15 days in a month.
Researchers haven't discovered the exact reason for migraine headaches yet, but they believe them to derive from changes in nerves, chemicals, and blood vessels in the brain.
How Are Migraines Commonly Treated?
If you only suffer from mild migraines that result mostly from environmental factors, you can learn how to reduce exposure to those triggers:
Try the following methods:
Behavioral therapy
Taking care of your sleep hygiene
Avoiding bright lights and allergens
When these methods aren't enough to help you overcome migraines, your physician will recommend one of the acknowledged treatment options.
Conventional migraine treatments include:
Over-the-counter (OTC) painkillers
Non-steroidal anti-inflammatory drugs
A mix of caffeine meds and pain relievers
Anti-migraine prescription drugs
Botox
The efficacy of conventional migraine treatments varies between individuals. Some of them can reduce the frequency of migraines and lower their severity once they start.
However, when absolutely everything fails to relieve you from migraines, CBD may be your last resort.
Should You Use CBD Oil for Migraines?
CBD is a natural compound unique to cannabis plants. It's the most prevalent cannabinoid along with THC, but unlike its psychoactive cousin, CBD won't get you high because it's non-intoxicating.
CBD is the modulator of the endocannabinoid system (ECS) — the prime neurochemical network in our bodies responsible for maintaining homeostasis. CBD acts on two types of cannabinoid receptors (CB1 and CB2) to help the ECS maintain the chemical balance in the body and brain.
In short, CBD signals the endocannabinoid system to produce more of the body's own cannabinoids and increases their availability for the body by blocking the enzyme that breaks them down.
Studies have highlighted CBD as a potential painkiller, antioxidant, anti-inflammatory, and neuroprotectant, which explains the wide range of its health benefits.
But how exactly would CBD oil help with migraines? Let's closely examine the relationship between the CBD and the endocannabinoid system to answer that question.
Using CBD Oil for Migraines: Research Overview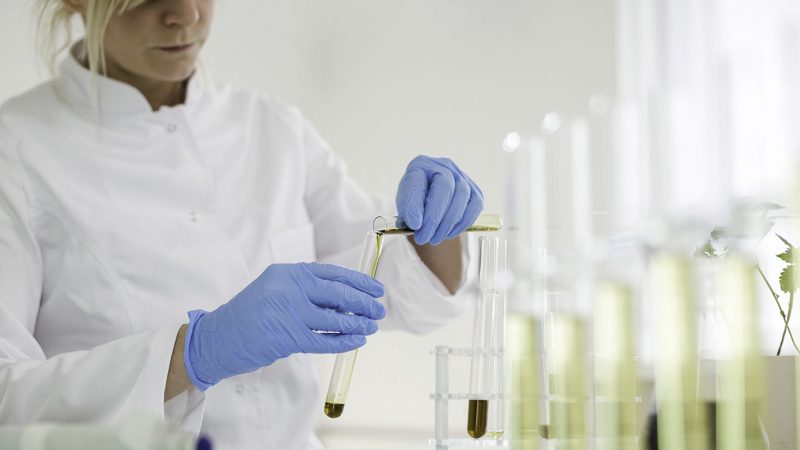 Although research with regards to CBD and migraines is still in its early stages, there are some indications that CBD may help prevent them and reduce their severity once they occur.
Migraines & the Endocannabinoid System
The endocannabinoid system has recently become a subject of debate for scientists exploring the mechanisms behind migraine headaches. According to one study from the Journal Experimental Neurology, the ECS may be centrally and peripherally involved in pain signaling. This may derive from the endocannabinoid's ability to block the release of neurotransmitters responsible for processing pain through interaction with the CB1 receptor in the brain.
The authors of the paper suggest that the modulatory effects of CBD on the endocannabinoid system could be useful for reducing physiological and inflammatory aspects of pain associated with migraine headaches.
CBD, Anandamide, and Migraines
This theory has been recently raised by scientists as the possible reason behind migraines. The lack of endocannabinoids within the ECS may just as well contribute to migraine headaches. This condition, officially defined as clinical endocannabinoid deficiency, could be the cause of migraines in many people.
Anandamide (or AEA), one of the many endocannabinoids produced within the human body, can both increase and decrease the activity of serotonin receptors. According to a paper from Neurology Letters suggests that this ability can have therapeutic applications when it comes to migraines. Anandamide has also shown tonic activity within the gray matter of the brain, which is where migraines are generated.
Another study published in the Journal of Headache and Pain has analyzed the role of AEA administration with rodent models. The study confirmed that a disturbed endocannabinoid system may cause the development of migraine headaches. The authors of this study pointed to the modulation of CB1 and CB2 receptors as a useful tool for treating migraines.
CBD can manipulate anandamide levels within the brain and maintain its adequate levels, which would explain its potential to reduce migraine pain.
How to Use CBD Oil for Migraines
CBD comes in many forms; each of them comes with unique benefits and slightly different types and duration of effects.
Inhalation
You can inhale CBD vape oil, flower, or concentrates for migraine relief. The healthiest and most convenient method of inhaling CBD is vaporization, which involves applying heat to the CBD vape oil in a device called a vape pen.
Vaporization doesn't cause combustion, so you don't inhale harmful smoke along with many harmful substances.
But most importantly, vaporized CBD oil offers the highest bioavailability of all consumption methods. CBD vapes provide more of the active substances than sublingual or oral CBD, clocking at around 56%, which is about 10-14 times as much as edibles.
Sublingual Drops
In its most traditional form, CBD is taken sublingually. Once you measure out the necessary amount of CBD oil with a dropper, you squeeze it under your tongue and wait until it passes into your system through a special membrane.
Sublingual consumption allows the user to avoid the "first-pass effect" because CBD doesn't have to travel through the liver. Usually, you can experience the first effects in 20-30 minutes.
Traditional CBD oil is a good option for those migraine sufferers who want to avoid synthetic additives like propylene glycol, which are present in CBD E-liquids.
Topicals
Although CBD topicals are the least bioavailable of all consumption methods, they can prove viable for fighting localized pain. Moreover, topical products also relax the nerves in your head responsible for the release of Calcitonin gene-related peptide (CGRP) — a peptide that has been regularly mentioned as the trigger of migraine headaches.
Potential Risks & Side Effects
Similar to other health supplements, CBD oil comes with a few side effects. Fortunately, these side effects are relatively mild and don't pose a threat to your health or life — as long as you buy lab-tested CBD oil from a reliable manufacturer.
The only side effects that you may experience when you take too much CBD oil for your migraines are dry mouth, lowered blood pressure, sedation, and dizziness. Rare cases include individuals with diarrhea after taking extremely high doses of CBD.
There's also a risk of drug interactions between CBD and many medications.
CBD inhibits the enzyme in the liver that processes the active ingredients in drugs. Because of that, taking CBD oil in conjunction with many medicines may result in the increased concentration of these drugs in your system and lead to "second-hand" side effects.
If you use any medications that could potentially interact with CBD oil, consult your doctor before you order CBD online.
CBD Checklist: Things to Do Before You Purchase CBD Oil from Any Company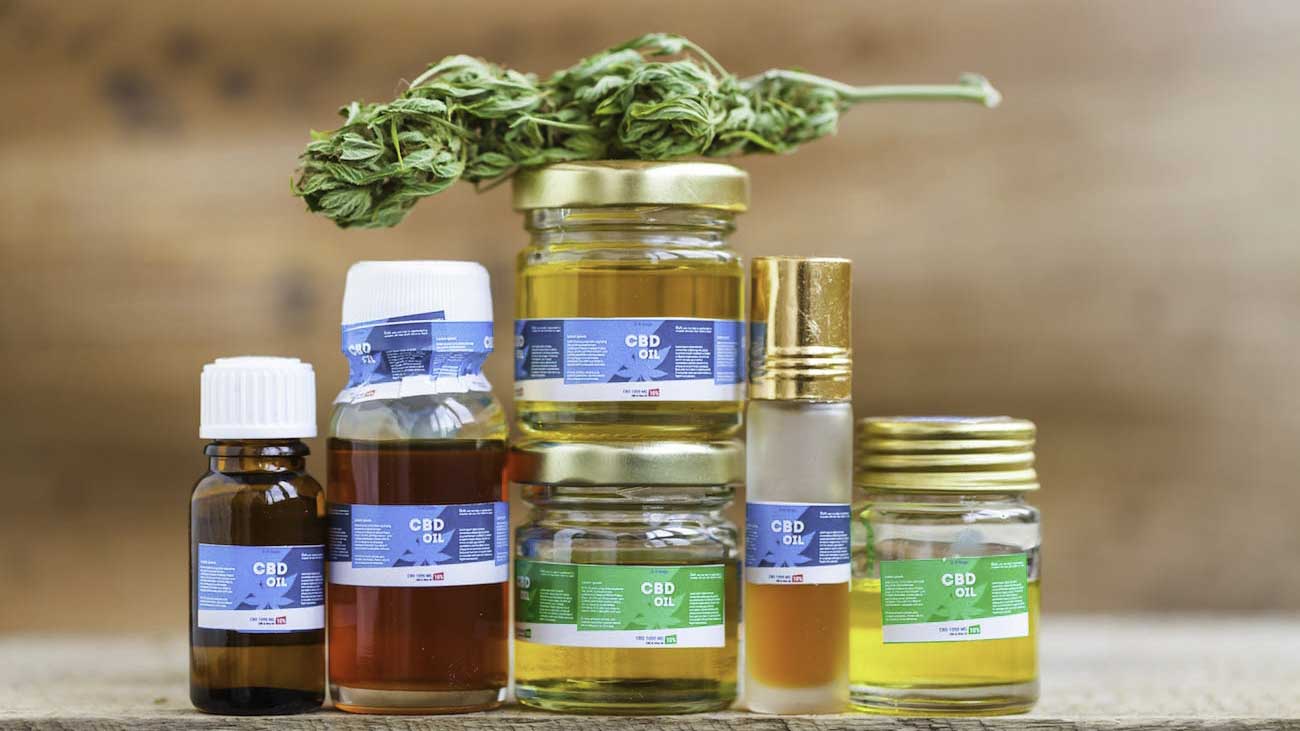 Buying CBD oil is a bumpy process. Hasty decisions based on far-reaching claims so many companies like to make about CBD can make you end up with a poor-quality product that may have no CBD at all.
When browsing different products, make sure you check the following details:
Ask for 3rd-party Lab Reports
A Certificate of Analysis from an independent laboratory will tell you everything about CBD oil, from its CBD content to the entire phytochemical profile and terpenes to natural contaminants.
Every company can submit a sample of their product to a third-party laboratory for analysis. If there are any inconsistencies in the above features, the lab test will find them.
If a company doesn't provide lab reports from third-party testing — even on request — you shouldn't trust them with your money
Choose the Appropriate Potency
The potency of CBD oil is expressed in milligrams of CBD per one milliliter of the oil. Lower potencies are made for preventive supplementations and mild symptoms, so options like 300 or 500 mg of CBD will work for you if you've never used CBD before or if you suffer from headaches caused by changes in pressure or bad weather.
If your migraine symptoms are severe and you've used up all the other options to manage them, then choose potencies starting upwards of 1000 mg — preferably with a full-spectrum CBD.
Speaking of which…
Buy Full-Spectrum CBD Extracts
Full-spectrum CBD oil contains all cannabinoids, terpenes, waxes, and other hemp compounds.
Studies show there's a unique synergy between cannabinoids terpenes which enhances their effects. This phenomenon is known as the entourage effect, meaning that the aforementioned molecules are more effective together than each of them on its own.
Researchers suggest that full-spectrum CBD works better for pain and inflammation, both of which affect people with migraines.
CBD Oil for Migraines: Can CBD Really Help with Migraine Headaches?
While the research on CBD and migraines is in its infancy, current discoveries indicate that this cannabinoid can be a potent anti-migraine compound with some potential to reduce or even get rid of the headaches for good.
If endocannabinoid deficiencies are the real cause of migraines — meaning that clinical trials confirm that theory — we may find an effective solution for the symptoms of this debilitating condition.
Do you use CBD oil for migraines? Does it help with migraine pain?